2021 Isuzu D-MAX review
AS a fisho and boat owner, finding a vehicle with good towing credentials is a must. As a family-man, safety is also high on the list. Add plenty of functional space in a quality 4WD, and you have the ideal, all-round vehicle for your fishing and boating adventures.
Isuzu Australia was kind enough to lend me a new D-MAX for a week just prior to Xmas. The new Fishing World Bar Crusher 535XS was ready for pick up at the Melbourne factory (I live in Sydney) and this provided a perfect excuse to experience the D-MAX on a long drive while towing a boat back home.
The loan D-MAX was the mid-range LS-M Crew Cab Ute. The D-MAX range features a 3.0 Litre diesel engine with 140kW of power and 450nM of Torque. It has a 6-speed transmission.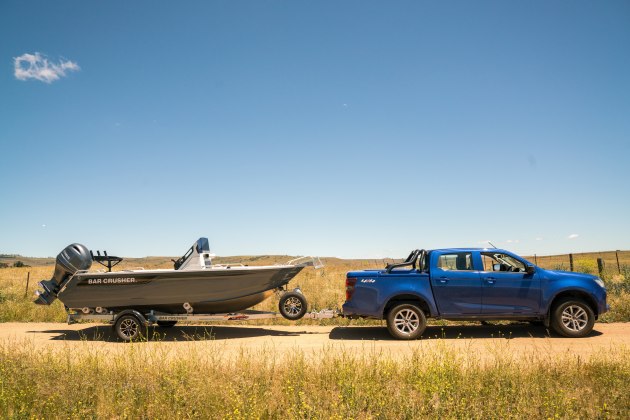 The latest range has received widespread praise for its outstanding safety features and 5-star ANCAP rating. That's a big plus when it comes to choosing a car as a family vehicle. And with many of these features assisting towing and highway driving, it's also a big plus for boat owners who spend time towing their pride and joy around.
On that note, the D-MAX range features what Isuzu calls its Intelligent Driver Assistance System. Using sensors and multiple cameras, the D-MAX constantly monitors the surrounding environment, keeping you out of harms way. For example, the Autonomous Emergency Braking (AEB). According to Isuzu, this detects a potential collision and applies emergency braking. There's also the Forward Collision Warning, Driver Attention Assist, Trailer Sway Control, Lane Departure Prevention and more features than I have space to mention.
Some of the passive safety features include eight airbags, impact absorbing chassis and safety cabin shell.
Moving on from the advanced safety features, the D-MAX also has a good list of technology, making the drive more enjoyable and hassle-free. The most obvious technology feature is the Apple Car Play & Android Auto. In the mid range model, the screen on the Apple Car Play is 7-inches and allows you to seamlessly, and safely, use your smartphone to play music, answer calls (hands-free), navigate and more. It's safe, easy to use and a welcome addition to any modern vehicle.
Other technology includes the adaptive cruise control, auto headlights, rain sensing auto wipers, UV glass and more.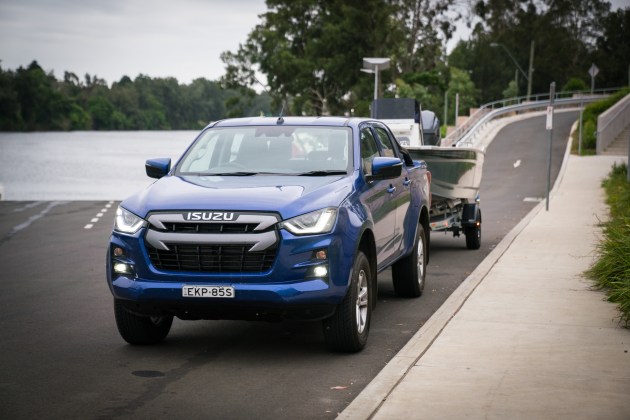 Towing
This isn't a 4WD or dedicated car website, so I won't bore you with too many technical performance details. The main reason many readers of Fisho would consider buying a D-MAX is its towing capability. The good news is, the D-MAX performed exceptionally well on the long drive from Melbourne to Sydney.
Bar Crusher's Ben Sandman joined me for the road trip to and from Melbourne. Ben owns an older model D-MAX and was keen to see what Isuzu has done with the latest range. He was impressed!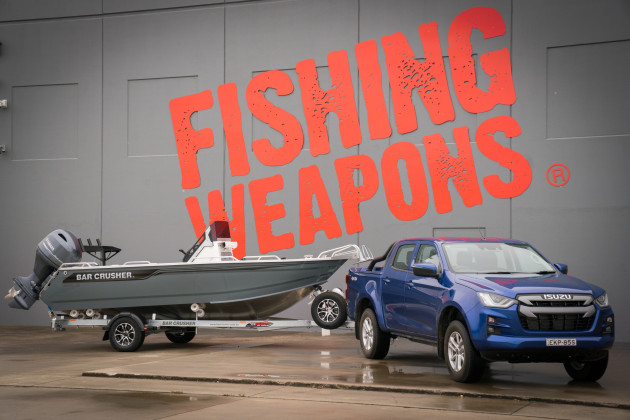 We picked up the 535XS, a moderately heavy boat to tow, and made for a quick getaway out of Melbourne. Unfortunately time restraints meant the planned multi-day fishing trip up the coast wasn't an option, but we did however stop half way for a fish and test of the new boat. It also gave us the opportunity to test the towing capabilities on the single lane coastal road between Melbourne and Sydney. It's a lot different from the dual carriageway along the Hume Highway and towing a boat makes it even trickier.
The good news is, thanks to the D-MAX's powerful 3.0 litre diesel engine and impressive torque, not to mention the intuitive safety features, the long drive was comfortable and hassle free. The D-MAX is rated to 3.5T. That's a good deal more than my boat, which probably comes in under 1.5T. The 3.5T rating would easily tow most large trailer boats and caravans. Always check the genuine weight of your boat and understand the rules if it's getting close to the maximum weight limit.
The built-in reversing camera made hooking up the boat and reversing it in the driveway and boat ramps simple. Likewise, as mentioned above, the trailer sway control is a great addition to make towing safe. Owners of big cabin boats would find this particularly useful. The Electronic Stability Control will also help while towing and keeps you in control if over steering occurs.
While most of the safety features are a welcome addition, we did find the Lane Departure technology felt somewhat strange when towing. If you drifted too close to the double lines, the car would pull you back faster than I would prefer whilst towing a boat. It's an easy fix to turn off this system while towing if you find it unnecessary.
Another safety feature often missed is visibility while driving. I found the D-MAX to offer a good line of sight throughout the vehicle. It's these things which make towing easier and safer.
Fuel economy is excellent. According to Isuzu, torque is available at very low revs with 73 per cent of real torque being available at 1000RPM and maximum at 1800RPM. What that means is the engine is taking advantage of this torque and producing real power from the get go. It translates to better performance and low fuel costs. Isuzu says its fuel economy is best in class with an impressive 8.1L/100km. My 3500km test run showed an average of 10.31 L/100km. That's a great result seeing as almost half the journey was towing a boat weighing in excess of 1000kg on a windy coastal road.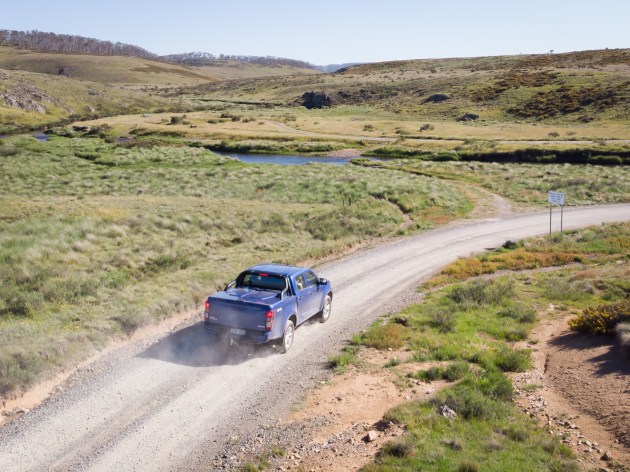 The wrap up
As a tow vehicle, the D-MAX ticks a lot of boxes. It's powerful with impressive torque and towing features. It has safety features rivalling almost any vehicle on the road. It's also comfortable and very easy to drive. I drove a substantial distance in a short period and with it's intuitive driving controls, handling and low levels of noise, it was a pleasure to drive. If you're in the market for a new vehicle to tow your boat and escape the grind, Isuzu's latest range of D-MAX is worth checking out!