Bar Crusher to feature at Sanctuary Cove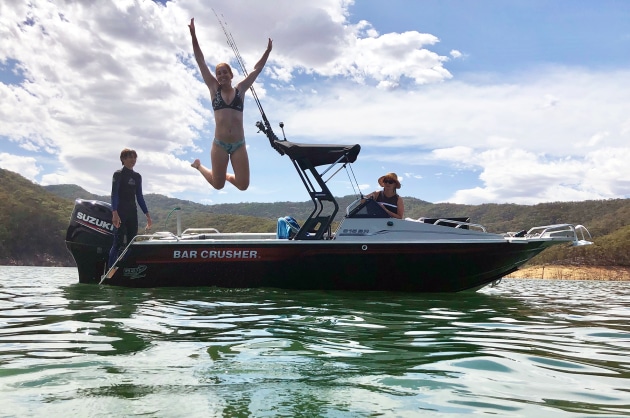 FISHING weapons will dominate the trailer boat scene at next week's Sanctuary Cove International Boat Show (May 23 to 26), with Australian Marine Centre set to showcase a large cross-section of the Bar Crusher range.
From the compact and capable 535C up to the bulletproof 730HT, SCIBS visitors looking for a serious fishing boat will quickly see what is so special about these premium-quality, Australian-made boats – whether it's for exploring the Gold Coast canal system with the family, bottom bouncing the reef, or heading wide offshore trolling lures for pelagics.
Taking pride of place on Australian Marine Centre's 'Suzuki Street' (Quay St) display at SCIBS will be Bar Crusher's 615BR. Pulling triple duty as the ultimate family boat, fishing boat and sports boat, the 615BR is a dual-console bowrider design, with a walk-through windscreen providing access to a comfortable forward lounge that quickly converts to a large and functional casting platform. The fold-away rear lounge, interchangeable baitboard/skipole and other innovative features make it a truly versatile boat that has really hit the mark among boaters right around the country.
Designed and built for Australian conditions, all Bar Crusher boats incorporate exclusive innovations such as the Waveslicer deep-V, non-pounding hull for an ultra-smooth ride, Rigideck engineered sub-floor system for maximum hull strength, and Quickflow water ballast technology for excellent stability at rest.
All models up to the 615 hull series are also built on Bar Crusher's Gen2 hull. This design combines key features including a wider negative chine running forward, optimised wider chine aft and the distinctive Delta Flare – a complex V-shaped planing plank that starts wider at the transom and narrows as it runs forward. The result is greater hydrodynamic lift for more efficient planing and improved fuel economy, a higher bow attitude and better spray deflection for a drier ride.
Renowned for quality construction, superior performance and maximum fishability (with a range of standard features other manufacturers charge as extras), every Bar Crusher boat is factory-packaged on a custom-designed trailer, which ensures towing, launching and retrieving is a breeze. Self-centering and aligning perfectly every time, Bar Crusher's innovative Bar Catch system also allows for single-handed launch and retrieve.
As always, there will be the opportunity to secure some great boat show deals on new Bar Crusher boats. So, whether you're a first-time boat buyer or have owned 10 boats and you're looking for your next one, drop by and say g'day to the team from Australian Marine Centre and pick-up a copy of Bar Crusher's boat buyer's guide to assist with your research.