C-MAP launches C-MAP Reveal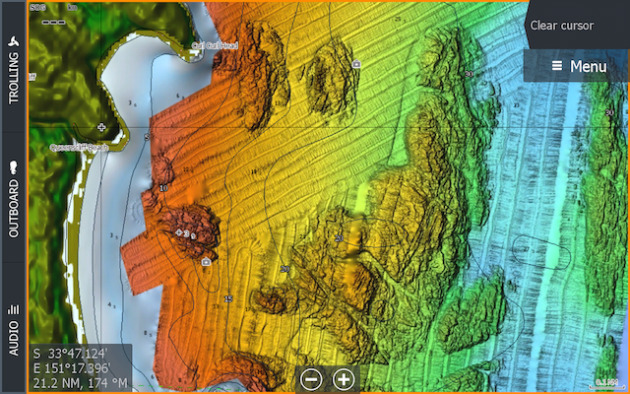 C-MAP Reveal brings ultra-high resolution bathymetric data of the sea floor to Lowrance, Simrad and B&G customers. View the sea floor in a completely new light and clearly identify sea floor structure, along with reefs and ledges to find fishing and diving spots.
The C-MAP Reveal charts include all the same data available on their popular Max-N+ charts, including:
Traditional Navigation Data
High Resolution Bathymetric Coastal Data
Four charts are available in Australia and a single chart for New Zealand:
M-AU-Y660-MS
Robe to Batemans Bay
$399.00 AUD RRP
M-AU-Y661-MS
Mallacoota to Brisbane
$399.00 AUD RRP
M-AU-Y662-MS
Tweed Heads to Weipa
$399.00 AUD RRP
M-AU-Y667-MS
Darwin to Esperance
$899.00 AUD RRP
M-AU-Y622-MS
New Zealand
$399.00 NZD RRP
Compatible with Lowrance Gen2 models and above, Lowrance Elite Ti2, Simrad NSSevo2 and above, Simrad GO, Simrad NSO evo2 and above, B&G Vulcan, B&G Zeus2 and above, B&G Zeus2 Glass Helm and above.
Note: Editor Scott Thomas has been testing C-MAP reveal in the Fisho Bar Crusher, more info in the upcoming June edition.
For more information: www.c-map.com