Fusion Ms Bb100 Black Box and Remote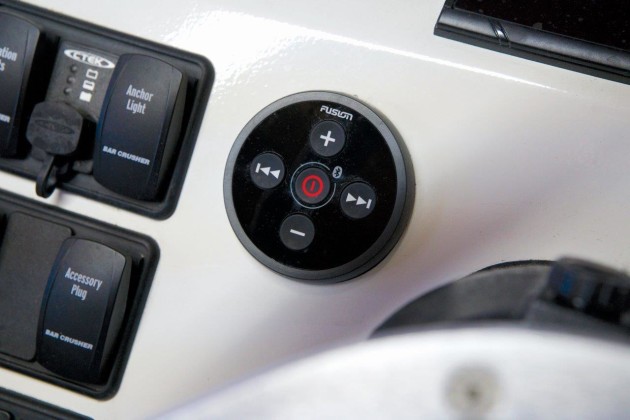 IT wasn't long ago only the bigger, more expensive, and fancier boats featured quality sound systems. How things have changed! These days the affordability and quality of marine entertainment systems have broken down the barriers and allowed owners of boats of all shapes and sizes to enjoy music on the water.
To be honest, until I installed a decent entertainment system on a previous boat I never really listened to music on the water. Again, that all changed when I realised how simple it was to play music on demand, not to mention the quality of sound available. Now there's always music playing during long runs to and from spots or when the fishing's slow. It always gets fired up when I'm in the garage working on the boat or getting gear ready.
Fusion Entertainment is a clear leader and innovator in this game. As a company, Fusion specialises in marine entertainment. That means not only are the products designed for using on a boat, rather than an adaptation of a car audio product, but the resilience of the products around saltwater is second to none.
Fusion is also a leader in innovation. Just like marine electronics, the marine entertainment market is always evolving. Every year they come up with something new and unique.
Speaking with the team at Fusion during this year's Sydney International Boats Show, it was interesting to hear about trends towards product integration.
It's no secret you can listen to music on your entertainment systems streamed via your smartphone, but the more recent integration of smart watches adds yet another clever dimension. I own a Garmin quatix 3 marine smartwatch and have the option to control music via the Fusion Link app on the watch. Another option is to play and control the music via your depth sounder, in my case a 12-inch Lowrance HDS Carbon. At first you may think it's a gimmick, but trust me, this type of product integration makes life easier and more fun. 
I chose to fit Fusion's Marine Black Box with Bluetooth Wired Remote to my Bar Crusher 535XS centre console. This product is a simple round remote, about the diameter of a golf ball I guess, which is connected to a separate black box. The black box is fitted out of sight underneath the console. This product is a great option for those boats with limited space. Smaller tinnies or dashes with limited space. Space on the Bar Crusher's console is actually very generous. I went with this product to leave options open for installing more electronics on the console at a later date. Future proofing the boat I guess you'd call it.
Of course having a smaller system doesn't mean you have to sacrifice sound quality. It's tough to get across audio quality in a written review, however I can assure you the sound I get from this system and the Signature Sports Marine Speakers well exceeded my expectations. The speakers are mounted facing back on the casting platform. 
Most of the time I play music via my iPhone and have no need to touch the remote. All the controls, volume etc, are done via the phone. There's also the option of hooking up the remote to a marine dock, which houses the phone safely.
More info at fusionentertainment.com.