Fusion's new XS Series speaker and subwoofer range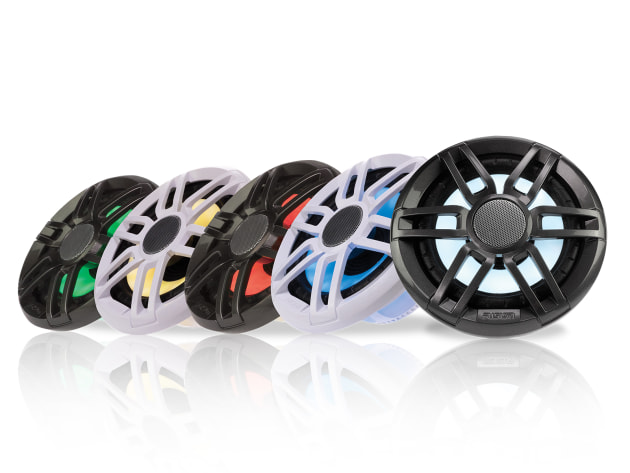 FUSION has launched its new XS Series speaker and subwoofer range.
Available in three sizes (4-, 6.5- and 7.7-inch), the new XS Series speakers combine optimised drivers with separate tweeters to produce a full range of audio reproduction that, according to the manufacturers, delivers high quality audio at all volume levels. The 10-inch XS Series subwoofer, designed to add low frequencies to an audio system, can be installed in two different ways: traditionally wired through an amplifier, or users can create a 2.1 audio zone by connecting two speakers and a subwoofer directly to a FUSION multi-zone stereo with DSP – without the need for an external amplifier.
Designed to be rugged and functional, the XS speakers and subwoofer are both rated IP65 for water and dust ingress protection so placement near wet areas on the boat is possible. They also meet industry standards for UV and salt fog protection, alleviating worries about damage from the harsh marine environment. Each comes with a three-year warranty.
The XS Series features an translucent cone to provide bright LED illumination on board in a range of colors; set the tone on the boat to complement music, mood or song. The low profile grilles offer a sleeker design in Sports style or Classic style that let users match the look of their vessel while providing protection to the speakers themselves.
"Keeping our new and legacy products up to date to reflect the latest in sound technology is what we do at FUSION," said Chris Baird, managing director of FUSION Entertainment.
"The XS Series now offers two design styles to match any boater's aesthetic while optimising sound quality across the boat. We want users to have flexibility with placement so they can have the best experience wherever they listen to music most on their vessel."
An optional lighting control wireless remote is available for the XS and EL series to take full advantage of the LED's, offering a color wheel to select your favorite color for static display, or select the dynamic feature and watch your speakers cycle through color options enhancing the atmosphere. The remote can control up to three lighting zones and functions up to 33 feet from the speaker lighting control module.
For more information on the XS Series speakers or FUSION's entire line of audio products, click HERE.