Garmin introduces the inReach Mini Marine Bundle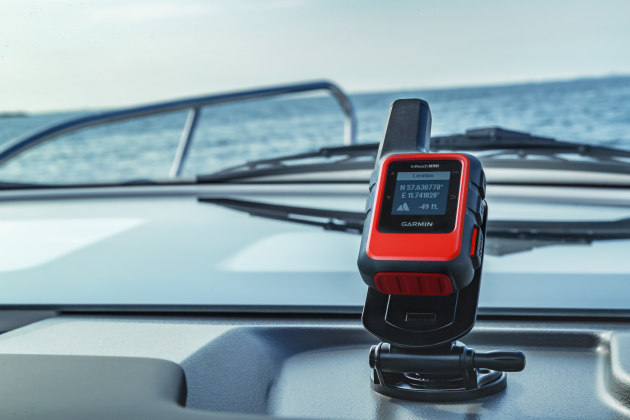 GARMIN recently announced the inReach Mini Marine Bundle, a new addition to its line of satellite communicators with two-way messaging, basic navigation and a 24/7 SOS function via the global Iridium network...built with the mariner in mind.
The inReach Mini Marine Bundle includes a rugged mount and 12-volt power cable that provides peace of mind in the event of power loss on the vessel, without taking up space at the helm. To access the Iridium network and communicate with an inReach Mini device, an active satellite subscription is required. A variety of subscription plans are available for both individuals and groups/fleets (mariners may appreciate the flexible month-to-month options that can be suspended in the offseason if desired).
An invaluable companion for boaters, anglers and sailors heading out to sea, the compact inReach Mini wirelessly connects with compatible Garmin chartplotters, handhelds and wearables, and works anywhere when using the Iridium satellite network – no more worrying about sporadic coverage or being within range of a mobile tower.
The new inReach Mini Marine Bundle was announced at the 2018 Fort Lauderdale International Boat Show.
"The inReach Mini is your go-to connection for maintaining off-the-grid contact while giving you – and your friends and family onshore – extra peace of mind on the water," said Adam Howarth, General Manager, Garmin Australasia.
"Whether it's to say that the fishing are biting and you'll be home late, or to check in with loved ones while you're out sailing or worst case, to report an emergency onboard, the inReach Mini lets you send and receive messages, track and share your journey, and if necessary, trigger an SOS."
The inReach Mini measures just over 10 cm in height and 5 cm wide, weighing just over 99 g, and yet it encompasses everything from messaging to tracking to declaring an SOS. It can be used on its own or paired with a compatible device, including a wide range of Garmin GPSMAP multi-function displays (MFDs), chartplotters and handhelds, and other mobile devices.
Wireless unit-to-unit connectity lets users remotely control the inReach Mini to send and receive messages with the device securely mounted in a convenient location. The inReach Mini can also be connected to Garmin's popular quatix 5 marine smartwatch which allows the user SOS and tracking functionality from the watch in addition to messaging capabilies. The Earthmate app easily pairs with the inReach Mini via Bluetooth to a compatible smartphone for access to unlimited maps and aerial imagery.
The Earthmate app also allows all of the inReach features to be accessed through the paired mobile device, including location tracking, so a user can share their whereabouts with anyone in their contact list. The app will allow the user to access their compatible device's contact list for quick access without manual entry.
Like all inReach devices, a user can hit the SOS button in case of emergency that sends a distress signal to GEOS, a 24/7 International Emergency Response Coordination Center. GEOS will track the device which triggered the SOS, notify the proper contacts, and send the necessary emergency responders to the exact location. GEOS will deliver a confirmation that help is on the way and also continually update the user on the status of the response team. GEOS will also reach out to the user's emergency contact and alert them of the situation.
Every inReach device also gives users access to a cloud-based website to not only plan future trips with specific waypoints and routes, but to create preset messages and quick texts. In the website, users can sync and manage their device settings, update firmware, link social media accounts and store unlimited location tracking data. To receive weather forecasts, the optional service provides detailed weather updates directly to the inReach Mini. Users who choose either the basic or premium package offered for land or marine forecasts will know the conditions for a current location, a waypoint, or future destination.
Built to withstand extreme conditions, the inReach Mini is impact resistant and water-rated to IPX73. The inReach Mini Marine Bundle includes an internal, rechargeable lithium battery for up to 50 hours of use at the default 10-minute tracking mode and up to 20 days at the 30-minute interval extended tracking mode. It also includes a marine mount and hardware, 12-volt power cable and flotation lanyard. It is expected to be available early in 2019.
To learn more, click HERE.