Garmin Striker Plus fishfinders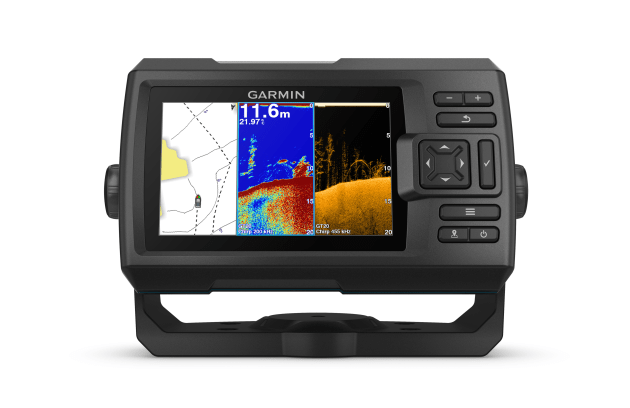 GARMIN Australasia Pty Ltd recently announced the Striker Plus series . According to the manufacturers these are fishfinders with industry-leading sonar that are packed with new features to help anglers find and catch more fish, yet easy as ever to use.
"The new Striker Plus series has the features that will bring the benefit of built-in GPS, Quickdraw Contours and Wi-Fi to first-time users, and will convince existing Striker customers to upgrade," said Adam Howarth, General Manager, Garmin Australasia. "These new fishfinders are the perfect entry-level solution for anglers who want the best sonar available plus the ability to create and store their own contour maps."
Like the first-gen Striker series, the Striker Plus offers built-in sonar and side scanning sonar technology. In addition to crystal clear fish arches and remarkable target separation with sonar, Garmin ClearVü shows a nearly photographic wide image of what passes below the boat, while SideVü gives anglers a clear view of what lies off to each side of the boat, including structure, submerged objects and fish.
Striker Plus users can also create HD fishing maps of the places they've been. Thanks to the built-in Quickdraw Contours mapping software, up to 2 million acres of maps with  1-foot contours can be stored. Once the feature is turned on, users will instantly see contours with labels generated right on the screen as the boat moves. The results can be viewed in real-time, or created in the background for use at a later time. For the most comprehensive coverage, Quickdraw Contours clearly shows where usable depth information has been collected and where it still needs to be collected.
With the addition of built-in Wi-Fi1, users can take advantage of the all-in-one Garmin ActiveCaptain mobile app that creates a simple yet powerful connection between a compatible mobile device and a Striker Plus unit. Thanks to ActiveCaptain, waypoints and routes can be transferred directly to a Striker Plus unit making it easier for anglers to pre-fish a body of water. Notifications are also delivered right on the screen as well as over-the-area software updates so users will have access to the latest improvements from Garmin before heading out for the day. ActiveCaptain also makes it possible to quickly and easily  access the Quickdraw Contours Community to share or download new user-collected data.
The Plus series comes standard with a high-sensitivity GPS receiver, so fishers can not only see fish and structure below the boat, but can also quickly and easily mark favourite fishing spots. When trolling, the high-sensitivity GPS provides an update once per second, giving fishers the ability to dial in the exact trolling speed and optimise lure presentation. Users can also share waypoint data across multiple Striker Plus units, as well as the new Echomap Plus series devices.
Available with a 5- or 7-inch display, the Plus series also adds a larger 4.3- and 9-inch model to the lineup, all with bright, sunlight readable colour displays. With a rugged design and keyed interface that's built to withstand the harsh marine environment, the Striker Plus series comes with everything anglers need – including transom- and trolling-motor transducer and mounting hardware – to make getting on the water fast and easy. The six new models offer flexible mounting so the devices can be tilted for an optimum-viewing angle. An optional flush-mount kit is available for in-dash installation. Additionally, the STRIKER Plus series is compatible with a wide-range of optional Garmin scanning transducers to customise sonar performance and installation options.
The new Striker Plus fishfinders will be available in Q4 2017 with recommended retail prices ranging from AUD$249 – 899 and NZD from $299-$999. For more information, click HERE.