"Get it done" with Bar Crusher at SIBS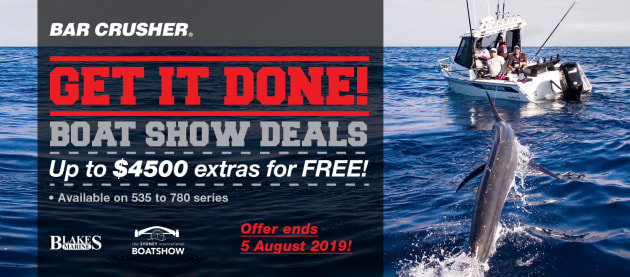 BAR Crusher's NSW dealer Blakes Marine is offering up to $4,500 of extras on new boats sold from now until August 5.
Available on all models from the 535 series right through to the 780 series, the offer is part of Blakes Marine's promo for the Sydney International Boat Show, which kicks-off next week.
There will over a dozen Bar Crusher boats on display at the show (August 1 to 5), including the recently-released 670BR and brand new 670XT. Check them out on stand 205.
Accordingt to the manufacturers, Bar Crusher boats are renowned for quality construction, superior performance and maximum fishability (with a range of standard fishing-related features other manufacturers charge as extras). Every Bar Crusher boat is factory-packaged on a custom-designed trailer, which ensures towing, launching and retrieving is a breeze. Self-centering and aligning perfectly every time, Bar Crusher's innovative Bar Catch system also allows for single-handed launch and retrieve.