High tech design on display at the Brisbane Boat Show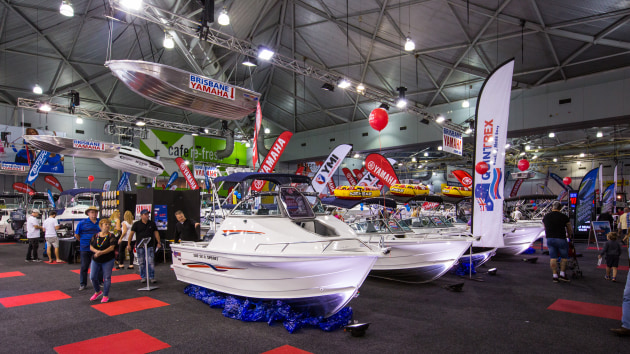 HUNDREDS of boats from more than 30 exhibitors based in Queensland and across the country will fill 20,000 square metres of the Brisbane Convention and Exhibition Centre at South Bank for the Brisbane Boat Show, set to open for three days from 

August 24 to 26

.
With the space now filled with exhibitors from both the government and the private sectors, whether it's a love of fishing, water skiing, wake boarding or just paddling around Queensland's unique waterways, the Brisbane Boat Show has something for every water-loving Australian. 
In what could be a world first, Start Warrior is a battery-less, floating, hi-viz, emergency jump-starter designed specifically for marine applications. The device has the ability to provide repeat starts in emergency situations, having enormous implications for improving safety on the water and enhancing the boating experience. Start Warrior comes fully sealed in a high visibility enclosure that floats in case it accidentally falls overboard. Being battery-less, there's no need to keep Start Warrior on charge or conduct maintenance charges, and has a 10 year operating life. Start Warrior is based wholly on new technology. It can go from completely flat to fully charged in as little as 2 minutes from a variety of power sources including a failed or flat battery.
Now trading for more than 50 years, the experienced and knowledgeable Northside Marine is presenting Stacer, Malibu, Sportsman (exclusively in Queensland) and Whittley vessels, as well as the Stabicraft 2750. Also on their display, the new Surtees 540 Workmate which features the patented Razortech super smooth riding hull and anti-roll stability ballast technology, making it a well-considered perfect fishing platform. These are complemented with Northside Marine's range of technology from Simrad, Garmin, Raymarine, Lone Star Marine, Minn Kota, with a 25% discount off the Lowrance HDS Carbon series of high-performance fish finders and chart plotters, along with the same discount on the Lowrance Elite Ti model. Northside Marine is also offering the Show special of a free rope and chain kit with the purchase of any Lone Star Marine anchor winch.
With almost 5 million people enjoying our waterways each year in Australia, the Show includes plenty of other education and entertainment as well.  Fishing master-classes and on water equipment demonstrations are just a few of the many activities included with the entry ticket. 
The show is open each day from 10AM. Adult tickets are $15. Concessions are available for families, kids and seniors, with individual entry just $5 after 5PM (when purchased onsite, family tickets excluded). Up to date details available HERE.