HydroTab Trim Tabs now available from BLA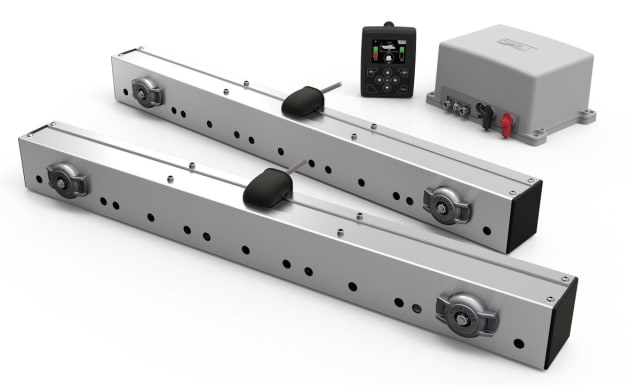 BLA have recently added HydroTab interceptor-style trim tabs to their range.
Hydrotab trim tabs are an patented trim system designed for optimised efficiency and boat control, and are, according to the manufacturers, characterised by simplicity and robustness. HydroTab's trim tab interceptors are designed to operate in the harsh sea environment, and improve your boat cruising experience. They are said to give instant lift, increased safety in bad weather, enhanced fuel economy and improved boat control.
The motion of the interceptor tab is achieved through a high resistance bladder, which is expanded pneumatically. This allows a very simple mechanism that is open to the sea water without any sealing, which in the same time creates very high shifting forces (up to 2000kg).
Features:
Enhanced feel of steering for consistent and stable route
Good planing, less rocking and more speed even in rough seas
Minimum drag effect and increased fuel efficiency
Easy control panel (manual or/and fully automated mode)
Simple but robust mechanism
Discrete, quick and easy installation
Robust and simple construction (the housing is constructed from high quality Inox 16 stainless steel, while the blade is made by lightweight composite material that is resistant to sea fouling).
No maintenance, self-cleaning, with a 5 year mechanical and 2 year electrical warranty
Switches rated to IP67
10m air hose included
12 or 24 volt operation
According to the manufacturers, compared to traditional trim systems, Hydrotab interceptors give more:
Planing ability
Feeling and consistency of steering
Speed gains
Onboard comfort
Discreet, minimal and low space/volume fitting
Are quick and easy to install
Smart and innovative patented design
Have zero fails, reliable mechanism