Lowrance Ghost Freshwater Trolling Motor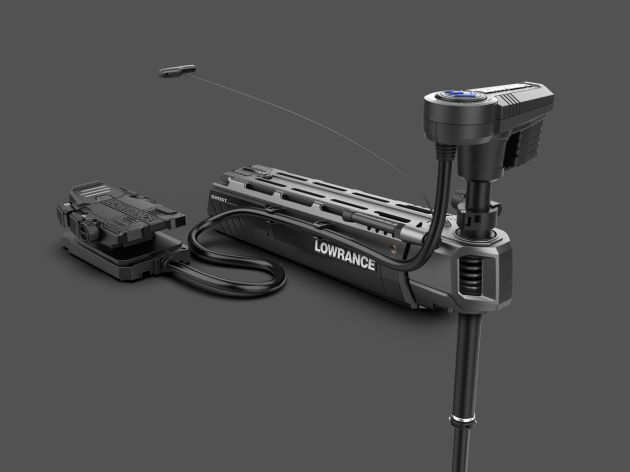 LOWRANCE has announced their new Ghost freshwater trolling motor.
According to manufacturers, the new ultra-quiet Lowrance Ghost freshwater trolling motor is reliable, rugged and built to last, helping anglers fish longer, run faster and get in closer without making a sound. Ghost has a newly designed brushless motor plus other benefits including integrated Lowrance sonar options, waypoint anchoring and a three-year warranty. 
"Because Ghost is Lowrance's first trolling motor, we started completely from scratch, which gave us a unique opportunity to ask anglers what was most important to them in a trolling motor," said Lucas Steward, Navico's Trolling Motor Product Group Owner. "To get the quality we needed, we had to design and build it in-house. That resulted in the production of a trolling motor that delivers exactly what our consumers want: the most power, greatest efficiency and quietest performance – the ultimate trolling motor versatile enough to fit any bass boat."
Brushless Motor
Manufacturers say that Ghost's unique propulsion technology in its brushless motor generates thrust that is 25 per cent greater than current competitors and delivers 45 per cent longer run times on the same charge – equivalent to nearly one additional day of operation. The combination of precision manufacturing, rare earth materials, and a cutting-edge weedless prop design provides high-output thrust with long running efficiency.
Zero Sonar Interference
Ghost's brushless motor helps eliminate noisy operation and unlike common brush motors, has no brushes to wear out, ensuring greater reliability and longer life. The brushless motor emits no electromagnetic interference – giving anglers the clear sonar views with zero onscreen interference.
Integration
Users can steer, adjust speed, set up route navigation or anchor at a current location with touchscreen control from a Lowrance display using the SmartSteer interface. Ghost pairs easily with HDS LIVE, HDS Carbon and Elite-Ti2 displays via a simple NMEA 2000 connection.
Plug-and-Play Lowrance Sonar
Ghost offers two integrated sonar nosecone options, including HDI (CHIRP and DownScan Imaging) and optional Active Imaging 3-in-1 (CHIRP Sonar, SideScan and DownScan Imaging) transducers. All motors ship standard with an HDI transducer, but can be upgraded with a different nosecone at any time.
Fly-by-wire Steering
Instant and smooth fly-by-wire steering control gives Ghost the feel of a cable-steer motor, but without the mechanical cables that can wear out over time. Regardless of the brand of trolling motor used before, anglers will quickly get comfortable with the innovative Ghost foot pedal, which is completely user-configurable. The pedal can be customised to suit any preferences with programmable shortcut buttons and a Flip Switch that can be moved to allow the trolling motor to be engaged from either side of the pedal. The mode buttons have LED lights and an indicator beep to provide feedback when a mode is engaged. The foot control also features a battery-level indicator.
Rugged Construction
The 360-degree breakaway mount is designed to take the brunt of any impacts and will automatically realign itself once clear of impacted structure. A composite shaft with lifetime warranty assists in withstanding impacts, and an integrated stabiliser bar reduces bouncing when on plane in rough water. The foot pedal cable is secured to the mount with robust clips, preventing it from moving around on the deck, damaging rods and reels and blocking the view of Lowrance fishfinders installed nearby. Ghost is currently available in a 47 inch shaft model with future shaft-length options coming soon.
Installation versatility
Ghost is designed to work in either 24- or 36-volt systems, allowing for future battery and charger upgrades.
Trolling motor RRP, $4,999.
For more information about the new Ghost trolling motor check out the videos below, or click HERE.