New models from Bar Crusher on display in Melbourne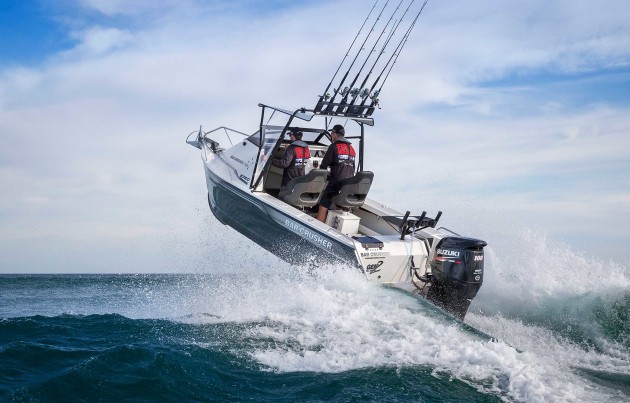 ICONIC Aussie fishing boat brand Bar Crusher is remaining tight-lipped about its display at next week's Melbourne Boat Show (13-16 June13 to 16)…but has confirmed the introduction of even more new models.
Among an impressive fleet of Fishing Weapons on display at the Melbourne manufacturer's home-state event will be a selection of models from the popular folding-roof cuddy cabin (C) series, centre console/walk-around (XS and WR) series, award-winning hard top (HT) offshore series, and hard top pilothouse (HTP) series.
All Fisho managed to get out of Bar Crusher about the new models making their debut at the 2019 Melbourne Boat Show was: "We know people are going to love them, as we've always taken onboard customer feedback and continued to innovate and keep pushing the boundaries of plate aluminium boat design and construction."
Designed and built for Australian conditions, all Bar Crusher boats incorporate innovations such as the Waveslicer deep-V, non-pounding hull for an ultra-smooth ride, Rigideck engineered sub-floor system for maximum hull strength, and Quickflow water ballast technology for excellent stability at rest.
All models from the 490 through to the 615 are built on Bar Crusher's industry-leading Gen2 hull. This design combines key features including a wider negative chine running forward, optimised wider chine aft and the distinctive Delta Flare – a complex V-shaped planing plank that starts wider at the transom and narrows as it runs forward. The result is greater hydrodynamic lift for more efficient planing and improved fuel economy, a higher bow attitude and better spray deflection for a drier ride.
According to the manufacturers, extensive testing by Bar Crusher's R and D team has proved the 490, 535, 575, 585 and 615 receive significant performance benefit from the next-generation hull design, with the larger 670, 730 and 780 models continuing to be built on Bar Crusher's high-performance deep-V hull.
Every Bar Crusher boat is factory-packaged on a custom-designed trailer, which ensures towing, launching and retrieving is a breeze. Self-centering and aligning perfectly every time, Bar Crusher's innovative Bar Catch system also allows for single-handed launch and retrieve.
Whether you're a first-time boat buyer or have owned 10 boats and you're looking for your next one, drop by and say g'day to the team and pick-up a copy of Bar Crusher's boat buyer's guide to assist with your research.