Quintrex Freestyler Bowrider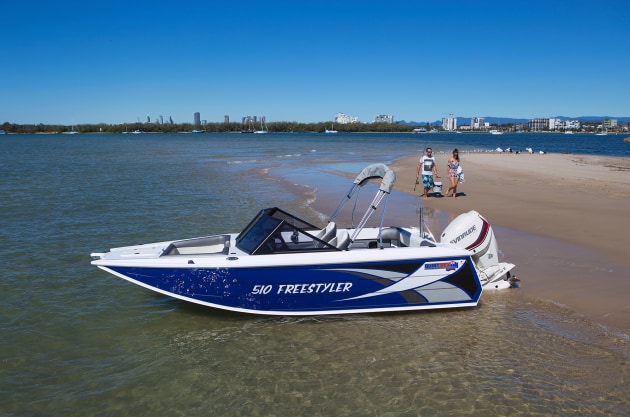 THE Quintrex Freestyler is a bowrider featuring the new the Apex hull which, according to the manufacturer, increases enjoyment on the water by making it safer, drier and smoother.
When underway, they say, the Apex hull has a sharp entry for predictable and comfortable handling. Once the water has been pierced by the keel, water will deflect across the flared bow until it hits the chine when it gets deflected downwards providing a cushion in rough seas.
The design of the Freestyler directs water downwards and away keeping it out of the boat, thus making for a dry ride. Recently Quintrex installed a brand new multi-million-dollar aluminium stretch former. This machine is what allows Quintrex to be the only manufacturer who can build the Apex Hull. With a seating capacity of 6 to 7, everyone can a comfortably enjoy the soft riding Apex Hull.
The Freestyler comes standard with useful fishing features and is great for fishos who want to catch the big one without compromising family enjoyment.
"When I reflect on the busy boat show season, it pleasures me to think of all the smiles on families when they first sit down in the Quintrex Freestyler" says Drew Jackson National Sales Manager for Quintrex Boats, 'the happy families just fit perfect in this boat.'
"Every time I hand over the keys and life jackets, I know families are going to enjoy their time on the water' Jackson says with a smile.
"Up until now, the Quintrex Cruiseabout was Australia's best-selling bowrider and has been for over 5 years' said Jackson. "Today the Quintrex Freestyler, sporting the Apex Hull, has officially surpassed sales of the ever so popular Cruiseabout. A magnificent milestone"