Stacer unveils 2022 line-up
STACER has revamped models across its entry level, estuary fishing, and family style boat range. The aluminiuum boat manufacturer unveiled the boats and modifications recently at a media day on the Gold Coast's Broadwater.
With the addition of an all-new Crossfire rear centre console, along with updated models and package options, Stacer is making it easier for serious fishos and new boaties to choose from its extensive range.
The newly updated fleet of boats include Sea Master, Crossfire, Sea Runner and Wild Rider models.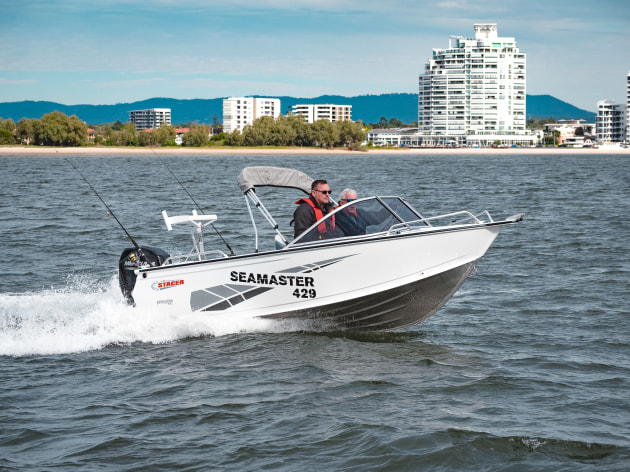 Sea Master
The Sea Master is a versatile, runabout boat featuring an open layout, spacious deck and a simple dash with vast customisation capability and plenty of room for a sounder. For the first time, 429 Sea Master models will come standard with an underfloor fuel tank, plus both 429 and 449 models will see an in-floor battery box location.
All-new Crossfire rear centre console
Stacer's all-new 539 and 589 Crossfire rear centre console is designed to meet the needs of Top End boaties and fishos. The rear centre console models complement Stacer's existing Crossfire side console line-up, offering a slightly smoother ride in chop and more forward casting space.
The option of a long range fuel tank makes these boats suitable for exploring extensive river systems and trips to far-flung reefs. Meanwhile, the uninterrupted forward deck and bow area creates a seriously spacious fishing platform that has enough room for swags and other gear for those overnight fishing missions.
There is also no shortage of underfloor storage for fishing tackle and safety gear. A generously-sized console will also accommodate larger 12-inch displays, becoming increasingly popular for barra and bass fishos.
For an open boat, the Crossfire is surprisingly dry. In windy conditions and minor-to-moderate chop with three onboard, the boat performed well with good holeshot for a rear centre console.
Wild Rider
Stacer's updated Wild Rider caters to families and friends, delivering an expansive person capacity and comfortable forward and rear seating. Stacer calls the Wild Rider range a "true all-rounder", capable of being used for fishing, skiing, tube riding or simply cruising the waterways.
Stacer's new Revolution Hull is featured across the entire Wild Rider line-up. With a beamy feel, the Wild Rider is a noticeably stable boat. This boat was used as the "camera boat" during the media day and easily handled the many on water passenger transfers.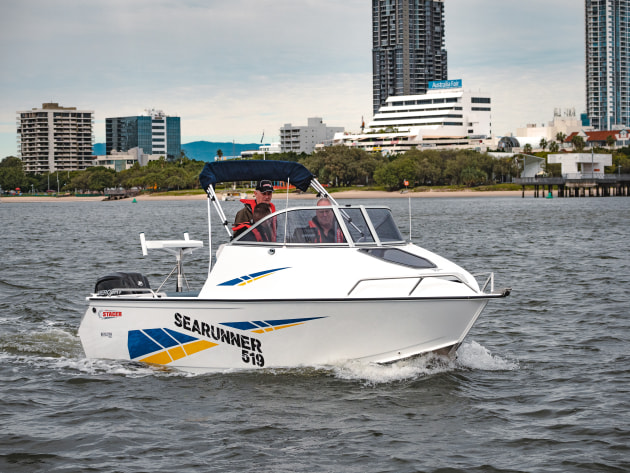 Sea Runner
Also designed around the Revolution Hull, the Sea Runner can handle offshore fishing duties with a raised chine for better open water performance. All Sea Runner models come with a walk-through hatch design, whilst a neat little cabin provides protection from the elements.
For added docking protection, rubber gunwales are also featured across all of Stacer's updated models.
Additionally, Stacer has reviewed its designs to deliver improved underfloor storage capacity, whilst a number of models can also accomodate bigger fuel tank sizes.
Other additions, like tilt steering, are also available on a range of models.
New package options
Along with the updated models, Stacer has also released an all-new boat package system, providing customers with easy boat configuration options suited to the most popular on-water boating styles – entertaining, travelling and fishing.
Stacer's "Entertainer's Pack" will comprise key options for a comfortable day out on the water. Meanwhile, the "Travel Pack" provides options designed to enhance the driving experience, and an "Angler's Pack" will include the most commonly purchased fishing options.
Entertainers Pack inclusions:
• Bimini and envelope
• Tonnea/bow cover
• Cockpit table
• Casting platform carpeted infill board
• Casting platform infill cushion
• Sound system and speakers
• Seat upgrade from Elite Pro to Maritime
Angler Pack inclusions:
• Burley Bucket
• Ski Pole
• Transom Cutting Board
• VHF Radio
Travel Pack inclusions:
• Hydraulic Tilt Steering
• Steering wheel upgrade
Alternatively, customers can opt for base models for no-frills boating at an entry-level price, or upgrade to the "SE" model – Stacer's top-tier offering.
For more information, head to the Stacer website at www.stacer.com.au.