Tohatsu's new lightweight four-stroke outboard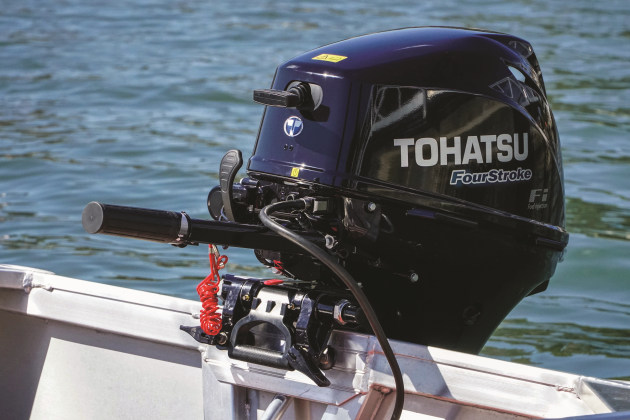 LAST November, Tohatsu's Australian distributor Lakeside Marine took delivery of a new model outboard it says is the lightest of its type, from any manufacturer. The new MFS20E/15E/9.9E is being marketed by its Japanese manufacturer as a perfect four-stroke alternative to light old technology two-stroke outboards, which are set to be phased out in 2019 due to tight emission regulations that come in to force in Australia.
Tohatsu has for many years produced carburettor two-stroke models in this low power range that have earnt a solid reputation for reliability and durability. The 18 hp derivation, currently the M18E2, has been a very popular choice with owners of small to mid-size tinnies. The lightweight two-cylinder 18 has long been favoured for its holeshot performance and grunt for its low capacity. Notably, the MFS20E which is set to replace the M18E2 also offers sparkling performance – more on that later.
As has been well documented, early four-stroke outboards were generally significantly heavier than the two-stroke competition. In recent years the flab has been stripped away from most modern four-strokes to such a degree it isn't an issue for most outboard buyers. The MFS20E makes a great case in point here. Its two-stroke derivation the M18E2 weighs 41 kg and the new four-stroke 20 comes in at only 2 kg more (electric start long shaft model weighs 48 kg). Considering the technology packed into the new donk, that's quite a feat.
The Tohatsu engineers have reportedly designed the MFS20E from the ground up to be a totally new engine in comparison to the current MFS20D model which weighs 52 kg. The new E model is available in three shaft lengths and has the stylish low profile "Light Weight ECO Sport" design of the MFS50/40A models. Tohatsu says MFS20E engine components such as crankshaft have been designed so overall weight is moved 30 mm forward from the current model to make engine tilting easier. The new four-stroke also boasts a 12 amp alternator and, significantly, battery-less electronic fuel injection, which for some boaters will mean additional weight saving if a battery isn't required. All sounds good on paper, so how does the new outboard perform?   
On the water
Boat Fishing got a taste of Tohatsu's new lightweight four-stroke recently on Sydney's Botany Bay. Nick Ames of local Tohatsu dealership Neptune Marine (02 9525 0990), had trailered down a brand new 375 Savage Snipe tinny for the test. Lakeside Marines' Trevor Robinson lifted a brand new 20 hp donk out of his truck, bolted it to the little Savage's transom and the package hit the water.
On board with Nick Ames I quickly noticed the two-cylinder engine's quiet urgent idle. Typical of most modern fuel injected outboards, it pull-started easily and emitted no noticeable fumes or smoke. I'd expected the combination of Savage's sub 90 kg hull and maximum power rated 20 hp Tohatsu to offer spritely performance and wasn't disappointed. Nick wore a big grin after first twisting the throttle for the first time and throwing the tinny into some quick turns and circles for the camera.
With my turn on the newly designed "Semi-Multi Function" tiller I could soon see why Nick was smiling. The four-stroke 20  fitted with a 10" three-blade prop effortlessly pushed the tinny out of the hole and ran smoothly as the revs and speed continued to climb before I backed off. The engine was a free-revver and responsive throughout the rev range, offering two-stroke like performance. I found vibration from the engine to be minimal – the new 20's rubber damping has been redesigned - and steering was light and easy. Tohatsu says the MFS20E offers a wider steering angle over the previous model for easier manoeuvrability. As it definitely offered tighter turning than my own similar sized tinny I couldn't argue.
According to Tohatsu, the MFS20E has proven to be very fuel efficient during testing against all competitor brand outboards. According to test results supplied to Boat Fishing, Tohatsu claims the MFS20E was the most fuel efficient at WOT in comparison to the competition, returning around 6.3km/litre.
Overall, the MFS20E four-stroke looks set to be a hit for Tohatsu and definitely a worthy replacement to its proven two-strokes, when the time comes. Packaged with a neat little tinny like the Savage Snipe 375 you can get on the water for around $8k.