Yellowfin Plate Rear Console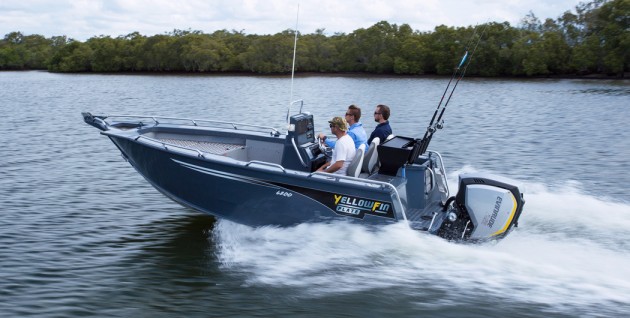 IDEAL for fishing from the river to the reef and introduced due to customer requests, the hand-built Yellowfin Plate Rear Console is available in five sizes: 5800, 6200, 6500, 7000 and 7600.
This design was developed in the NT by the saltiest of guides and is used across Australia because it has complete visibility of the entire vessel while driving the boat putting the captain on the fish and the smooth ride while seated at the transom.
"This style of boat has been available in the Northern Territory for years and Yellowfin Plate has the ability to spread this design across the country" said Drew Jackson, Yellowfin Plate National Account Manager
"The combination of the tried and true rear console design with Yellowfin Plate's superior Marine Core Construction is a match made in heaven.
The Rear Console design positions the captain and two passenger seats at the rear of the boat with three additional seat positions; one on the casting platform and two in the middle of the vessel.
Versatility is the name of the game. In addition to the 6 seat post positions, there is a removable bait board casting convenience and a console with plenty of space for endless electronics.
Yellowfin Plate boats are built with marine core construction and equipped with the perfectly balanced Offshore HD hull. The variable deadrise eliminates the tippy feeling and slices through chop with ease.
The Rear Console has a large central fishing area and raised casting platform to give fishos different vantage points while fishing. To get up to the casting platform, there is a step/storage compartment large enough to house 2-3 three electric motor batteries. Inside the casting platform is a large hatch that is can fit a large esky.
For more information click HERE.