Anglapro 554 Bandit Elite review

ANGLAPRO should be a familiar boat brand with Fisho readers. These Aussie-built tinnies have been around a while and here at Fisho we've had more than our fair share of test rides. Over that time, I've always walked away pleasantly surprised with the company's boat design philosophy and attention to detail.
The latest boat Fisho tested was the 554 Bandit Elite. Interestingly, on the same day I tested another new boat from a Aussie fibreglass boat manufacturer. That premium fishing/family boat didn't disappoint and I was unsure how switching between boats would affect my impression of this alloy fishing boat.
The good news is I was more than impressed with the Anglapro and switching between a 'glass and alloy boat only further cemented my strong fondness for aluminium for no-nonsense everyday fishing.
Size
The Bandit 554 is about as close to the ultimate all-rounder size. Any bigger and you're leaning towards offshore use, while smaller will restrict you to the estuaries and calm weather. Boats in this size range offer the best of boat worlds and in the right hands are a very capable boat.
Another advantage of this size boat is the ease of towing and handling. It's not so big that you'll need an expensive 4WD or a giant shed for storage and it sits on a single axle trailer. At the ramp it can easily be handled by one person and even easier with a mate. And you won't have problems finding mates with a boat like this.
This boats sits between the 524 and 584 in the same Elite Series model. This boat has 4mm bottomsides and 3mm sides and is backed by a five year warranty.
Features
Starting at the transom, Anglapro has installed a large livewell and bait station. There's also plenty of storage for batteries and odds and ends. There's also a walk-thru door at the transom and swim platform. There are plenty of rod holders, a decent size kill tank on the floor, and side pockets for storage. Also under the floor is a 120 litre fuel tank.
The rear area behind the console seat offers generous space for fishing. It's also a beamy boat with the interior width about 2-metres long.
Storage is at a premium in centre consoles and Anglapro has added a seat/storage area. It's good place to store seldom used items out of harms way leaving the deck space clean and clear for fishing. The back rest flips back and forward and there's enough room on the seat for two people. Likewise the console offers protection for two, though isn't so big that it impedes on fishing space.
The console features plenty of space for a 12 or even 16-inch sounder unit (flush mount up to 12-inch). This boat comes standard with a Hook 2 Lowrance 7X sounder on the Elite Series Anglapro. This engine combination usually also comes with a Mercury Vessel-View 403, however this boat has been upgraded to the larger 703. Vessel-View is a clever product from Mercury which provides detailed engine data and compatibility between your marine electronics. There's also a handy app for reading this data from your smartphone.
Over the console there's a T-top with rocket launchers and plenty of grab rails for keeping yourself steady in bigger seas or while under way. Further forward there's a raised casting platform, useful for casting lures with the bonus of creating plenty of storage underneath.
Derek Rodway from Sydney-based Goodtimes Marine, an Anglapro dealer, says the idea behind the deep storage was to create enough space for adding a big cooler. That way it sits snug underneath the casting platform out of harms way. The result is a nice clean floor layout and the option to fish up to four anglers, plus there's still ample storage further forward. The bow features an electric motor mount and anchor well which is all standard.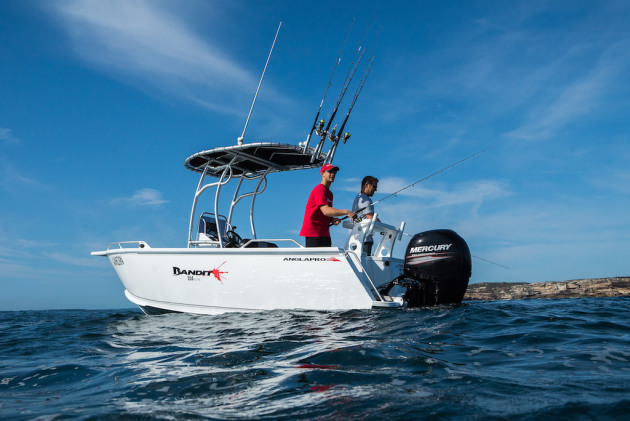 Fishability and ride
On the boat test day were lucky to have light winds combined with a reasonable size swell outside. It gave us the best of both worlds to test the performance and fishability of the 554 Bandit Elite.
Outside in the chop, the Bandit handled itself very nicely. Once the trim was set a comfortable causing speed between 20 and 25 knots was more than comfortable. It's also a nimble and fun boat to drive with tight turns achieved with safety. On the flatter water we were able to reach speeds in excesses of 30 knots, although some adjustment to the test boat's engine height was needed to maximise speed at WOT. And it was a dry boat! We spent some time fishing and testing the boats off Sydney's Kurnell with hardly a drop of water entering the boat.
At rest it was stable with two onboard. The 554 Bandit is powered by a 135hp Mercury four-stroke. This size is the maximum horsepower for this boat. It's a great fit, according to Derek.
"The great thing about the Merc 135hp is that it's a 3-litre block. If you go down to the 115 you have a 2.5-litre , so this performs a lot better on this boat," said Derek.
This boat comes standard with hydraulic steering.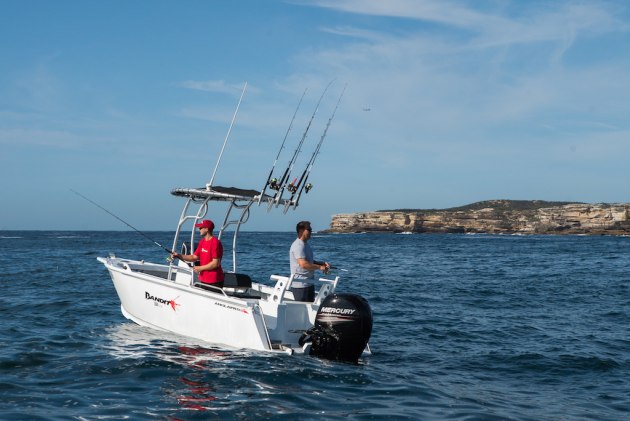 Package
The Bandit Elite gave a good account of itself as an all-round estuary, bay and inshore fishing platform. The Elite series comes with enough standard features to make it an easy purchase. Add an electric motor on the bow and perhaps an upgraded sounder if you wish and it's ready to fish!
If you're in the market for a versatile alloy boat with ample space and nice safe performance characteristics, the 554 Bandit Elite is worth checking out.
For more information: goodtimesmarine.com.au