Arvor 705 Sportsfish review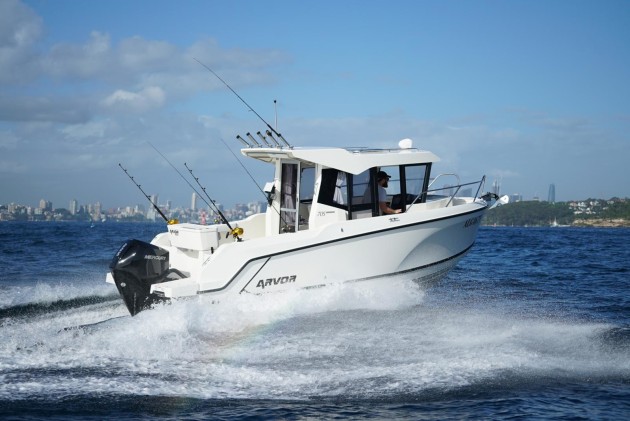 FISHING World has tested several models of the previous generation Sportsfish range and I was curious to see what changes were made.
Peter Collins from Arvor Boats Australia invited Fishing World onboard the 705 for a day fishing and to check out the new model.
Built for fishing
Arvor says its latest generation Sportsfish models are "unashamedly built for fishing". It's hard to argue with that.
Arvor also manufacturers a range of popular leisure boats in the Weekender range, a great family option, but less focused on fishing.
However, the Sportsfish range, as the name suggests, is certainly built for fishing with a number of essential features and designs that come as standard.
Starting at the transom and in the centre, Arvor has placed a neat fishing station. This features a large livewell and small cutting board. You could also use the livewell lid if you needed to fillet a larger fish, etc. There's also a couple of cup holders; useful for drinks or fishing accessories. The bait station can be folded down (when the livewell is empty) to allow full trimming of the outboard while towing or moored.
Having the livewell and rigging/bait station in the one place makes rigging tackle or livies very convenient and easier than reaching down for bait and carrying them to the rigging station. It's also a good height. Not so tall it obstructs any vision at the transom, yet tall enough so the average height fisho can stand and rig tackle or bait without leaning over.
On that note, another great feature is the generous height gunwales. Lower gunwales are fine on estuary boats, but anything you intend to spend time on offshore needs to be a decent height. This helps when fishing and fighting fish in a swell or rough sea. Another addition here is the toe rail. It's a small, low rail directly under the gunwale. Jam your feet in there, lean against the padded gunwale, and you feel very secure in a rough sea.
In addition, the floor is nice and grippy and the boat features a self draining deck.
There are four rod holders in the gunwales, two on each side, plus under the gunwale on the port side you can fit two short rods horizontally and out of harms way. Plus, there's more rod storage with rocket launchers on the cabin.
Each side features a roomy fish locker/kill tank and there's fresh and saltwater wash down available to wash away any fish blood, etc.
The port side features a 9" Simrad sounder, a good option for keeping an eye on things without having to move inside the cabin.
This back cockpit area is quite spacious, especially given the sizeable cabin adjoining this area. On the day of the boat test, we only fished two people, however you could fish another one or two people easily depending on the style of fishing you're doing.
On that note, it's a versatile fishing boat with many applications. We didn't have time to take this boat too far offshore in search of game fish, but there's no reason why this boat wouldn't make a suitable game fishing boat.
I could also picture the 705 at home in Queensland, making trips to and from the reef or down in Tassie chasing tuna. Southern fishos will appreciate the enclosed cabin to stay warm, while Queenslanders will find the retractable cockpit sun protection and sliding doors a valuable addition.
The enclosed cabin is a convenient walk-around configuration. This extends the fishing space considerably. If you're looking for more elevation, the bow area has plenty of space for someone to stand up and fling lures around. The access to the bow on either side is also spacious; you'll feel secure walking around in a bumpy sea.
The cabin
Most enclosed cabins are a compromise; there are usually plenty of pros and cons. That said, the 705's cabin is well designed and there's not much negative to say. Other enclosed cabins tend to "separate" or "remove" the captain and crew from the cockpit and fishing area. This type of cabin makes fishing solo difficult and can cause communication breakdowns when fishing with crew.
However, the 705 features a large sliding door on each side, opening up to the wide walk-around area. If you're fishing solo, leave the door open and you can quickly duck outside and grab the rod. If someone else is hooked up, they can fight the fish from the starboard side and there's no communication breakdown between angler and boat driver. It's a great design!
The back sliding door combined with the two doors on each side and the sunroof on top, makes it a very "airy" cabin. It's a great option for anyone looking to purchase this boat for warmer areas in Australia.
Once you close the cabins it offers all of the benefits of a fully enclosed cabin. Taking the 705 offshore in winter would leave the crew dry and warm and ready for fishing. As I said above, it's a versatile boat.
The cabin features two bolster seats plus a small fold down passenger seat near the back door. There's also a small sink and a fridge behind the seats. Towards the front there's a small private cabin area. It also includes a toilet with holding tank. While there are cushions in this cabin, it's too small for sleeping an adult.
The dash features a 9-inch Simrad NSS Evo 3 fishfinder/chart plotter, a Fusion stereo, plenty of gauges and a Mercury Active Trim controller. The steering wheel is made from stainless steel.
This dash will fit a 12-inch sounder if you prefer something bigger and that's certainly the trend across most fishing boats.
Overall, it's a spacious and airy enclosed cabin suitable for use in tropical and cool climates.
Performance
Arvors have a unique Northern European style, designed for the North Sea. The beam carries well forward towards the bow. This design offers an incredible amount of space and accounts for the roomy enclosed cabin and ample fishing space. It also means the boat offers great stability under way and at rest while fishing. In a heavy sea, with some adjustment to the trim and a sensible cruising speed, the large boat provides a reasonably soft ride. I wouldn't have any hesitation taking it well offshore in search of large gamefish with the confidence of a safe and comfortable return trip home.
The 705 is powered by a Mercury 225hp four stroke. This V6 four-stroke is economical, quiet, and provides plenty of torque. Both brands belong to the same parent company, ensuring the engine and hull are matched correctly and price is kept fair. As such, it's a good match for the 705 Arvor. The Sportsfish's ideal cruising speed in rougher water was about 18 knots and 3800RPM. In calmer water we found ourselves cruising around at 24 knots and 4100RPM, while WOT came in at 36 knots and about 5800RPM.
I had Mercury's Active Trim Controller switched on the entire day. It really makes boating simple, especially in a new boat that I wasn't familiar with. Trim is an often misunderstood aspect of boat driving and this function takes much of the mystery away and lets you enjoy boating.
While the 705 is a large and beamy boat, it handled surprisingly well at speed and in tight corners. After a few practice runs I was able to throw it around with ease and with full confidence.
Conclusion
There's a lot to like about Arvor's 705 Sportsfish. It's much more than a family boat with a few fishing features. Arvor has built this boat from the ground up with fishing in mind. It handles well in rough water and has enough well placed fishing features and characteristics to satisfy the needs of fishos in most parts of Australia. The 705 is also trailerable, coming in at just under 3 tonne.
For more information: arvor.com.au