Bar Crusher's 535XS: the ultimate all rounder?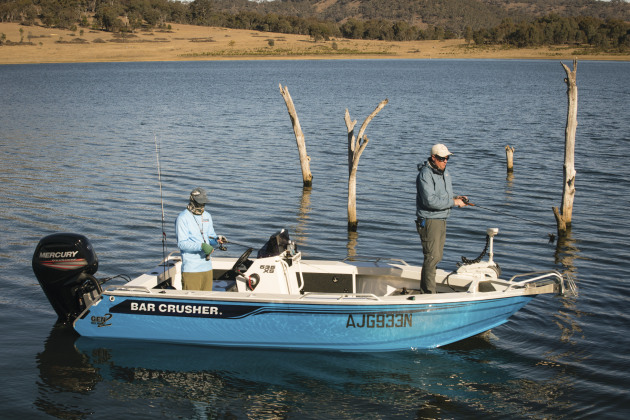 ANYONE who owns or dreams of buying a boat understands the conundrum of boating compromise. True versatility in a boat is a cliche amongst prospective boat buyers; it's the dream we all chase.
The reality is there is no magic boat capable of suiting all scenarios. The only way to achieve that is to spend up big and buy multiple boats. Unfortunately for most of us that's impossible; we're lucky to own one boat, so finding one which caters for 80 per cent of your fishing is a great "compromise".
While the above still applies, there's no doubt some boats are more versatile than others and I reckon Bar Crusher's 535XS is pretty close to the ultimate!
Gone plate
I've spent enough time in boats of all kinds to appreciate the pros and cons of fibreglass and alloy. Fibreglass has its advantages: it's quiet and soft riding and looks slick. Alloy may be noisier, sometimes, but the durability was appealing and, to be honest, the performance is still damn good! I've owned tinnies in the past and appreciated their simplicity. So I made the switch and opted for a  plate boat.
My previous boat was an American-built Scout centre console. The 16-foot fibreglass bay/flats boat was a superb riding boat and fished two people with ease. It was stable and powerful and ticked a lot of boxes. So why would I change to a larger plate boat?
My two young kids were reaching boating age and the Scout didn't offer enough gunwale height to keep them contained and safe. But it was much more than a reason to step up into a "family" boat. After all, the majority of time I'm fishing solo or with a mate or two and I wanted a boat for serious fishing.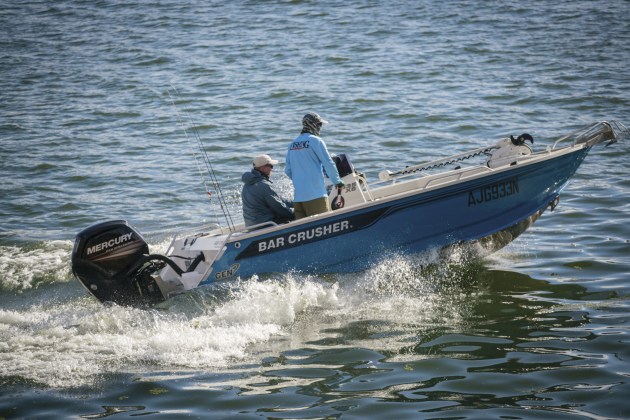 While not much bigger than the previous boat, the 535XS was capable of taking me further offshore for a wider range of species. The aforementioned higher gunwales makes me feel more confident fishing in a rough sea and the ride in rough water is hard to match for a boat of its kind. The 535 will no doubt spend a lot of time offshore over this summer!
On the flipside, while it's a great saltwater boat, it's equally at home in the fresh in rivers and impoundments. It's already proven itself as an effective boat for chasing bass on the rivers and inland natives on big impoundments.
Fisho project boat
While magazines like this one may give the false impression most people own giant specced up offshore trailerboats, the truth is most of us own boats at the smaller end of the scale. Open tinnies, centre consoles and small cabin boats are the norm. While everyone dreams of buying a larger boat, it's usually not practical. Even if affordability isn't an issue, there's still the problem of towing, storage, and handling a large boat. For this reason, we hope boats like Fisho's 535XS project boat aren't out of reach of the average punter and provide you with a few ideas when researching a boat of your own. It's a practical, realistic option for many Aussie fishos who chase a wide range of species across the country.
What's onboard?
Bar Crusher's customer service during the ordering process was second to none. It's easy to see why the Melbourne-based company is one of this country's leading boat brands. I used Bar Crusher's "online boat builder" on its website. It takes prospective buyers step-by-step through models in the range and allows them to choose a colour, review the long-list of standard features and select various options before submitting the personalised build spec for a quote. Bar Crusher receives this and a representative calls to discuss and provide a quote. Too easy!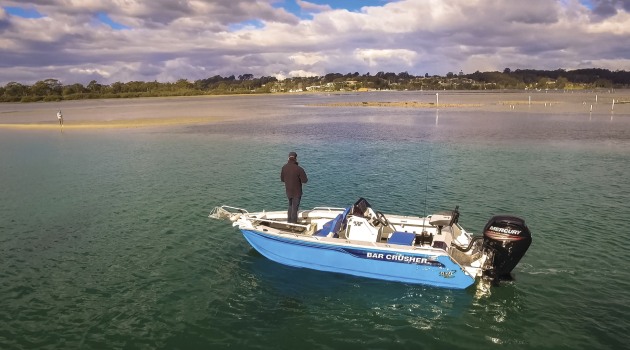 On the subject of optional extras, while there are plenty available, Bar Crusher sells a complete boat as standard. I'd have full confidence in buying a standard model boat without any options and taking it fishing. Some boat companies choose to quote a low starting price, but many of the essential additions are missing, including, in some cases, an adequate size outboard. 
So as it turns out my wish list of optional extras were mostly catered for and I only added a few extras to suit my personal needs.
Some of these options include a saltwater deck wash, sliding vertical rod holders, rod locker, and an ice box seat. Plus, of course, I got to choose the colour of the hull and went with the  "Brooklyn" blue colour, which is unique and looks great!
Starting at the transom, there's a standard size cutting board which features rod holders. This is removable and most of the time I leave it out to create more space at the rear. I opted for a sliding vertical rod holder, which attaches to the parcel shelf and most of the time I leave it along the transom.
Being a rear mounted centre console, the space back there is limited, but is still plenty big enough to move around and fish. Of course the rear centre console has some major advantages - it creates a larger space up front for fishing and the rear position makes for a smoother ride in rough conditions.
The ice box is a large 80 litre model with a cushion on top. At this stage I've opted to use this box for storage of safety gear and other odds and ends. For keeping fish there's a small shallow kill tank behind the ice box and I've also got a 50 litre Yeti cooler which I can place directly in front of the console and take out if it's not needed. One small problem I found with the seat ice box is the lack of space between it and the steering wheel; it feels a little cramped when standing and driving. I may need to move the ice box back or install a lower steering wheel to move it away from my thighs when driving. Not a major problem, but something to keep in mind if you're looking to install a similar set-up.
The console itself is a functional size – not too big and not too small. It has plenty of space for electronics of all sizes and gauges. I have a 12-inch Lowrance HDS Carbon mounted on top and there's still ample room for storing phones, food, tools etc, or leaving salty lures. There's also plenty of space for flush mount gauges and extras like stereos, marine radios etc. I have a Fusion stereo as well as Mercury's Vessel view gauge. More on that later.
Up front Bar Crusher installs two heavy duty and very comfortable pedestal seats. I remove them most of the time depending on who's fishing. They stay if the family is onboard. If I opt to leave them at home, as mentioned, my Yeti sits nicely in front of the console and is  a useful addition for multi-day trips when food and drinks need to be chilled. 
Further forward and there's a carpeted casting platform with ample storage space underneath. It's also lockable, which combined with the rod locker makes for a secure boat when travelling.
Under the casting platform I have two deep cycle batteries securely installed to run the 24 volt Motor Guide bow mount electric motor. The electric motor is an essential item for a boat of this type and really opens up options for fishing tight water around snags in lakes and rivers. Being the xi5 model, it also has an Anchor Lock feature which quickly pins you to a spot so you can pepper an area with casts before moving on. This feature makes it much more than a freshwater device with applications around marker buoys and FADs in the salt.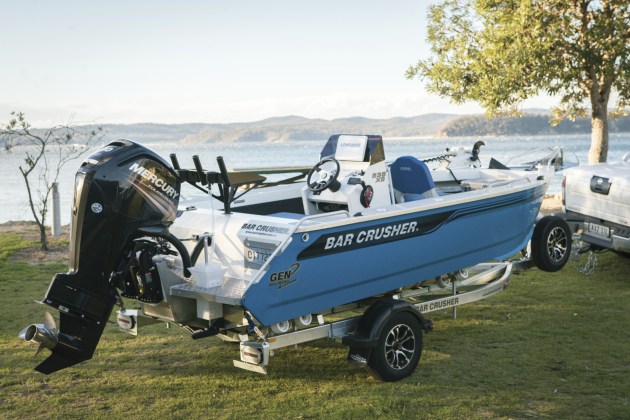 Power
The 535XS is fitted with a 90hp Mercury four-stroke. The 90hp is part of the 75-115hp range and is a perfect match for the Bar Crusher. It's whisper quiet, light, responsive and from all reports, a very reliable donk.
This 90hp features Merc's Command Thrust, which uses the same bigger gearcase housing as the Mercury 150 four stroke. It's ideally suited to heavier boats, providing additional lift out of the water. While I wouldn't call the 535XS overly heavy, it's plate alloy and does carry ballast for stability at rest, so the Command Thrust delivers on its promise and offers plenty of power effectively. Also, having an overbuilt gear case can't hurt when it comes to the longevity and reliability of the engine in the long term.
Another optional feature on the Merc is Active Trim. As the name suggests, Active trim takes the guess work out of trimming and automatically adjusts the trim while under way. While this may seem trivial for an experienced boat driver, you'd be surprised how many people don't understand trim. For newcomers to boating, or just for those who enjoy hassle-free driving, the Active Trim is a great feature. It can of course be disengaged while using or turned off altogether. I've used it at WOT and it trims the engine perfectly to achieve maximum speed. Needless to say, you should always keep an eye on trim and turn off this function when in shallow water and around the boat ramp!    
Another option I chose is Mercury's Vessel View. This handy 5-inch screen is flush mounted behind the steering wheel and offers everything from engine data to vessel system information including: rpm, speed, fuel flow and efficiency, temperature, trim, and more. While much of this data can be streamed via my Lowrance, having an independent screen allows me to monitor this important info while leaving the fish finder to find fish. It's also handy to know if the sounder stops working, I still have this info available. Vessel View is also available as a smartphone app with all the same data available in your hands. This is particularly useful for smaller tinnies and for those who need to check engine data and stats while away from the boat.
Performance
While I haven't had the boat long enough to get a true indication of performance, initial testing paints a positive picture. Mercury's own on water testing reveals a tidy crusing speed of 22 knots at 4000 RPM and 15.5 litres per hour of fuel. WOT shows 36 knots at 5900 RPM and 33 LPH. My own observations back up the company's own testing. Holeshot punch is good and mid range power is also impressive and perfectly adequate for a boat such as this. Likewise, the top speed of 36 knots with a couple of people onboard is plenty fast enough. Most of the time I find myself cruising anywhere between 22 and 30 knots depending on conditions.
What's next?
With the summer fishing season ahead, the 535 will be spending a lot more time on the water with trips planned chasing a range of species in fresh and salt. Stay tuned for a more detailed follow up report on the boat, engine and accessories.
For more information, click
HERE
.