Blackdog 6.3 Cat review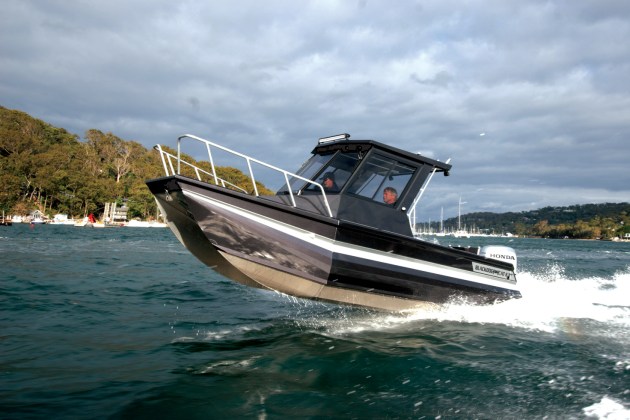 THERE'S no doubt cats have an undisputed capacity to tackle rough water, plus great inherent stability for offshore fishing. However, the success of cats offshore has tended to type-cast them as a specialised craft with twin-engine power that is bit aloof from everyday boating.
Now a new cat from across the Tasman "Ditch" promises to change the game somewhat. The Kiwi 6.3 m Blackdog is a twin-hull Cat that runs happily on a single motor, which helps to reduce the starting price plus lower running costs.
You can buy the Blackdog Cat with twins but she performs so well with a single motor you probably won't bother. And keeping in mind the reliability of modern outboards that's good news especially if you're plan is to do as much inshore fishing as the outside variety.
And this is where the Blackdog shines. She comes with an innovative walk-through design that's ideal for inshore as well as blue-water fishing.
The covered helm station provides direct door-way access to a bow cockpit brilliantly suited to cast-retrieve platform on rivers, lakes and other calm waterways. The wide bow and twin-hull stability makes this a top spot to flick lures to bass, barra and other inshore species. At the same you have a large cockpit aft with all the mod-cons for battling the kingfish, tuna and other offshore marauders.
As the name suggests, the Blackdog is one tough critter. Robustly built with 4 mm plate alloy hull sides and bottom she has industrial strength checker-plate flooring. The welding work is excellent and hard to sink her with no less than three water-tight air chambers in each hull.
However, the real kicker for potential buyers is the great stability and smooth ride offshore. Blackdog features an advanced hull form that is inspired by racing cats. Each sponson (hull) has a curved outside face and a dead flat inside edge. This creates a central tunnel that is very straight and delivers a very effective, air-cushioned ride at speed.
No prizes for guessing the tapered shape of the sponsons reduces hydrodynamic drag so the Blackdog accelerates easily. Overall handling is more like a conventional monohull so it's all very reassuring to the average boatie.
The up-sweeping bow cockpit floor is something you'd expect on a military beach-assault vessel. However, it's actually for anglers who want to land on a remote beach to do land-based fishing. Yet it also works beautifully as a for'ard casting deck.
I might mention that the whole interior is self-draining so any water coming over the bow quickly runs aft to the stern scuppers.
Perhaps because this Cat hails from a different place like New Zealand it has a fresh and innovative approach. It's only nine years since a young builder, Luke Seuren and dad, Kevin Ogle launched the range. The success of their first model - an open tiller-steer 4.1 m has led to an expanded range in the homeland of 4.6 m, 5.1 m, 5.5 m and a 6.3 m model. Now they're trying their hand in Australia.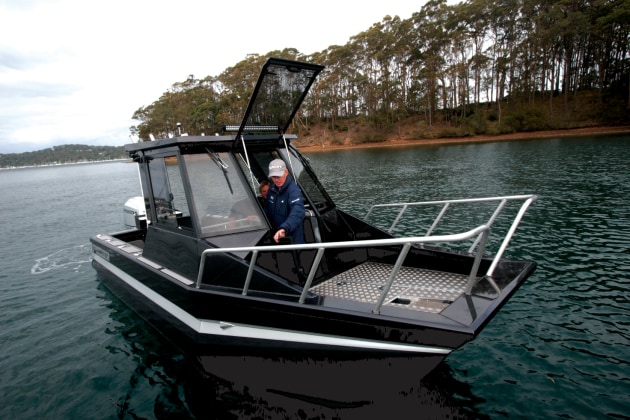 Water test
Recently I had the pleasure of catching up with Luke for a test of the Blackdog 6.3 m after the Sydney Rosehill Boat Show. Conditions weren't the best and indeed not promising for photos - cold, windy and passing rain showers.
Local dealer, Jason Graham of Aussie Boat Sales had launched the boat earlier before driving off to the airport to pick up Luke and Kevin, so I just sat back in the snug cabin with my take-away coffee in hand. The helm/passenger seats are very comfortable and you are protected on three sides by the hardtop glass windows.
By the way, the next boat will have optional side-folding seats to provide more passenger seating but overall the aim is to keep the Blackdog as open and clutter-free for fishing as possible.
Perhaps God is a Kiwi because as the boys arrived the sun came out and were able to fire up the big Honda 200 hp for a test run on a white-flecked Pittwater.
Even with the protection of the hardtop it was chilly out on the water but also a pleasure to drive as the big cat obviously revelled in the choppy water.
From the helm I immediately noted how well the Blackdog accelerates onto the plane and dials up a quick 20 knots at just 3500 rpm. The asymmetric sponsons certainly make for a very soft ride in bumpy stuff and also leaves quite a clean wake with the single motor.
I was pleased to find this cat doesn't bank outwards in a turn like most of her species. This makes the Blackdog more reassuring to drive because she turns in a level manner. In fact, if you back off the speed before the turn she banks inwards just like any conventional boat.
Even in the white-capped waters I had no probs driving flat out, the big Honda 200 hp delivering an impressive top speed of 36 knots. However, the best economic speed was 20 knots where consumption was only 25 litres/hour.
The full speed results were as follows:
3500 rpm 20 knots
4500 rpm 28 knots
5000 rpm 30 knots
5600 rpm 6 knots
The driver position is very comfortable and you there's flip-up bolsters if you want to helm standing up. The dash provides plenty of space for electronics and our test boat had a giant Garmin 7410 colour fish-finder/GPS chartplotter. There's also a Garmin digital display for the motor plus Garmin VHF radio and Fusion sound system with twin speakers.
Also on the dash is a product called Zip Wake that is an automatic self-levelling device. It has tiny trim tabs of only about a few millimetre depth and does wonders to the boat's handling, plus stability when fishing.
Other great features include hydraulic steering, flush-mount throttle, windscreen wipers and huge (dry) glove-box, two big gear-bag stowage lockers under the dash and cabin/cockpit lighting for night trips.
Blackdog also comes with an electric drum-winch and a stainless steel anchor that retracts into the bow to keep the front of the boat nice and clean for fishing.
Other features to write home about include alloy grab rail for the passenger seat, sliding side windows and grab handles on the cabin ceiling for the safety of passengers.
As a fishing platform the Blackdog is brilliant. You get loads of open fishing space both ends of the craft. There's no less than eight rod holders welded into the gunwales plus 6-pack rod holder overhead. Up front is a huge kill-tank in the floor and a LCD light bar to illuminate the area for night fishing.
I particularly love the dished-shaped raised side pockets running the length of the cockpit. These are just about the right height for all those fishing nick-knacks. The cockpit also provides a decent 75 cm gunwale height. It's about the right height if you're gaffing a fish alongside, but not too high for sitting down during a lull in the action.
At the transom is a plumbed live-bait tank, raised cutting board, deck wash, raised battery locker and stern door to a transom step and heavy-duty ladder. Yep, scuba divers will love this boat too!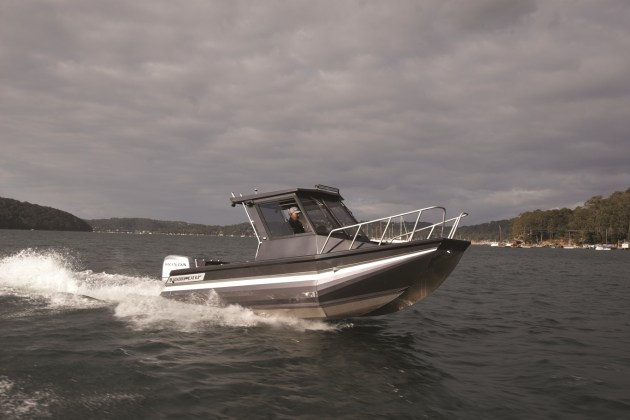 Verdict
Blackdog Cat is one of the most impressive fishing craft to pass our test team in recent times. The angular bow shape and wheelhouse is more workboat than pretty but her sheer brutal effectiveness soon wins you over. She was something of a head-turner at the ramp especially with her glossy All-Black colours and dash of silver. There's actually plenty of other colour choices all done in a premium paint finish with two-tone interior.
The test package also includes a rear cockpit cover, dual braked tailer and twin 110-litre fuel tanks to suit Aussie fishing conditions.
There are a number of motor options however, it's hard to beat the test package in terms of performance and hard-core fishing appeal. In short, Blackdog Cat is good value package considering the high level of equipment.
For more information, click HERE.