Boat Restoration: 1994 Seafarer Victory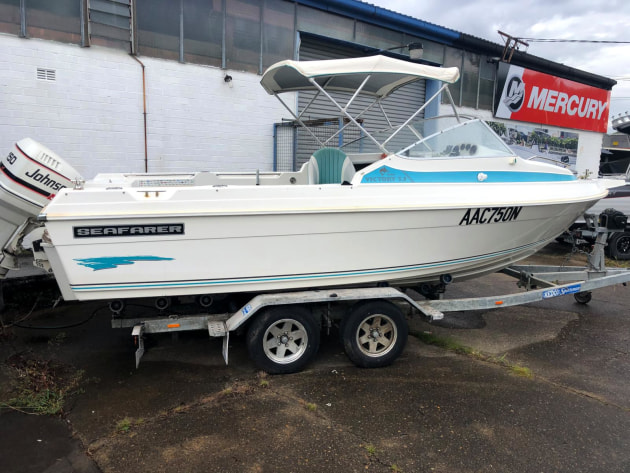 THE winter of 2021 saw many people take a up a new "lockdown hobby". But Derek Rodway didn't take up gardening or yoga, no, he took a chainsaw and chopped the roof off a 1994 Seafarer Victory.
Restoring classic Aussie-built boats has never been more popular. Boats like the Victory, while they can be hard to find, provide an ideal platform to create something special if you have the time and money.
For Derek, owner of Good Times Marine in Southern Sydney, it provided the perfect opportunity to showcase some of his Roswell Marine products and turn a good boat into a serious sport fishing machine.
Not everyone has the time or skills to undertake such a project and Derek says he's been inundated with requests for similar builds since building the Seafarer over the past few months.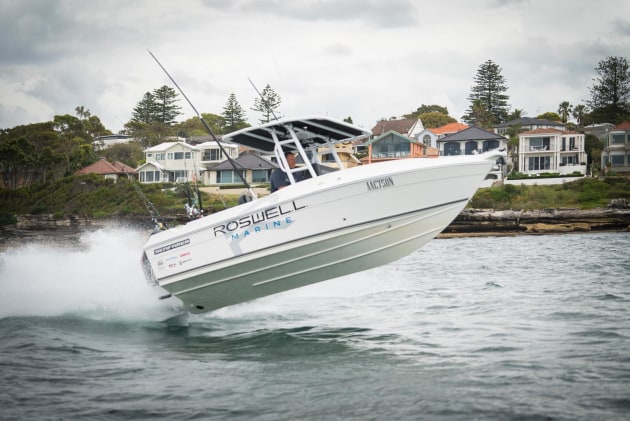 The re-build
Using a chainsaw, the roof was cut along the sheer line, which Derek says, adds more character to this classic hull. It also helped with freeboard in the bow.
The next step was to install the T-Top to ensure it would fit and wouldn't interfere with the casting deck. The Roswell Uni T-Top fully folds down with weight assist. It's a simple matter of unscrewing the T-Top and folding it forward onto the console. Great idea for storing the boat inside a garage. The Roswell T-Top is solid and the perfect fit for a boat of this size.
There's also a Roswell light bar on the T-Top and underwater lights at the transom. All of the speakers light up and there's under gunnel lighting, plus flood light lights.
After the T-Top was sorted, attention turned to the casting deck. The casting deck is enormous and features a plumbed livewell, two areas of storage, dry locker, two sub woofers and there's a full toe hold all the way around, which you don't see in too many comparable boats. It's a big advantage to remain steady if you're fighting a fish on the bow.
There's storage shelving all of the way around the bow, and of course, cup holders.
On the bow there's no electric anchor winch, but there is a 80lb Motorguide trolling motor with anchor lock feature. The trolling motor is mounted to a custom mount which fits neatly into the fibreglass. The trolling motor adds to the versatility of his boat as an all-round sportfishing rig.
The Motorguide is powered by a 24 volt lithium battery, plus there are twin 100 amp hour house batteries in lithium and Derek has authority from Mercury in the US to trial a braile lithium as the crank battery. A DC to DC charger manages charging across the batteries, except for the Motorguide 24 volt battery which is isolated. All of the batteries are bluetooth connected so you can check the condition via a smart phone.
The boat is fully fitted with a dark Ultralon flooring which was fitted by Premium Marine Flooring. It's comfortable and grippy underfoot and has custom etching.
The side coamings are also fully upholstered and match the floor and console.
The Console
Derek chose a unique upholstered console which looks smart and complements the dark flooring. At the front of the console is a slim seat with cushion. It's not too spacious, just big enough to take a seat and not take up too much valuable room.
The dash features a 16-inch Simrad EVO3s sounder with twin 1kW transducers plus a 3-in-1 transducer for Side and DownScan imaging. It's pre-wired for a second sounder in the bow.
The console itself is custom built for this boat and fully glassed-in.
Derek says driving position was an important factor. The steering wheel and throttle are positioned so you can drive and stand. That's something often forgotten in similar boats.
The "stop/start" key is a red "missile launcher" style push button on the dash. It's a nice touch and fits well with the rest of the boat.
The aftermarket helm seats are built by Relaxn and there's a frame supporting those with a grab rail.
Still at the transom, there's a small custom bait board and plumbed livewell and fully lined cooler on the opposite side.
If you like tunes on the water, the stereo system is impressive with 2800 watts RMS with three Roswell amps and 10 speakers and two 12-inch sub woofers at 500 amps each.
And for the fishos, there's plenty of rod holders in the gunnel and under the gunnel for horizontal storage. There are also two adjustable outriggers.
It's pretty obvious no stone has been left unturned when it comes to the fit out of the Seafarer in regards to fishability, function and style.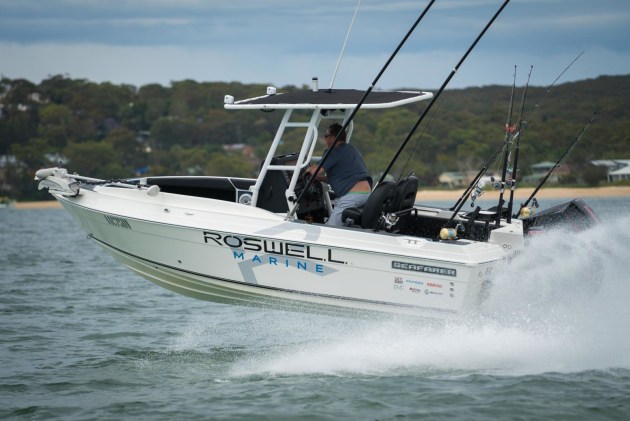 Power
The Seafarer is powered by a 4.6 litre Mercury ProXS 225hp V8 four stroke. These are a superb engine and well suited to the Seafarer. Mid range torque is impressive with quick acceleration throughout the full rev range. The V8 Mercs also feature good fuel economy and have a full range of additional Smartcraft features.
Performance
This was never meant to be a performance review. That said, experiencing this boat on the water and seeing Derek drive it, it's hard not get excited by its impressive performance. At the helm, Derek is like a kid in a candy store! In fact, it was hard to keep up from the camera boat as Derek jumped from wave to wave sporting a big grin.
After a few photos, I jumped onboard and was equally impressed. The wind was down, yet a sharp chop from the run-out tide made for an interesting testing ground outside Port Hacking. Cruising at round 25 knots, the sharp deadrise sliced through the waves and the boat felt incredibly soft and comfortable. Likewise with a following sea it felt safe at speed and during hard turns. It's obvious the performance of this boat well and truly matches the impressive fit out.
Back in calmer water I opened it right up and became more familiar with the controls. It's fun to drive and reaches around 46 knots wide open. Even at that speed it felt safe. And as mentioned above, the V8 Merc features impressive mid range acceleration, which not only multiplies the fun factor, but comes in handy if you're taking the boat through bars and heavy seas.
What's not to like abut this boat? It's a restoration project on steroids from Sydney based Derek Rodway. Every square inch of the boat has been taken care of with quality accessories and a cleverly laid out boat built for fishing, fun and performance.
If you're interested in hearing more about this Seafarer, Roswell Marin or other projects from Good Times Marine, contact Derek at goodtimesmarine.com.au.