Edencraft 565 review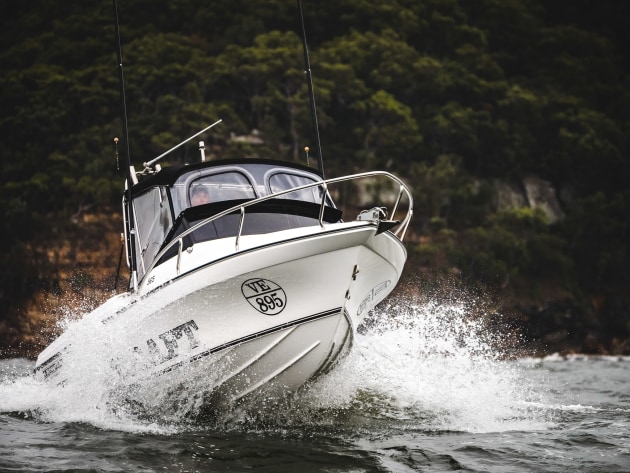 VICTORIAN-BASED Edencraft has been manufacturing its range of iconic boats for more than 30 years. The company kicked things off with the iconic Formula 233 hull, still a very popular option, and added to its line up with a 6m Offshore and 565 models. In 2016 the company changed ownership with Grant Maher taking the helm and pushing the iconic boat brand to new heights. Fishing World recently caught up with Grant and his team during Edencraft's East Coast road trip. The team towed three boats from Melbourne up to Pambula in Southern NSW. From there they travelled north launching the boats along the way, showing them off to potential buyers. We caught up with the team along the way just north of Sydney. At the time, the forecast was dismal. NSW was about to plunge into one of its wettest months in years with significant flooding occurring from Sydney north to the Queensland border. The Hawkesbury River had a flood warning and I had a boat test to complete before they returned to Melbourne. As it turned out, over the following two days, this river received one its largest volumes flood water in about 50 years.
Thankfully, we made the call to go ahead with the boat test and the rains eased long enough to snap a few photos and take the new 565 for a ride. And while poor weather is a hassle, it's great for testing boats, especially ones built for less-than-ideal-conditions like the Edencraft.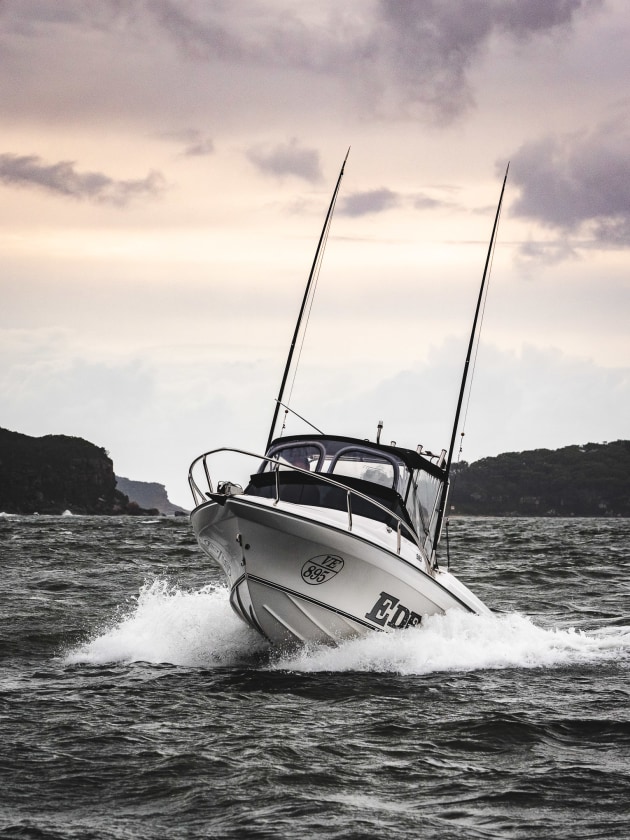 The new 565
The tested boat was an updated version of Edencraft's popular and versatile 565. It's good to see some significant changes to the new design that provide a better ride and fishability. Firstly, Edencraft has removed the transom pod on the new 565. The transom mount, according to the company, improves the balance, the ride and eliminates any cavitation. Another difference is the new model has the planing plank removed to give it a true "deep vee" hull shape; again for a better ride in heavy seas and the less slap on the bottom of the hull. Edencraft has also added a more flared design, running from the bow down the sides for a much drier ride in choppy conditions. Edencraft has also built this 565 tough with a full "Matrix" one-piece stringer system. Plus, it's foam filled and has positive flotation.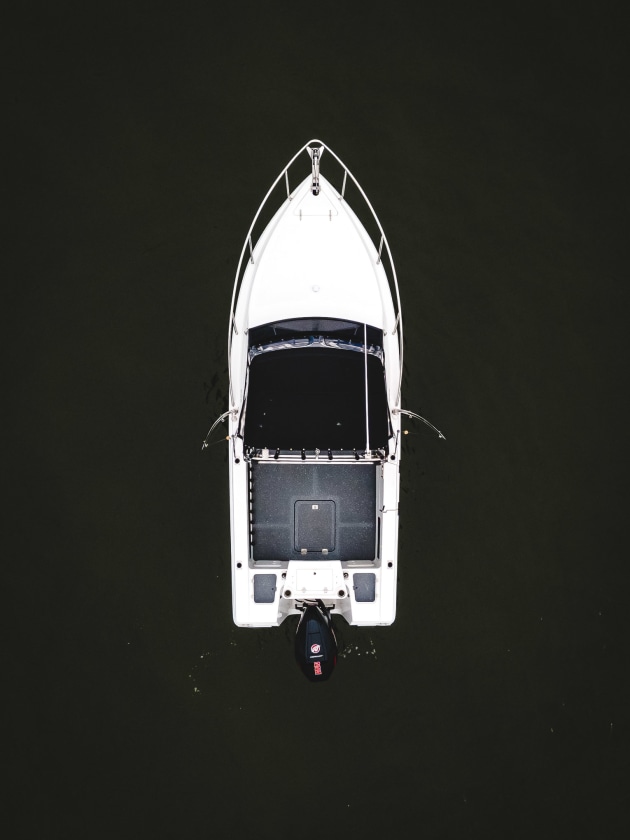 The fit out
In a nutshell, the 565 isn't choked with unnecessary clutter. It's clean, simple and designed for one purpose... fishing. Starting at the transom, there's a good size bait board with a couple of cup holders and internal storage. There's also a plumbed livewell on each side of the transom. Interestingly, each livewell was quite shallow, making it easy to reach in and grab livebait. Edencraft has since deepened the livewells to accommodate even more livebait. The transom also features storage for batteries and accessories.
Further forward and there's a large kill tank in the floor. The moulded floor itself is super grippy, even with water onboard and is available in many colour variations. The gunwales on the 565 are 840mm high making it a really safe boat to fish from. I prefer higher gunwales and this is a perfect height to lead against and fish in bumpy seas. With good space underneath for your feet and high gunwales, it makes fishing and fighting fish in rough water safer and more enjoyable. It also helps if you have kids, for safety. The gunwales are a good width, not too wide, but more than adequate to mount rod holders. They're also grippy on top if you're walking on them or hopping in and out of the boat. There's storage under each gunnel and a vertical rod holder attached to the side pocket. On the opposite side Edencraft has added a swing door, useful for dragging in large fish or entering/exiting the boat if you're diving. The door swings back and can also be fully removed. At the helm there's a spacious dash area capable of fitting a 16 inch screen; something every modern boat should have given the trend towards giant screens and added gadgets. The test boat had a 16-inch Simrad NSS EVO 3. Also on the dash were the standard switches and a Mercury digital gauge. Forward of the helm in cabin, there's plenty of space to stash fishing gear, safety equipment, etc.
Plus there's a recessed area of about 145 litres, perfect for more storage etc. The test boat featured a tinted windscreen. Edencraft offers the option of clear, tinted or wave break. On top of the test boat was a bimini, clears and Edencraft had a set of rocket launches fitted, plus outriggers. As described above, the deck layout is simple, yet very effective. It's neat, well built and designed for fishing. With 5m2 of deck space and with its well designed layout, a boat of this size would easily fit and fish 3 or 4 people.
Performance
As mentioned above, an East Coast Low was about to batter the coast. The river was turning brown and we made our way downstream towards Broken Bay. After all, this is an Edencraft and while it's a versatile boat, it deserves to come up against something more than calm water. The Easterly was pushing a decent swell well into the bay and provided a good testing ground. Edencraft boats are known for their sharp deadrise, in this case 22 degrees. The sharp deadrise slices through the water and reduces chance of hard landings. At first, you might think a boat like this would take some practice to drive, and some similar hulls can be tricky, but I was pleasantly surprised to find the 565 was an easy boat to handle. The boat leans sharp into turns and the fun factor multiplies the more you drive it! Driving into the swell, the boat cruised comfortably around 25knots. I'm sure I could've pushed it further with some familiarity. The boat also handled safely in the following sea. I'm sure even a newcomer to boating could handle these conditions with only a small amount of practice. At rest the 565 is a little tender in the rough water. That's an expected compromise given the sharp deadrise. That said, it's not overly noticeable and if you've spent any time fishing offshore, it won't be a concern. The test boat was powered with a Mercury 225hp four-stroke. The V8 Merc is a stand out in this size class and a perfect match for the 565. Mercury's 225hp V8 features loads of torque and an impressive power to weight ratio. Sure, a a 225hp sounds rather large for a 565m boat, but at approx 1500kg, this Edencraft carries some weight and combined with a its sharp deadrise, matches perfectly to a large powerful engine. It's also no slouch! Back in the smoother waters of the Hawkesbury I was able to push the 565 to 43 knots at 5120 RPM. It had more up its sleeve. The fellas from Edencraft said the engine needed a slight height adjustment and would definitely get 4 or 5 additional knots and more RPM. It felt fast, but safe at this speed. Fuel flow at this top end speed was 70.5 1/hr. A Mercury V6 200hp would also make a good choice if you preferred less horsepower. As I mentioned above it had an ideal cruising speed through the rougher water around 25 knots and 3100 RPM. Fuel flow at this speed was 23.1 1/hr. On the subject of fuel, the 565 has a 2201 fuel tank.
Conclusion
Edencraft have a reputation as quality offshore boats and the 565 didn't disappoint with its latest design, turning a good boat into a great one. It feels big for a 565 and as a family or bay boat, it's equally impressive. If you're in the market for a well-built boat that's easy to manage, the 565 is worth checking out!
For more information: www.edencraft.com.au