Formosa 495 SRT Pro review

WHY a Formosa 495 SRT Pro Side Console? After months of researching and then waiting, I've recently purchased a Formosa 495 SRT Pro side console/Suzuki four-stroke/Dunbier trailer package and confidently report that it is the best boat package I've ever owned by lots of country miles!
Replacing the vessel that I lost on my local river bar was never going to be easy because that boat set the bar high, but was no longer manufactured in Australia, which is important to me. It was a long process, with lots of decisions along the way, but in the end, I couldn't be happier with the outcome. Given that my journey of choice was about much more than the technical details of the package, this is a boat review with a difference.
This is about what I was looking for in a boat/motor and trailer, which I suspect is more important to most anglers. What follows, in no order, are the issues that are important to me in choosing a fishing boat.
Strength and Safety
I want a strong boat to cope with the harsh environments in which I fish. This determines the need for a strong aluminium construction rather than the typical tinny. Plate aluminium boats are made by welding high-tensile aluminium cut from heavy duty flat plate (typically 3-5 mm thick) onto an engineered sub-floor frame. Whereas, tinny construction involves welding thinner pressed plate (2-2.5 mm thick) onto welded ribbing.
Whilst a tinny is fine in calmer and friendlier conditions, it doesn't suit us. For example, my local bar is a shocker that has caused damage to pressed aluminium (tinny) boats in the past and given that our annual holiday to the Great Barrier Reef, results in our hull settling onto decomposing coral pieces at low tide, plate is best.
Further safety factors that come into play with regular bar crossings is the need for a self-draining deck and compartmentalised flotation. The SDD gives hope of escaping trouble when copping a hefty wave into the boat, if the scuppers are large enough to drain quickly, which the Formosas (but not all) are. The final safety consideration for me is a hull with high sides. I'm a tall, big bloke who prefers to be able to "lock" his knees under the gunwale if it's a bumpy sea day. Whilst there are some strong as a tank boats on the market, many lack high sides, the Formosa doesn't.
Comfort
As well as being safe, I need a boat to be comfortable. As well as liking a certain amount of comfort myself, other family appreciate it. In addition to really comfy seats, the Formosa crew have added a support bar in the transom, allowing a pole seat to be located close beside the driver's seat, just perfect if the Loved-One or grandkids want a cuddle.
The driver's seat is on a removable sliding bracket to cover all options. Also, the gunwales are extra wide and continuously welded, providing sturdy and comfortable seating around the whole hull. After owning centre consoles, I'm a definite side console fan for the ease of moving fore and aft. However, not all consoles are good consoles as they should offer sturdy support as well as a level of protection, storage and as housing for electronics, with ample leg room below. The Formosa side console provides all of these, particularly given that the short windscreen is topped by an alloy grab bar. Further the depth of the rear surface has been increased to hold 12-inch sonar units if required – a feature not found in all consoles.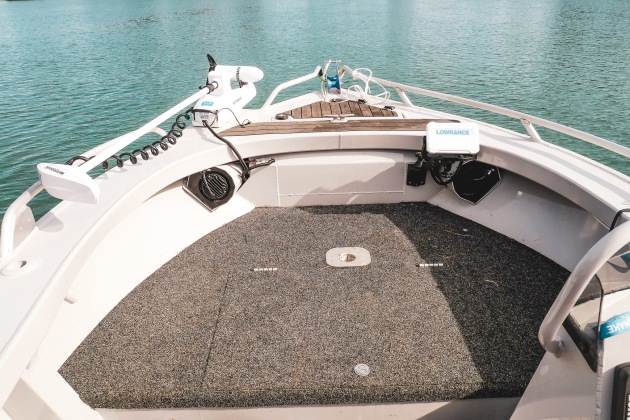 Fisher-Friendly Layout
As a fisherman, the primary purpose of the boat is to be a fishing platform, and therefore the layout must be fisher-friendly. Many of the tough as nails vessels are ideal in length but lack the layout to suit, whilst custom designs with the option for a perfect layout were too expensive for me. What I found in the Formosa is the ideal layout with a more affordable price tag found in a production line vessel.
Primarily I fish near offshore waters for snapper, mackerel and the like, but I also cast lures in estuaries, rivers and dams. First off, I needed the vessel to be large enough to fish safely offshore yet small enough for rivers, with the ability to be towed with my dual cab. Further, 5m was the length limit for deck transport on the barges we use to get out onto the Great Barrier Reef.
I wanted a well-set out transom consisting of a plumbed live bait tank for mackerel with a non-intrusive bait board and transom door and ladder. I also wanted rod-friendly welded rod holders that pointed to the rear and towards the water, preventing the rod breakages I'd experienced in my previous boat when big fish hit slow-sink plastics and micro jigs when rods were in holders.
Access right up to the bow was another "must-have" to prevent back strain when retrieving the anchor from deep water or when snagged. The Formosa provided this and went one step further when I opted for an anchor well cover (with deck grip) that doubles as a casting platform for one. The casting deck in the bow is high enough for a 70L esky to fit into the storage box under the hatch, yet low enough to feel secure in choppy seas. The inclusion of a drainage channel around the storage box keeps it dry and the inclusion of a bung hole enables the hatch to be filled with water to keep large fish submerged whilst preparing the camera gear. Note however, it isn't plumbed to outside the hull, so it is ideally best to retain the water until the boat is back on the trailer as it drains into the hull before exiting via the main bung.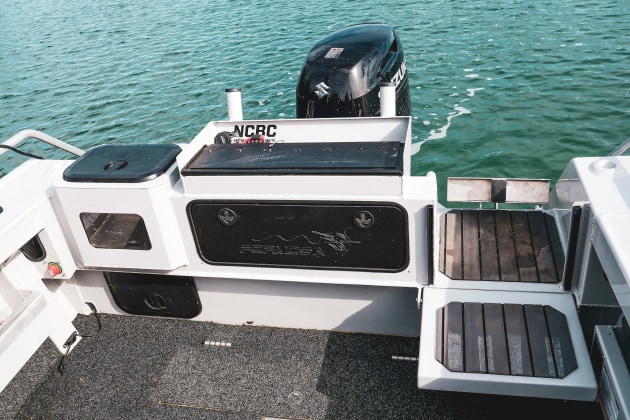 The kill tank, whilst not huge, is ample for most fish and it is plumbed to the hull. It's perfect for bleeding table fish before icing them in the esky in the storage box.
Another plus for this boat is the provisions for an electric motor. The bow mount is a part of the package as is the battery storage compartment located to the port of the console. It houses two large batteries and upon suggestion from the guys at NCBC, I've had a cut out switch fitted. The battery box on my old boat sat at the front of the forward casting platform and as such exposed the batteries to a beating in rough seas. Having batteries midships gives a better ride and is good for the batteries themselves.
The final point I'd like to make is the perfect illustration of the on-water experience that has been designed into this hull. Whereas the transom inspection port in most boats lies at water level, Formosa have designed a raised platform (35 mm), that keeps the port dry under normal conditions, therefore limiting the chance of water entering the hull... smart!
Sex Appeal
We all want our new boat to look good and this is a very sexy beast that gets plenty of lookers (no whistles as yet though). The hull is blue in colour and the interior is light grey (much less glary than white). Colours aside, the quality of the build and finish is awesome. On my previous boat, I became increasingly concerned with its finish, which was confirmed when corrosion appeared in the interior of the hull. No matter how hard I tried, I couldn't get ahead of it, even with a tiny Dremel tool and marine undercoat and paint. The Formosa's finish is a high point for me and whilst time will tell, I'm not expecting trouble.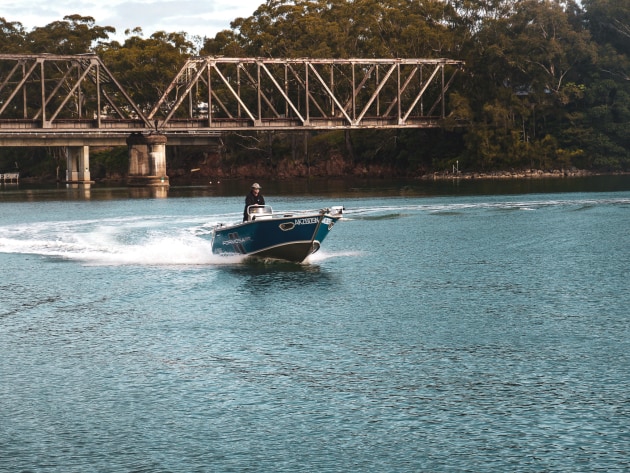 In Closing
The final aspect of my purchase is a hugely important one for me i.e., being able to deal with a local dealer (North Coast Boating Centre) who have gained my trust over many years. I needed to hear the truth and have my thoughts critiqued, particularly on the points beyond my experience. I am fortunate in that these guys give me that without pressure and as luck would have it, are distributers for Formosa Marine Boats, Dunbier Trailers and Suzuki Outboards.
If I had the room, I'd be describing why I chose a dual axle Dunbier Alloy Series Loader Pro drive on/drive off model and a 100 HP Suzuki 4-Stroke, both of which are awesome. I'll get into these in the technical review!