Formosa 495 SRT Side Console review: A year on the water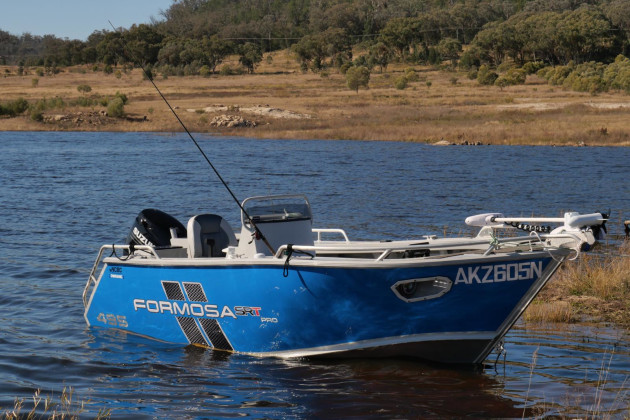 THE Formosa 495 SRT Side console is a boat set up for serious anglers, whilst having the flat-water comfort required in a fair-weather family vessel, it's large enough to take into the near offshore fishery with ease, whilst not too large for estuaries, larger rivers and dams. Being a 4mm plate construction, this is no lightweight chop-slapper, but a sturdy vessel that cuts through chop and messy water with the degree of comfort expected from a much larger vessel. The inclusion of the Quad-4 ballast system further adds to at-rest stability, to the point where 3 anglers can fish from the same side if required. High gunwales (600mm) at the main floor, further adds to angler security via the ability to tuck one's knees up against the sides. This adds to the appeal of having young children and older anglers on board.
Prior to running through the nose to bum features, one more overarching feature worthy of mention from the start is the outstanding quality of the build and finish. Formosa produces works of art on trailers. All the welds on my boat (yes, I have purchased one), are as good as I've seen in any boat. Welds are continuous (as opposed to spot-welding), with perfect flow and no evidence of dags and breaks or grind-off repairs. Of course, it comes down to the individual welder and quality may vary. Formosa, being a smaller operation have, unlike many other boat builders, been able to justify the purchase of state-of-the-art pulse mig-welding machines to produce such quality in all of their welds, whereas larger entities might find these machines inhibitive in price due to the larger number required.
Similarly, the paint job is superb, it's thick, even and tough … as evidenced by the fact that I occasionally bump the gunwale against a metal post in the farm shed, without breaking away paint. A fortnight ago, I had a buck kangaroo jump into the side of the boat whilst I was doing about 70km/hr and given the noise of impact, I was sure of damage. Luckily, both the boat and the mammal appeared unharmed!
What follows is a technical rundown of these boats, in the hope that you can read this and come away informed.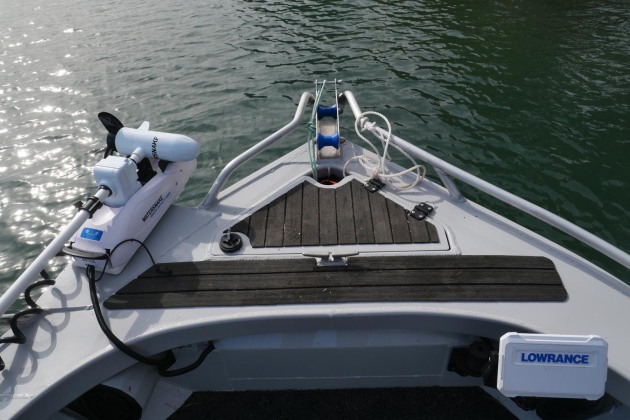 The bow has a strong rollered-bowsprit, drained and carpeted anchor well, bow rails and a secure cast cleat. Flat areas have deck grip and the inclusion of the optional hinged and lockable anchor well lid, transforms the bow into a casting deck for one. A bow mount for electric motors comes standard.
Directly behind the bow is a sizeable casting deck set fairly high to maximise storage. The exact height above the main floor is 350mm on the current models. The cast deck features two aluminium hatches to access the storage area underneath: the forward hatch provides ideal access for electric trolling motor batteries, while the larger hatch provides ample access to the main storage area. Both hatches have drainage gutters around the top to divert incidental water from the storage area below. All lids are structurally strengthened and remain rigid to human traffic.
Consoles offer helm position, electronic stations, storage, protection from the elements and support whilst standing. The 495 side console meets all of these requirements plus unobstructed access down the port side of the vessel. The inclusion of a grab rail above the windscreen is a real bonus, which in my opinion, should be the standard layout. It's the perfect height to hold whilst up on your feet. The console is manufactured from plate which is bolted into place. There is ample foot/storage space under a large storage shelf, whilst a coffee cup holder and small storage box are located at helm height. A further shelf is tucked in behind the windscreen, whilst the sloped section below the screen is of sufficient area and depth to accommodate cut out(s) to flush mount one 12" sonar screen or two 9" screens.
The driver's seat is obviously behind the console, but is mounted on a removeable sliding seat box (whicich includes a twin tray, lockable tackle storage area) that moves backwards and forwards on the side storage unit. Further, it is straightforward to remove the seat unit all together if you prefer a clear area behind the console, after all, the extra wide gunwales make for good seating anyway.
Formosa's Active Transom configuration is a real winner. I have a plumbed and windowed live bait tank starboard, with hatched boat battery storage below. A low, fixed bait board with two welded rod holders and wide storage hatch is aligned centrally whilst a transom door flap (seat when opened), step downs and ladder are located port. Another hatched storage space is located under the door opening. Transom pod steps are on both sides and make good foot rests for sitting rear when fishing calm waters.
Additional set seating positions are located throughout the boat. There's a forward position up on the cast deck, a mid-position port and two additional positions aft. The central aft seat position is unusual because it means a seat beside the driver, whilst also accommodating three seats side by side. I like it! All seats are padded vinyl with backrest and are really comfortable.
Finally, further storage is provided by port and starboard storage channels running from the casting deck to the transom and the grab rails are robust 32mm alloy tubing. Under floor fuel storage is standard, with the choice of 80 and 115L tanks.
Lowrance supplied the electronics for this boat and as always, I'm more than happy with their performance. Two 9" Elite FS units are located in the console and I use one for charts and the second to scroll through sonar, down scan and side scan as required. A 7" Elite is bracketed in the bow to inform anglers on the cast deck. The Radio is a Lowrance VHF unit with the aerial located starboard of the console.
The hull is rated for 5 passengers with 90HP as minimum and 115HP as max. I chose a Suzuki 4-Stroke outboard for my boat and have had a faultless run in the 12 months of use. If I had an unlimited budget, a 115HP would have been my choice, but as it is, there is ample power. Top speed on a quiet water solo run is in excess of 30 knots, whilst the sweet-spot for the combo is 18-20knots depending on trim. I spend most of my time on the ocean and the ride in this sweet zone is amazing. It purrs along and over an average swell, you'd think you were on flat water. Given that the 495 is not a long hull, I added a hydroplane to aid in coming out of the water flat, and I'd recommend the same for everyone. In terms of speed/consumption figures (which are now a consideration), with two large adult males, they were as follows:
A Dunbier Loader Pro Trailer carries my vessel and it is without doubt the best trailer I've ever owned. The alloy mainframe is a 100% weld construction with galvanised roller and slide components bolted on. Gone is the worry of frame corrosion and the 'ride' feels secure with a total absence of rattles and creaks that I'd become used to. The drive on / drive off capability of the design is a game changer for me, being quick and with practice, effortless. 
So, would I buy another one you ask... absolutely I would. I've got a beautiful boat that meets, and in many cases exceeds my expectations, and as far as plate boats go, for a very reasonable price!
For more information: www.formosamarineboats.com.au