Grady White Fisherman 180 review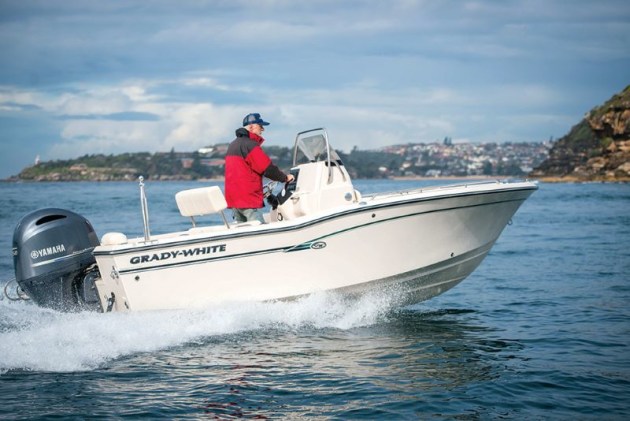 * Correction: The original Grady White 180 Fisherman review in October 2018 Fishing World incorrectly named Short Marine as the Australian distributor. Short Marine is the NSW dealer, while Game and Leisure Boats is the dealer in QLD.
Grady White has become a well-known and respected brand in the boating world. NSW dealer Short Marine, based at The Spit in Sydney, has continued this tradition locally with great success selling these high-end boats over recent years.
Fishing World recently took a visit to The Spit and jumped onboard three very different Grady Whites to see what the fuss was about. The first boat, reviewed by James Hill, was published in the September of Fishing World. The Express 330 was a fine example of a high end fishing/cruising boat. With twin 350 hp donks, the 330 featured everything you could ask for, with a suitable price tag to match.
But as a die-hard fisho it was the much smaller, yet no less impressive, Fisherman 180 which caught my eye.
This 18 foot centre console is built with the same pedigree of its larger cousins in a nicely designed purpose built fishing package.
There's been a the trend towards bigger centre consoles over the past few years. Most of this is driven by the US market where bigger is better. Many of the manufactures have switched their attention to these larger models and as a result we're seeing less smaller, trailerable models suitable for all-round applications in Australia.
The Grady White Fisherman 180 is one notable exception. With a managable tow weight and measuring 5.4 m (without engine), the Fisherman 180 is a great size for versatility, storage, and ease of use.
The hull
Grady White's Fisherman 180 features the company's SeaV² hull design. According to Grady White, the SeaV² is a "continuously variable vee" hull which delivers a soft and stable ride.
The hull design, Grady White says, has no two places on the keel where the deadrise is the same. The vee continuously sharpens from the transom to the bow stem.
The idea is to provide the perfect balance between a soft and safe rode at speed, and a stable platform at rest or trolling speeds.
The 180 features 19 degree deadrise at the transom, and from my observations, handled every bit as good as promised. More on performance later.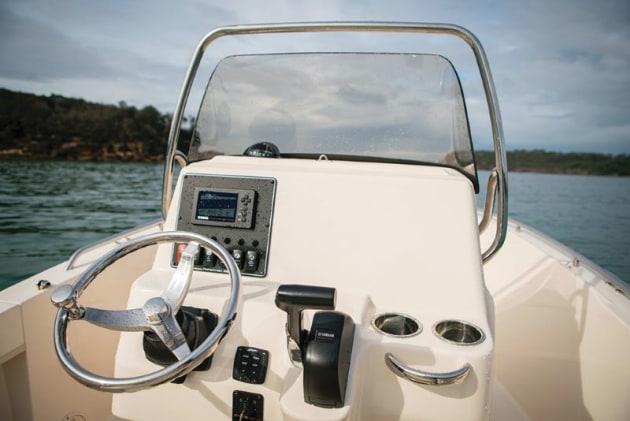 Fit out and fishability
The Fisherman 180 is a smart looking off-white colour with impressive attention to detail in its fit out and finish.
The transom features a swim platform and cushioned seats on each side. This is a standard fit out in US-built centre consoles and adds to their suitability for comfortably carrying extra passengers or kids. There's plenty of storage under the seats, which is always welcome in a centre console, and drink holders within reach.

Horizontal rod storage is a welcome addition and will fit rods up to around 7 feet long neatly under the gunwale. This end of the boat also features a recessed area under the gunwale for your feet, making leaning in and fighting a decent fish in rough water easy.
The helm seat fits two people and features a flipping backrest so you sit either direction. There's also space underneath to fit a decent size ice box.
The console itself is about the perfect size, offering enough shelter while not taking up too much valuable fishing space. There's plenty of space for a sounder up to 12-inches with enough space left over for stereos, marine radio etc.
The cushioned seat attached to the front of the console features a plumbed livewell and has rod and drink holders on either side. I'm sure if you're not using the livewell seat for bait, it would also make a great cooler for drinks and lunch.
Further forward and there's a raised casting platform with a spacious hatch. The test boat also featured a removable cushion over the platform. Not designed for fishing, but a great addition for the family boater.
The anchor well at the bow is cleverly designed, stowing the anchor vertically. This takes up less space and keeps things neat and safe.
Overall, the fit out of this Grady White is fairly typical of most top end sport fishing centre consoles. No stone is left unturned when it comes to its simple, yet well-appointed layout. There's plenty of space to fish two or three people, or alternatively, squeeze in a small family for a fun day on the water.
There's a massive 200 litre fuel tank under the floor, which should offer plenty of range.  Its self draining deck also adds to its capacity as a versatile boat capable of offshore sport fishing.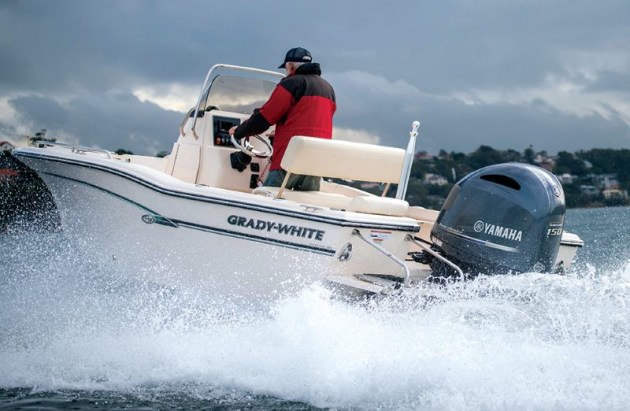 On the water
Conditions on the day were average with sloppy seas making things uncomfortable around Sydney Heads. Perfect day for boat testing. After shooting a few photos of the larger Grady Whites I took the Fisherman 180 for a spin to see how it performed.
There's no doubt the 19 degree variable deadrise and a robust-built glass construction makes for a smooth ride. With some adjustments on the trim, it performed effortlessly over the moderate chop at speed. Best of all, very little water came onboard. This is a very dry boat!
At rest, stability was excellent, proving the company's SeaV² hull design works well as a good compromise between a soft, dry ride and a stable fishing platform.
The Fisherman 180 was fitted with a Yamaha 150 four-stroke. The 150 is maximum horsepower for the Fisherman 180 and works a treat. It jumps on the plane with ease and offered plenty of responsiveness whilst driving in the rougher water. The 180 offered comfortable cruising speed of about 20 knots whilst WOT was 39 knots at around 6000 RPM. It's certainly no slouch!
It's a very capable and safe boat in choppy water and equally impressive at speed.
Conclusion
Centre consoles are such a popular boat these days and Grady White's Fisherman 180 is a great example of what a well-designed boat can offer.
The build quality, hull design, and generous internal layout makes for a versatile sport fishing rig for everything from estuaries to blue water.
The Fisherman 180 starts at $80,000 or $95,000 fully optioned.
More details can be found on the Short Marine's website or by calling (02) 8057 5993.