Haines Signature 543SF review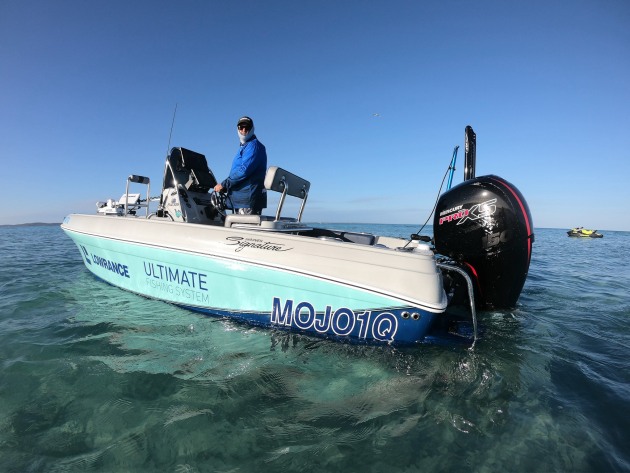 MOST Fisho readers wil 1 know the name Scott Mitchell. Scott has been a leading angler and social media influencer for quite a few years now. I first met Scotto when he was working at Compleat Angler in Villawood back in the late '80s. At the time we were both land based game fishermen chasing marlin and tuna from the Currarong and Jervis Bay platforms south of Sydney. Our paths later crossed when Scott and his wife Katrina started up The Alpine Angler in Cooma NSW. More recently we bumped into Scotto when we moved to Hervey Bay where he and wife Katrina run Mitchell's Realty. Apart from being an astute real estate agent, Scott is a very switched on sport and fly fisho. He's travelled the globe with fly rod in hand and experienced fishing that most of us only dream about.
However, it's the central Queensland scene where Scott has decided to hang his hat. With flats, impoundments, Hervey Bay and offshore fishing all on offer you could put money on Scotto having a boat that covers all bases and does it in style. He's owned a few boats over the years. I can remember fishing the Shoalhaven River for mulloway with Scott more than 15 years ago when he was running a Quintrex Hornet. He later ran a Skeeter bass boat before putting a Signature 485SF together. He then ran the very first Signature 543SF for eight years and it caught some great fish all over the place. Scott contributed to Haines Signature in the design of the first Signature 543SF's top works and deck layout eight years ago and in that time it has become a very popular sportfishing boat.
Scott recently replaced his original 543SF with "Mojo", a brand new 543SF centre console that has just about every add-on and piece of technology you could imagine. I recently had the opportunity to go for a run in "Mojo" with Scott. I fished out of his previous 543SF, "Gadget" back in 2015 so I was most interested to explore any subtle changes, but I was also hanging to check out the latest in technology in the way of sounders and transducers, etc.
This boat really has it all so I'm going to give you a run down on the hull and motor first, then cover the electronics and numerous gadgets that Scotto has installed to make this a state of the art sportfishing boat. The Signature 543SF hull has been around for almost eight years now and has earned a reputation as one the most versatile bay, inshore, impoundment and estuary sportfishing rigs available. Offering a soft ride and stability at rest, thanks to a 21-33 variable degree deadrise, the 543SF is available in side or centre console with an enormous array of factory fitted options thanks to the Haines Signature Group.
Scotto fitted a Mercury 150 Pro XS motor to Mojo with an Enertia Eco 16x17P RH prop and I must say it seems like the perfect fit. The Merc sits on an Atlas 5 inch hydraulic jacking plate that also incorporates the Power Pole 10 foot Blade bracket making it a very neat and practical set up for flats and shallow water fishing. Up front, Scott has a Minn Kota 80 pound Terrova with lift assist. The Haines Group fitted a keel guard and boat latch to the bow. The front casting deck is large with a lean bar fitted in the centre. It has two water tight compartments up front for life jackets, safety gear and dry storage with a large live well directly behind them. Behind the live well are two smaller storage compartments. The casting deck butts directly to the front of the centre console with more than adequate access on each side. Scott has six horizontal rod storage lockers under the gunwales on each side of the console for rods up top 10 feet in length. The console is big with a heap of storage and instrument dash space. Under the console are the two 100ah lithium batteries for the 24 volt electric and 12 volt house supply. Behind the console is a free standing seat arrangement with storage and a back rest and room for a Yeti cooler underneath.
In the starboard stern corner is a live bait tank and the port corner pocket accommodates the crank battery and on board charger. A 150 litre polyethylene fuel tank is situated under the floor surrounded by buoyancy foam. Performance wise this boat ticks all the boxes. The 150 Mercury gets it up on the plane fast and the variable deadrise hull rides smooth and dry. We had a glass out on the test day so it was hard to judge the ride in chop and the dry factor in a 15 knot side wind. We did manage to work through some bow waves from larger boats and the ride was nice and soft. The overall fishing layout is outstanding and I couldn't pick any areas that I thought could be improved. This really is a true fishing machine and you can tell Haines and Scotto have put an enormous amount of thought into it. The electronics in this boat are something to behold and absolutely blew me away. Scotto is a marine electronics Tech Head and being a Lowrance Pro Staffer has allowed him to run the latest and greatest gadgetry that could probably fill half a magazine. I'll have a give a brief run down here. Up on the casting platform is a Lowrance HDS12 Live unit. On the console dash are an HDS12 Live with an HDS16 Live above it. The HDS12 unit is used for charting and engine interface/gauges. The HDS16 is used for sonar with an Active Imaging transducer and an XSonic Airmar TM 185 1 kw transducer.
Scott also has the Lowrance Active Target system mounted on a Rob Payne engineered adjustable pole at the stern next to the Power Pole. Running all of this is a Revolution 100ah deep cycle lithium crank battery for the motor. This is charged via an onboard RedArc 1225D charger. The Minn Kota and electronics are all run by a Revolution lithium battery system installed by David Nielson. This consists of two 100ah lithium batteries in series to provide 24 volt to the Minn Kota along with a Victron BMV-712SMT battery monitor and a Victron Blue Smart 1P67 charger 12/25. This system provides 24 volts to the Minn Kota along with 12 volts to the house electronics and can be charged by the motor. Under gunwale strip LED lighting is fitted along with two bilge pumps on float switches down the back as the 543SF is not a self-draining hull. In addition to the mind blowing Lowrance and Revolution battery system Scotto also has a heap of other goodies fitted. A Lowrance Link-9 VHF radio with DSC and AIS receive. A JL Media Master stereo with JL M6-650X coaxial marine speakers. A deck wash hose and a Hydro Wave unit to imitate baitfish sounds under the hull. One of the most impressive pieces of kit is the Zip Wake dynamic trim control system that automatically keeps the boat trimmed horizontal. Both Scotto and I are not small in size but as we moved about the boat you could feel the Zip Wake system automatically compensating for the substantial shift of weight. The most impressive part for me was when I decided to throw Mojo into a tight turn at 30 knots. It sat dead flat instead of leaning into the turn as we both hung on and grimaced. I've never turned a boat like that at speed and had it sit dead flat. It was a very strange sensation but most impressive. Mojo sits on a Dunbier wide body Supa-Roller SRW 5.7M 13TB trailer with a D-Flector stone guard fitted for long road trips. Scott has already had Mojo up to Awoonga for a barra trip and he has plenty more road trips and local fishing planned. For those who want to know, the hull colours are Intrepid Blue and Celalon Green on the sides with Silver Shore on the gunwales and interior/deck. The Silver Shore deck prevents that blinding bright reflection from the sun extremely well. Overall, I'd rate Mojo as the most impressive fishing boat I've ever tested. It really is on a level that leaves other centre consoles in its wake if you'll excuse the pun.
The Haines signature 543 hull is a proven classic and the Mercury Pro SX is the perfect match. The layout couldn't be faulted and the list of options fitted to this boat left me speechless. Of course, that all comes at a very substantial cost and also opens up the possibility of many things going wrong. It also entails a lot of playing around with and fine tuning electronics while out fishing. Scotto loves his marine electronics and is fastidious in his boat maintenance so I don't see that as being a problem.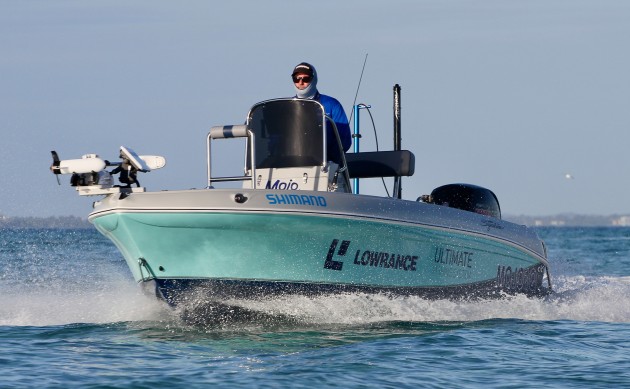 SPECIFICATIONS
HAINES SIGNATURE 543SF
LENGTH: 5.33 metres
BEAM: 2.13 metres
HULL WEIGHT: 836 kg
DEADRISE: 21 — 33 degrees
FUEL (underfloor): 150 litres (180 litres in side console)
For more information: www.hainessignature.com.au