McLay's Fortress 441 review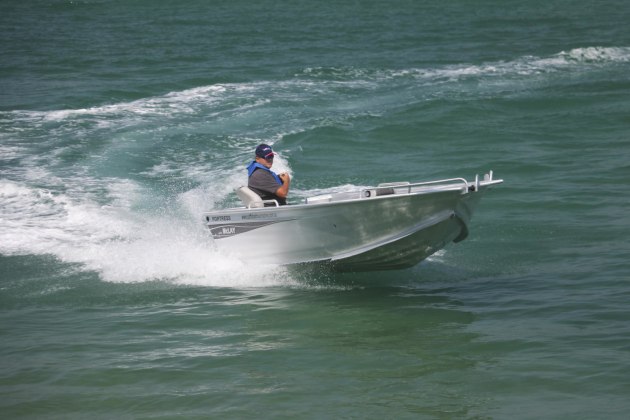 OFTEN the first piece of information we have about a person or a thing is their name. Well if that's the case, then the McLay crew hit the "nail on the head" calling this little ship the Fortress.
For me, the word fortress conjures up impenetrable, thick-walled stone castles, strength and safety, and after zipping around with Mark Luttrell from Coffs Harbour Marine, just inside the river mouth of my local, on a day that you wouldn't even think about going to sea, the name is apt.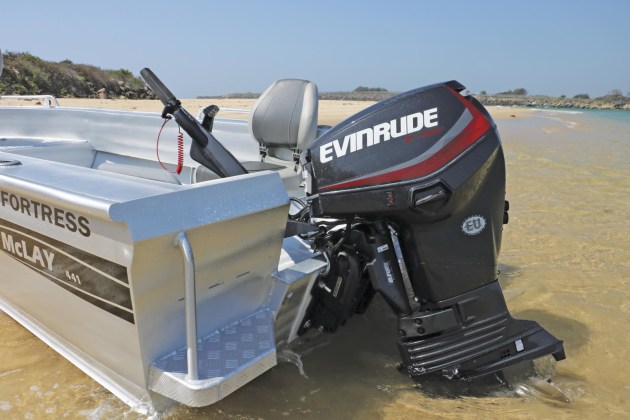 Safe and strong
The Fortress 441 might look like just another tinny at first glance, but upon closer inspection the truth is revealed. This is one tough little ship; so tough it's bomb proof! The Fortress is a small plate tinny with 3 mm thick sides, a 4 mm thick hull with a chequer plate floor. In addition, the keel is reinforced with further plate, making an ideal choice for anglers cruising around rock-barred estuaries and coral country.
The fully welded chequer-plate floor is what really impresses with the Fortress, and it does so for a number of reasons. Firstly, the floor is set low in the hull, which results in a higher degree of lateral stability for those sitting and standing inside. Chequer plate is a very strong profile and the continuous seam weld used by McLay, and the fact that it's also welded to two large alloy stringers running the length of the hull, multiplies the rigidity of this hull tenfold. The airtight space beneath the floor not only dampens noise (the bane of small tinnies everywhere), but also provides buoyancy should the boat take on water. That said however, being a watertight floor allows for large dimension scuppers (say 10 cm × 15 cm) to be located at floor level, providing immediate drainage in an emergency, which is a huge plus for those of us that regularly cross river bars, launch on exposed ramps and beaches.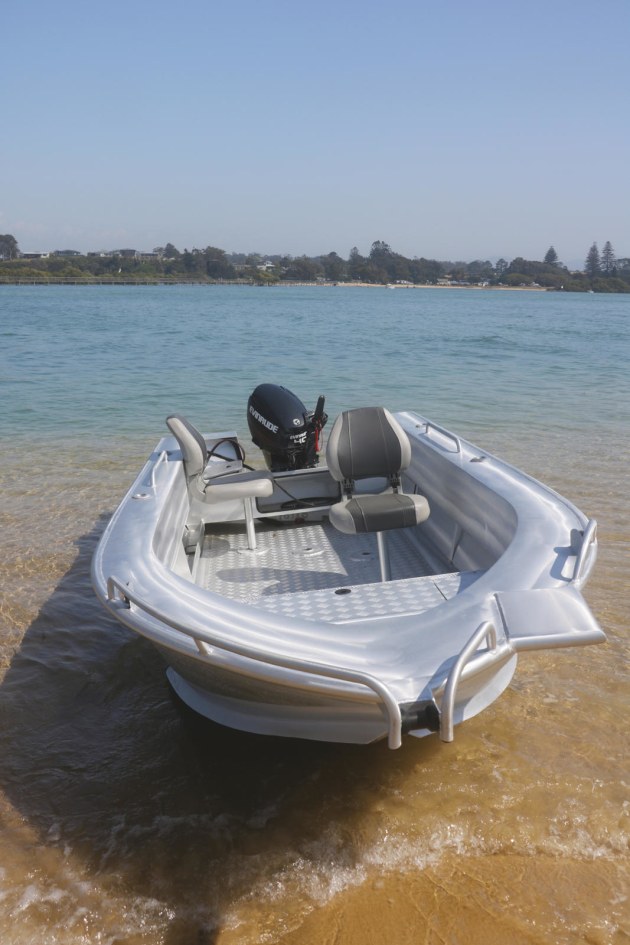 Layout
Being an open tiller steer design means that there's plenty of open space available, and the wide 1.85m beam and liberal 64 cm freeboard results in a stable hull that you can lock your knees into. It's stable for its size, and that means you can fish at the sides and not just down the centre. In the bow there's a generous casting platform with a lockable, self-draining anchor well (which might be a bit small for a decent anchor), a second larger storage locker (with the option to locate an under floor 50L fuel tank), bow sprit with rope guides and rails and a socket for a bow seat. In the main floor area there are four more seat sockets, with one aft for the driver and the others more forward. The transom has a storage bin (with lid) on one side and a plumbed live bait tank on the other. There's more storage at floor level, that's large enough for a 20 L fuel tank and battery if you'd prefer to keep them out of the bow. The gunwale has four welded rod holders and there's short storage shelves to the rear on both sides below.
The transom is flush with a splash well and is designed to carry a long shaft outboard. There are finish options for the hull, although I really liked the clear Nyalic coating of the test boat because it provides a protective, glare-free finish without hiding the welds on the boat. 
On the water
I'd arranged to shoot pics of this boat from the break wall at Urunga, and walking out to my position gave me plenty of time to see this boat in action from a distance. Mark was putting this boat to the test before he'd spotted me on the rocks and how well the Fortress stuck to the water during tight turns impressed me. It rode really well in a choppy and fast-flowing part of the river. The spray chines moved water away from the hull and it rose up on the plane quickly. Unfortunately, the sun was in the wrong position for good shots, so we had to move back into the calm water for them; otherwise you'd see it in nasty water.
Power
This boat is rated for a 60 hp outboard, but the test boat was fitted with a 40 hp Evinrude E-TEC that was ample even with two big blokes on board. 
The E-TEC is direct injection inline 2–cylinder outboard with electronic stop/start, power tilt and trim and of course throttle, all on the tiller. The 40hp comes with a rope start option and the ability to switch to manual tilt for landing on sand. It weighs 113kg and carries Evinrude's 3+2 year warranty.
All up the Fortress from McLay Boats is a tough little open boat ideal for inshore waters and for those who appreciate a well-built boat, regardless of size. Check them out at Coffs Harbour Marine. Chat to Mark or check out the website:
www.coffsharbourmarine.com.au
.
Pricing as tested with the 40Etec and inclusions is $25,396 and there are plenty of options available.