New Quintrex Hornet and Cruiseabout models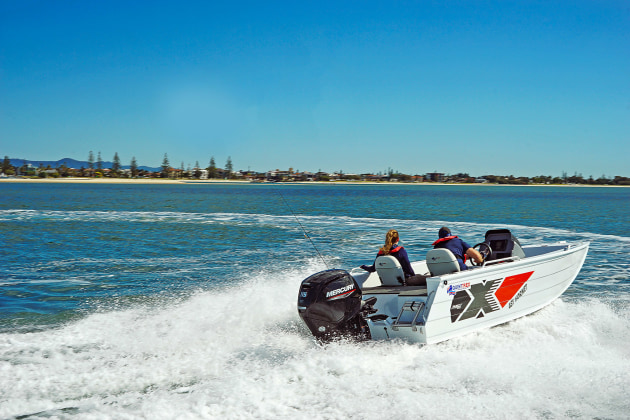 QUINTREX is taking fishing and comfort to a new level with its latest Hornet and Cruiseabout models.
I recently had the pleasure of reviewing the two latest 2021 models, the Quintrex Cruisabout 590 and Hornet 481, both boasting comfort, style and fishing capability.
The Cruiseabout and Cruisabout Pro is offered in five sizes, 481, 500, 520, 540 and 590 while the Hornet and Hornet Pro has reduced their models from nine to five offering sizes in 420, 440, 450, 481 and 500. The three Hornet models 450, 481 and 500 will complement the pre-existing Hornet Trophy lineup with the 420 and 440 in order to continue delivering a comprehensive size variation. Let's dive into the all-new impressive features you will see in the 2021 Hornet & Cruiseabout models.
590 CRUISEABOUT – FAMILY BOAT
This 590 Cruiseabout offers a well-rounded boat for families, incorporating comfort, style and fishability all in one boat.
Now more than ever, the boating industry is welcoming more boaties to the market and Quintrex has invested its efforts to provide a seamless purchasing process through its all-new Boat Bundle approach for a fully customisable boat.
The past two years have shaped a new lifestyle for all Australians. Since the lockdowns in 2020, many of us are seeking meaningful experiences with loved ones, encouraging more families than ever to spend quality time together. Not only has our value of time and family shifted, but also our desire to explore our great Aussie outdoors. The Cruiseabout model surely has set the bar high amongst the best quality and multi-purpose boats available on the market today.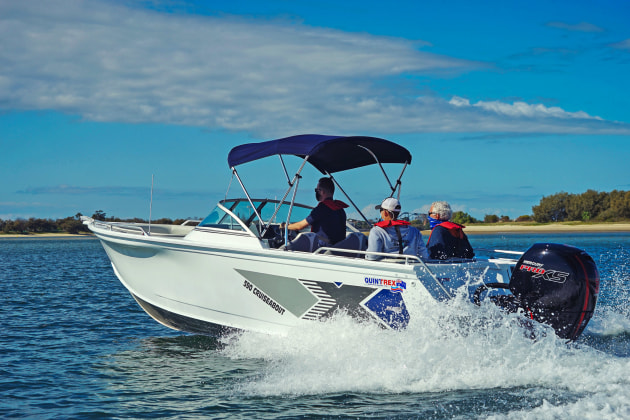 The 2021 Cruiseabout model will feature a new 2021 transom design with the duckboard positioned higher on the stern to glide swiftly over the water while the new dashboard design appears with a seamless finish that allows the addition of larger electronics. On this particular vessel, 9" Lowrance Elite sounder was fixed and personally I appreciate a larger screen for user friendliness and functionality.
Furthermore, the 2021 Cruiseabout will feature increased underfloor storage for more camping, swimming and fishing equipment plus side pockets for ease of access to other personal belongings. For comfort and style, the Cruiseabout Pro will feature the new upholstered side pockets along with updated bow cushioning and deluxe rear lounger upholstery that offers a high quality finish thanks to the hidden fastenings. Additionally, new design features include a dual maxi brackets, a fresh aluminium deck fascia design, new split bow rails and bowsprit design to provide more security for all passengers on board. The streamlined dash integration can be opened for passage to the bow or closed to provide adequate shielding from wind and rain when travelling at speed. Across the 2021 fleet comes an all-new look with a fresh stripe design that will stand out as a trademark for all boats under the Quintrex umbrella.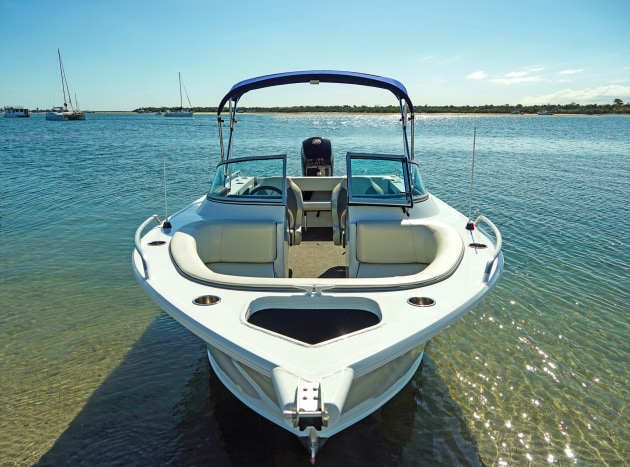 To optimise the overall driving experience and ergonomics for all drivers, tilt steering has been newly introduced to the Quintrex lineup. Cruiseabout models 5m and under come with mechanical tilt steering while models over 5m are built with hydraulic non-tilt steering. All Cruiseabout Pro models will of course be boasting the hydraulic tilt steering system.
The fuel tank holds a generous 112 Litres of fuel and is best suited for a 150hp outboard engine. After comprehensive tests on the water, the economic ability of the Cruiseabout is impressive. Depending on your cruising speed, travelling at 10 knots uses 11 litres per hour while increasing speed to 30 knots uses about 30 litres per hour.
Quintrex's Boat Bundles come in five clean-cut packages. The Cruiseabout model offers the most cost-friendly option that features only the essentials. The Comfort Bundle offers the optimal comfort and sun protection with a bimini and envelope, tonneau cover, upgraded seats, an upgraded rear lounge and backrest, bunk infill cushion, cockpit table plus sound system and speakers. For those after big fish, the Fishing Bundle comes with a berley bucket kit, transom cutting board and ski pole duo, VHF radio, and LED lights and switches. The Captain's Bundle is specialised for the captain with an upgraded steering wheel and mechanical tilt to hydraulic tilt steering. If you are looking for the full package of fishing and comfort, the Cruiseabout Pro is the deluxe model inclusive of all premium options and features incorporated in the boat bundles above, plus upgraded seating. All changes have been derived from customer feedback along with an industry specific survey that has enabled Quintrex to set higher boating standards.
HORNET 481 MODEL – FISHING BOAT
The new Hornet Pro offers a unique design, size range and exciting new features that will lure in anglers from all types of fishing preferences. The Hornet 481 is 5.1m in length with a beam of 2.3m, offering enough room to have five passengers on board with maximum horsepower rating of 115hp. The Hornet 481 model reviewed here incorporated three bass sport seats, switches, LED lights, volante black steering wheel, 11" Lowrance Elite Sounder, hydraulic non-tilt steering and battery. There are many great new features in the 2021 models that will allow you to customise based on your lifestyle and budget as well.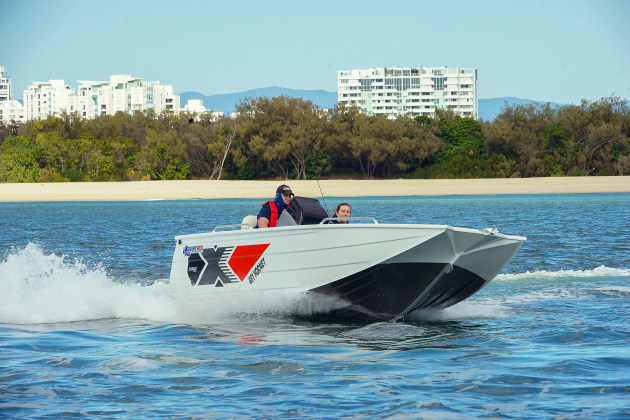 After customer and dealer feedback, the Hornet has been streamlined and redesigned to meet the standard of a variety of anglers. In particular, the 2021 models will feature a deeper layout that offers increased storage space for anglers to stock more fishing gear and camping equipment for longer adventures on board. Additionally, side pockets have been built in to permit easy storage for regularly used belongings with ease of access. Another key feature important to anglers would be the increased freeboard that make this vessel suitable for a greater variety of waterways including lakes, estuaries and open water. The modular casting platform positioned at the bow and stern has increased in size, providing ample space for casting lures and fly fishing trips.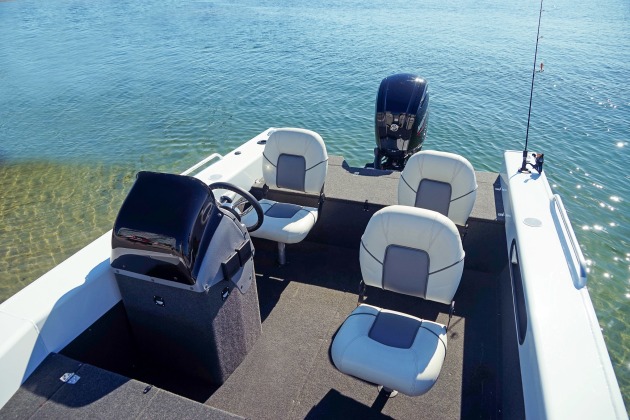 The entire 2021 lineup will also don a fresh look with the stylish 2021 Quintrex design positioned on the sides plus dual maxi brackets as a standard feature across all base and Pro models and a modular bow aimed to improve overall product quality.
The Hornet will continue to be crafted around the Apex Hull. The Apex hull design not only provides the best on-water performance but is also built to last with increased hull strength. The wider chine on the Apex hull increases stability and grip when cornering and the increased surface area at the bow of the Apex Hull provides much greater lift.
The ride experience has also been revamped with mechanical tilt steering standard across Hornet models and hydraulic tilt steering built in across all Hornet Pro models. The 2021 transom has also been redesigned to allow the vessel to quickly get up to speed regardless of the load that may be on board, this is also assisted by the unique hull design that allows the vessel to ride on top of the water. As I watched the Hornet from side on, it was evident the unique Apex design effortlessly lifts the boat on top of the water which creates minimal draft at speed and rest.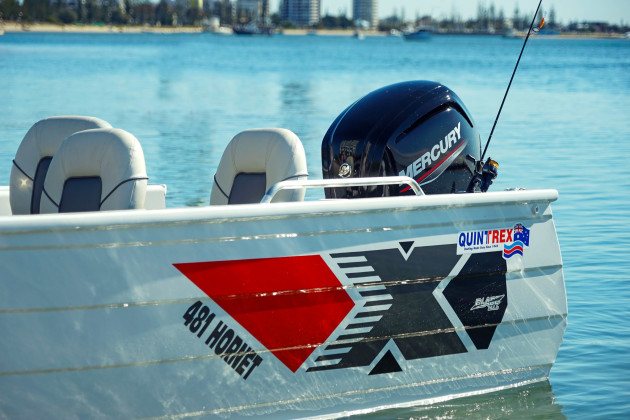 One of my favourite parts about the 2021 Quintrex range is the customisation you have to create a boat that suits your lifestyle needs. Customers will still have the ability to option up with individual items or you can simply choose one of their boat bundles that comes with the lot.
Boat bundle options include the Comfort Bundle which includes a lean seat, seat upgrade from Angler Sport to Bass Sport, sound system and speakers. For fishos, the Fishing Bundle will include a berley kit, VHF radio, leav seat, LED cockpit lights and switches. The Captain's Bundle will upgrade from mechanical to hydraulic tilt steering and an upgraded steering wheel for a smoother driving experience. Evidently, Quintrex will continue to offer this high level of customisation that the brand is renowned for. Additional options can be added across these bundles. Just to name a few, the rod lockers are a great addition to keep your fishing rods secure and the pedestal seat for the fishing platform adds extra comfortability when standing and fishing.
There has been no better time than now to start exploring the great outdoors and the Hornet overall, exceeds my expectations of being just a fishing vessel. The design features incorporated in the 2021 Hornet and Cruiseabout models have been directly inspired from customers and dealers themselves to ensure the best design is brought forth. For more information about the revitalised 2021 Hornet and Cruiseabout models including the all-new packages and updated features, visit www.quintrex.com.au or visit your local dealer today.