Peak Chemicals Fibreglass Boat Restorer Kit review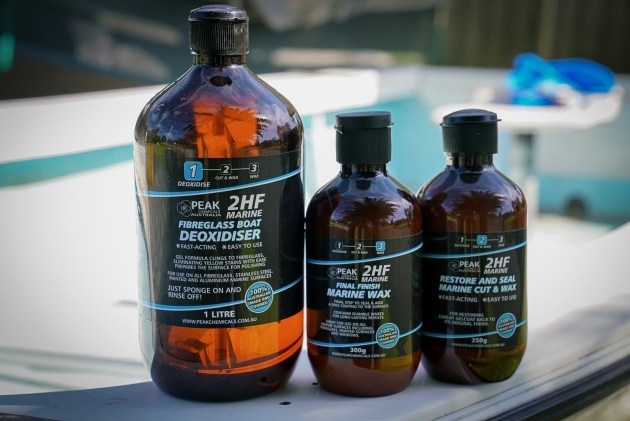 PEAK Chemicals is an Australian manufacturer of cleaning and restoration products. The company has a broad range of products suitable for marine, automotive, trucks, leather and household. Peak Chemicals has been manufacturing in Melbourne for 15 years and sells direct off its website at peakchemicals.com.au.
Last year during the Covid lockdown NSW I purchased an old second hand fibreglass composite boat to restore. The boat is an old Australian made 3.7m Tarpon. It was in reasonably good condition and the plan is to restore it cosmetically, ensure it's strong and safe and add a floor to make it a purpose-built skinny water rig. On the back is a 9.9 four stroke Yamaha. Having an old faded fibreglass boat was useful for testing out Peak Chemical's 2HF Fibreglass Boat Restorer Kit. The kit included a 1 litre bottle of 2HF Fibreglass Boat Deoxidiser, a 300m1 bottle of 2HF Restore and Seal Marine Cut and Waxes and a 300m1 bottle of 2HF Final Finish Marine Waxes.
The first step was to use the deoxidiser. This is perfect for removing the yellow stains you often see on old fibreglass boats. My boat had its fair share of stains and with a simple "sponge on and wash off", the stains were gone and the boat was starting to lose its "old" look. Once the deoxidiser has done its job, it's time for a cut and wax. Most people are familiar with an automotive cut and wax and the application process is much the same with this marine specific version. Simply use a cloth and add some to a small area before polishing off. Ensure you don't let it dry before removing. This application helps remove the "chalky" look you see on old fibreglass boats.
The final step is the Marine Wax. Again, use a cloth and apply small portions until it's polished onto the surface and no residue is left behind. This final step leaves a protective long-lasting wax to the surface. It looks great and protects the surface in the marine environment. It's great to see an Australian manufacturer producing restorative products designed for a marine environment.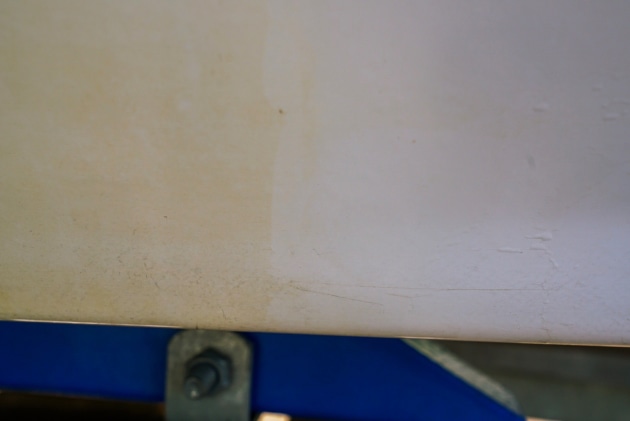 For more information: www.peakchemicals.com.au