Q & A: Michael Bonnici's Sea Devil 520 Centre Console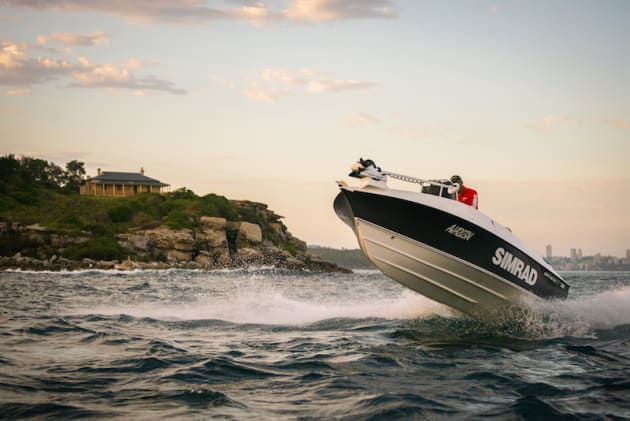 SCOTT Thomas catches up with Michael Bonnici to chat about his Sea Devil 520 Centre Console, a new concept from the Sydney-based boat manufacturer.
How did the idea of this boat come about? It's the first of its kind with a centre console, right?
I've always owned a Devil and lately 90 per cent of my fishing has been casting. A cuddy gets in the way a bit and I wanted a casting deck and electric motor. I like casting from an elevated position and if I want to chase a king or jew I use the electric for anchoring.
I have the 620 Sea Devil as well, so this boat has a different purpose. I use it for a lot of short trips; afternoon fishing after work or if I wanted to go out for a couple of hours on the weekend, it's a lot easier to clean and take out. It's more fun and it's good to take my little girl out.
I've had three boats built by them and I had the standard 520 about 18 months ago. It was a great boat and I pretty much couldn't fault it, but I wanted something a bit different. We went through and put this together; it was bit of a head game trying to configure it all, but in the end, John from Sea Devil and I went through and basically put it all together.
What's your impression so far?
It's really good, it rides so well. It's also a really fun boat with the 150 E-TEC on that back - it really goes! It's a very solid built boat and it eats chop without a problem.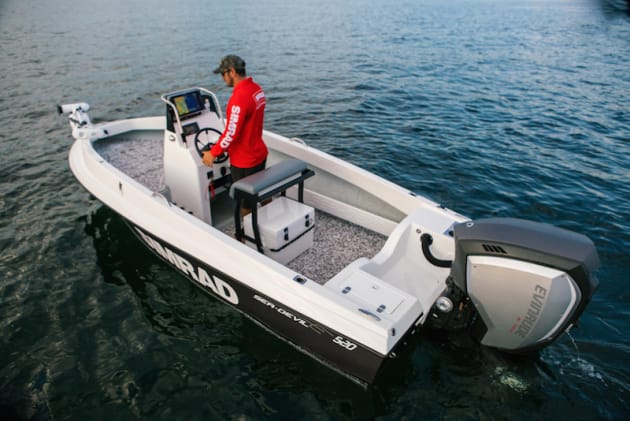 Do you think fishos will go for this centre console configuration?
Absolutely! I take people out in it and they just laugh [in a good way!]. It just doesn't move, it's such a solid little boat and with the power it has with the G2, it just pushes through. I was out in in the other day and my mate couldn't believe it. There's no other 17 footer that could do that.
It's also stable at rest with the ballast. It's still only a 17 foot boat, but with the steep deadrise it works out perfectly with the ballast.
What electronics do you have fitted?
It's a 12 inch Simrad EVO 2. It's simple on this boat, there's not much room for too much electronics on the smaller boat. On the 620 I have a 12 inch EVO 2 and NSS16 and the full package with radar etc. I've gone to town on that one. This boat however is more of a muck around boat for a quick fish.
What about the engine?
It's the new Gen 2 150hp E-TEC. It's crazy, plenty of torque! It's a heavy boat for its size, but it pushes it along nicely. The G2 has a lot more torque and is better on fuel, that's the main difference. The steering with power assist is very nice and the oil tank in the motor is handy; you don't need another bottle in the boat.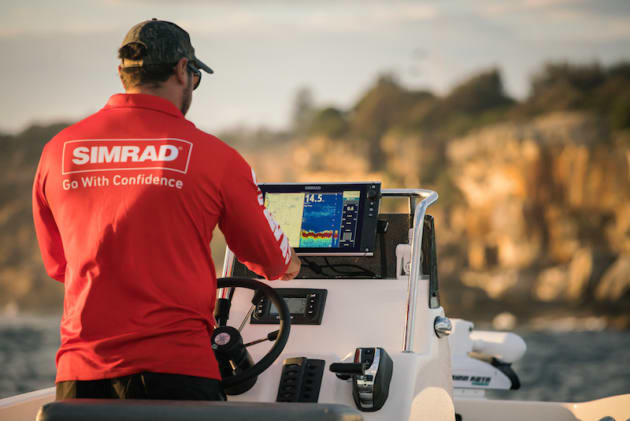 What features does the boat have?
We've got the casting platform as I already mentioned. John and I put put Seadeck in the boat, which wasn't an easy mission. That's really nice though, it dries quickly and is soft under the feet. We put in all these hatches under the casting deck incising storage and a cooler. I bought the seat online and got it powder coated and the upholstery re-coloured to match the boat. I then bought a cooler which fits perfectly underneath. I got some rod holds made up too.
It has a 175 litre fuel tank and a single battery and 200 gallon bilge pump. The 24 volt 80lb Minn Kota runs off twin batteries store up the front. There's also a big livebait tank and tuna tubes at the transom. The biggest thing I noticed from the hangover from the cuddy to this was it's a fair bit roomier. You have all that deck. I have never had seats in my other boats coming from a spearo background and it stuck with me through fishing. Now I noticed when standing on your feet all day it hurts, so the seat is essential.
What trailer are you running with it?
It's a Redco trailer. It has the pick-ups at the back for launching off a beach and extended drawbar if I need it for getting further down the ramp.
Thanks Michael, it looks like one hell of a boat!
Thanks!
RRP: Starting at $64,500
Contact: Sea Devil boats at nbmarine.com.au