REVIEW: Extreme 885 Centre Cab & Garmin Electronics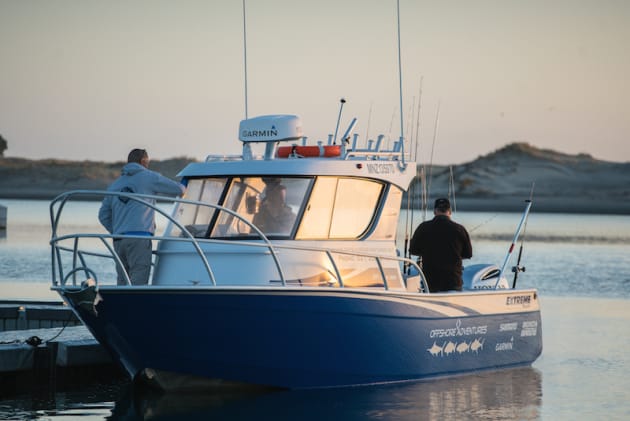 BOAT Fishing checks out the latest boat and electronics package from New Zealand-based charter business, Offshore Adventures. Scott Thomas reports.
NEW Zealand-based Tony Orton operates his charter business from the North Island town of Mangawhai Heads. The established operator specialises in chasing big kingfish, snapper and marlin from the fish-rich waters and nearby islands surrounding the area. Tony recently upgraded his boat and Boat Fishing went along to check it out.
The Extreme 885 Centre Cab isn't Tony's first. He previously owned the same size hull, but chose to upgrade with a few important additions and a state-of-the art fit out. "Because everything is CNC cut and they have a good drawing package, you can pretty much dream up anything and they will make it," explains Tony.
The boat
At almost nine metres long and featuring 8mm plate alloy, the Extreme 885 is no slouch at sea. While we didn't find ourselves in anything that resembled rough seas, Tony assured me this area can be unpredictable and the Extreme is the boat of choice for handing those conditions.
Powered by twin 250hp four-stroke Hondas, the Extreme offers outstanding performance and fuel economy. Our fishing was done about 25 miles from town and with a cruising speed of 25 knots it didn't take long to reach our spot. And with a cruise RPM of about 3600, it still had plenty of grunt left up its sleeve!
Tony needed a few essential features for his charters. Besides the engines, one important feature is the large cockpit and centrally positioned live well and bait/lure rigging station which allows his clients to fish freely around the whole boat.
Given that it's a large boat, the cockpit has loads of space and I never found it cramped with five on board. The walk-around centre cab configuration features a cabin with ample shelter under the hard top. Further forward there's a recessed cabin area with storage and toilet.
It's the bow area which I see as the standout feature of this boat. The walk-around configuration allows fishos to utilise the casting platform and abundant space up front. There's an elevated platform with SeaDek fitted and a high rail for bracing during rough water fishing.
Tony says he'll often have two or three anglers fishing live baits down the back for kings, while another two are fishing the bow for snapper or casting stickbaits for kings. It seemed to work well for us with plenty of snapper and kings coming on board!
Electronics
Tony's boat features a full Garmin package with a 7416 XSV display and 1kW transducer, auto pilot and radar. Tony also has two Garmin VHFs for extra security offshore. Tony wanted something simple to use and found while Garmin offers all the latest in technology, it's still simple to use and that means more time putting clients onto fish. Garmin's Quickdraw was also something Tony used during our time on board. Mapping or re-drawing the charts around the islands gives him a more accurate reference for future fishing trips. Even at 18 knots, the Quickdraw still charts the area.
Tony divides his time between helping clients rig or land fish and standing at the helm positioning his boat with the help of his sounder. The 1kW CHIRP transducer picked up the bottom and schools of bait and fish with incredible detail.
Another interesting feature of this gear is the ability to run Garmin Virb cameras through the display and record all the action of the day. The XE model also allows hard wiring, which means it never runs out of batteries. With a large enough memory card, you won't miss any action. I used some of the Virb footage for a video we did on fishingworld.com.au and the HD footage was crisp above and below the water.
Tony's rig looks to be the ultimate charter boat. It's a big plate boat by Aussie standards and that has allowed him to include features some fishos and charter operators can only dream about.
For more info on the boat, check out Fisho's video here or for other details, visit extremeboats.co.nz and garmin.com.au.