Tolmay's new Bonito 560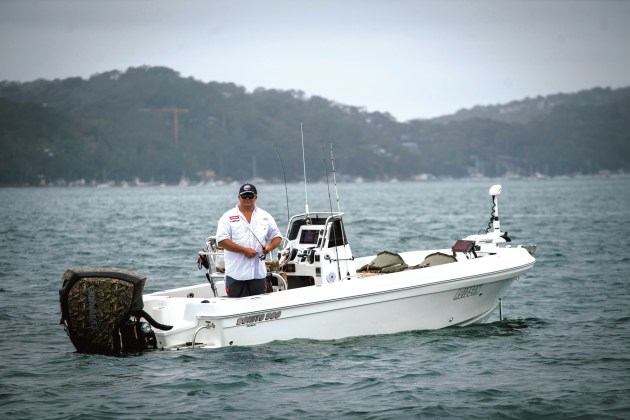 CENTRE consoles are renowned for their fishing friendly characteristics. The secret of a good centre console lies its simplicity; less is definitely more in this case. However, that doesn't mean you can't fit-out a centre console with all the bells and whistles; but it does take a quality boat builder and the input of an experienced boat owner to get the balance right. Riley Tolmay's new Bonito 560 is an example of one such boat.
Riley's no stranger around boats. Boat Fishing has featured a number of his past rigs, which included a couple of slick US-built Contender centre consoles. The Bonito, however, is a different direction for Riley. While it's a versatile boat, it's smaller and better suited to inshore waters.
Riley puts it down to a shift in priorities. The boat is better suited for his young family, yet it still offers a hardcore fishing boat. 
Riley is a keen fisho and hunter and loves camo, hence the colour theme across the boat. Plus, as Riley says, "If a bird shits on it, you'll never know!"
The camo theme carries across the upholstery and "Mossy Oak" colour Evinrude G2 E-TEC. I reckon it looks great; not something we see everyday in Australia, but it may just catch on... Of course colour themes don't affect the performance of a boat, but this Bonito has a lot more to offer in that regard. 
The rig
Bonito Boats are manufactured on Queensland's Gold Coast and sell open boats between 5 and 5.6 metres.
Riley's Bonito is rigged with all the essential ingredients of a inshore sport fishing boat. 
Starting from the bow, he has fitted an 80 lb 24 volt Minn Kota electric motor. A boat of this size responds well to the 80 lb and is an essential accessory for this boat. We found it worked a treat while flicking plastics at flathead in Pittwater during the boat test.
Also on the bow is a Simrad NSS evo3 9" sounder which is connected to the unit in the console via ethernet. The unit is mounted via a RAM mount. The bow-mounted Simrad offers Riley a quick reference while fishing up-front. 
There's plenty of storage under the casting deck which helps keep the deck clutter free. Sitting on top of the casting deck are two camo fold-down seats which Riley imported from the US.
Further back, positioned at the front of the console, Riley has a detachable rigging station which attaches to a couple of Ram mounts. It's a neat spot to rig and throw jig head or used plastics, etc. When not in use it stays under the casting platform out of the way.
Also directly in front of the console is a seat and storage area. This is a fantastic idea and a great use of space. The top features a cushioned seat and underneath there's several draws, mounts for pliers, knives and line spools, plus additional storage via a door. It keeps everything in check and provides somewhere for an extra passenger to sit. It's a much better use of space than an ice box.
Behind the seat box there's good access to the console. It makes sense to have clear access for wiring electronics and switches and provides good passage for storage. Riley has fitted a Talon mount in here where phones can be stored safely, kept dry, and charged. There are also two 12-volt batteries and more storage accessible from the front of the console.
Feature-packed console
The console itself is a typical size for this style of boat and doesn't impede on the space around it. 
There's plenty of space for all the essentials and Riley has installed a Simrad evo3 9" which connects to the aforementioned unit on the bow. The Simrad is a great unit and proved invaluable during the boat test locating schools of bait. There's also a Fusion head unit with blue tooth and speakers on the side allows him to belt out the tunes via his phone.
Evinrude's 7" Icon Touch gauge is mounted underneath the Fusion and features an E-Link System where diagnostics can be sent direct from the unit to your phone or iPad.
The entire console configuration with Simrad, Fusion, Icon Touch and switches looks very neat; everything you need and no wasted space.
Riley also networked in a RS35 VHF/AIS Simrad radio for extra safety when the family is onboard.
The side of the console features vertical rod holders, while the side pockets also have horizontal rod holders and more storage for knick-knacks.
Further back and the lean-to seat can accommodate two people for protection behind the console. The seat is - you guessed it - covered in camo and features storage underneath and an ice box on the ground below. 
Moving further back and there's plenty of space at the transom to move around and fish. The port side has a livewell, while the opposite corner has storage for tackle. Riley also installed a swim ladder and deckwash. 
It's a self-draining deck and Riley mounted an inspection window at the transom for access to the Simrad TotalScan thru-hull transducer.
Power and ride
Riley chose a 200 hp Evinrude E-TEC G2 outboard for the Bonito. The responsiveness of the 200 is impressive! The boat jumps on the plane in a flash, while mid-range acceleration is also second-to-none. At the other end of the scale, WOT was measured at 42 knots at 5600RPM. Does it need a 200 hp? Not really; the 560 Bonito would easily handle a 150 or even a 115 hp if you wanted to save a few dollars. 
Evinrude's G2 series of E-TECs are renowned for their excellent fuel usage and this 200hp was no exception. At 3200 RPM and 22 knots, the G2 was registering 2.1km/l of fuel. Not bad for a big powerful donk! 
The Bonito is well suited to inshore sport and fly fishing. It's open space leaves plenty of room to fish and the 560 size would accommodate three people easily. With two onboard we found the boat stable and easy to move around. 
These boats have a strong following around SE Queensland and they're also ideally suited to inshore sportfishing around Sydney or anywhere up and down the East Coast. Centre Consoles are known for their versatility and this boat offers that in droves. 
Mid size centre consoles are very useful boats and the Bonito 560 fills a popular niche for Aussie sportfishos.