Top 5 Centre Console Trailer Boats
CENTRE consoles have been one of the most popular configurations since the early days of small boat game fishing over 50 years ago. While the boats themselves, the hull designs, and the layouts, have improved out of sight, the reasons fishos love centre consoles remain the same. Centre consoles are arguably the ultimate fishing design. What they lack in protection from the elements they gain in open, unimpeded fishing space. Let's look at what Aussie plate and fibreglass manufacturers have been up to these past few years with their range of centre consoles.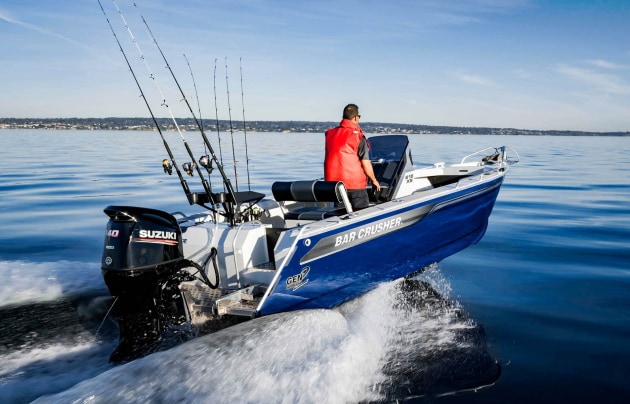 Bar Crusher 615XS
Bar Crusher's 615XS is a genuine Fishing Weapon! This boat does it all — freshwater, estuary, inshore and offshore fishing — and does it exceptionally well. Designed for lure casting and trolling — and constructed from heavy duty, pre-stressed 4mm (bottom sides) and 4mm (top sides) marine grade plate aluminium — this ultra-tough centre console sportfishing boat is equally at home in the Top End targeting barra as it is offshore from the East Coast chasing tuna or on Tasmania's highland lakes flyfishing for trout. Measuring 6.15m LOA with a 2.25m beam, the boat's smooth ride is the result of its high-tech Waveslicer deep-V hull, while the expertly-engineered Rigideck sub-floor system ensures maximum hull strength. The boat is extremely stable at rest, thanks to its Quickflow water ballast technology.
Built on Bar Crusher's evolutionary Gen2 hull, the 615XS also combines key features including a wider negative chine running forward, optimised wider chine aft and the distinctive Delta Flare —delivering greater hydrodynamic lift for efficient planing and excellent fuel economy, a higher bow attitude and better spray deflection for a drier ride. Onboard, a fully-sealed and lockable hatch in the forward casting platform opens to reveal a cavernous storage area. This water-tight and secure storage area is so big it's capable of housing a couple of 12V batteries to power a 24V bow-mount electric outboard, and there's still plenty of space to stow camping gear out of the weather for extended trips to remote fishing destinations. The casting platform also has spigots for a lean post/seat. Inline with market demand for true centre console fishing boats (and alleviating the shortcomings of a rear console), the 615XS's console positioning and seating options — which include a twin-drawer deluxe flip-flop seat or a 125L icebox with seat cushion — deliver true 360° fishability for all styles of fishing. The console itself features a tough, contoured windscreen, drink holders, ample dry storage, and integrated handgrips which frame a large and functional dash area. The dash is designed to flush-mount large-screen marine electronics, along with digital gauges, stereos, marine radios, switches and other controls. Bar Crusher has also designed a unique locking system for the dash to provide security against theft of valuable gear. Deep internal freeboard (780mm) and Bar Crusher's exclusive Game Lock coaming create a safc and comfortable fish-fighting position around the boat, while the foldaway rear bench seat creates even more fishing room. Standard features are too many to list here: hydraulic steering, dual batteries, LED lighting, 2000gph bilge pump, strong aluminium rod holders, livebait tank with inspection window, removable baitboard, berley bucket and muncher, large-volume storage pockets (with optional rod lockers), heavy duty boarding ladder and more. The list goes on. Rated to carry a 115-150hp outboard, the 615XS's standard fuel capacity is 200L. Every Bar Crusher boat is factory-packaged on a custom-designed trailer, which ensures towing, launching and retrieving is a breeze. Self-centering and aligning perfectly every time, Bar Crusher's innovative Bar Catch system also allows for single-handed launch and retrieve. Fish for bream and estuary perch one day, snapper and kingfish the next, as well as target everything from Murray cod through to marlin. The 615XS has serious fishing flexibility and, like all Bar Crusher boats, can be personalised to suit your style.
More info at barcrusher.com.au
Cruise Craft Fish 360 M
Cruise Craft's answer to a serious sport fishing centre console is the Fish 360 M. The Queensland manufacturer is renowned for its range of quality fibreglass boats and released the centre console on the back of increased demand. The complete composite constructed boats feature no wood and are foam filled for a stronger, quieter and safe ride. Being Aussie made, there are no towing restrictions due to oversize beams or trailers. At 6.35m long, the Fish 360M is a purpose built specialist fishing fibreglass boat with over 700 litres of storage, a well designed console, T-Top, self draining floor, loads of rod and tackle storage, plus heaps more. Other standard features include a custom Cruise Craft trailer, hydraulic steering, built-in 3 drawer tackle tray, fire extinguisher, EPIRB & VHF radio, and dual battery system. Loads of options are available for those wanting to spec up an already premium boat. Packages start at $79,990 with a Yammie 150hp four stroke, hydraulic steering, 210 litre fuel tank, dual battery system, offshore safety gear and more.
More info at cruisecraft.com.au
Formosa SRT plate hull and centre console
Formosa Marine is currently racing ahead with its latest and most advanced generation of hull design which officially released at the Brisbane Boat Show earlier this year. The New Formosa SRT Plate Hull combines the best boat designs from the SEA-ROD (SR) and Tomahawk (T) brands, packaging them into one skilfully engineered plate boat and rebranded as Formosa SRT. Formosa Marine has undergone extensive research and development to ensure the new SRT Plate Hull is a leader in the performance stakes giving the buyer the best in quality and value.
The new SRT plate hull features the ultimate level of performance, handling and stability, which includes a stronger Lock-Cell hull and deck structure with a Quad4 Water Ballast option available across the whole boat range. A new 19-degree deadrise, custom-built cambered strakes and large reverse chine all create an enhanced hydrodynamic lift and superior traction. A Formosa hull, according to the company, gives you a great balance between a dry, soft riding hull, and the ultimate level of stability at rest. Formosa's innovative Step-Down Active Transom design gives smart storage solutions, easy on-board battery access and transom design options for the best water access on the market. You can choose from Full Access, Dual Access, Single Access and Closed Access with a flush folding transom door and seating systems for extra fishing platforms. Formosa is not only updating the hull for its whole range of boats, but is also currently updating its models with the release of a sleeker Centre Console design. Besides the more modern design, the new Centre Console allows for better driver view of the latest flush mounted electronic displays and gives improved storage solutions. The Centre Console model also features a new Formosa designed and built heavy-duty windscreen which folds forward for an unobstructed view, extra airflow and reduces the height of the boat where storage is limited. Pictured is Formosa's first new Centre Console design, the Formosa SRT Offshore 580 Centre Console. It features the "Boss Console" which has a large lockable storage area allowing room for a private toilet, a dry space for gear or even a place to seek shelter from a downpour of rain.
More info at formosamarineboats.com.au
Haines Signature 543SF
The Haines Signature 543SF has been around for a couple of years and over that time has gained a loyal following and good repuation as a serious sport fishing centre console. According to The Haines Group, the 543SF is one of its most popular models and for good reason. Like it's little sister, the 485SF, its purpose built for sports and tournament fishing and is as comfortable offshore as it is in freshwater. The 543SF features a fully-moulded non-slip deck, complemented up front with an expansive casting deck and walk around cockpit area so you have the working room to fight game fish. It also has plenty of storage below with kill tanks and live bait wells, rod holders and a 180L fuel tank (side console). Customise the layout to suit your style and needs with both side and centre console configurations available, as well as numerous seating, deck and stowage options. You can also choose from a number of different hull and interior colour combinations. The 543 hull is renowned for its smooth ride and safe sea worthy characteristics. The combination of a legendary hull and fishing friendly fit out makes a great combination for anyone serious about their fishing.
More info at hainessignature.com.au
Yellowfin rear centre console
Ideal for fishing from the river to the reef and introduced due to customer requests, the hand built Yellowfin Plate Rear Console is available in five sizes: 5800, 6200, 6500, 7000 and 7600. This design was developed in the NT by the saltiest of guides and used across Australia because it has complete visibility of the entire vessel while driving the boat putting the captain on the fish and the smooth ride while seated at the transom. The Rear Console design positions the captain and two passenger seats at the rear of the boat with three additional seat positions; one on the casting platform and two in the middle of the vessel. Versatility is the name of the game. In addition to the six seat post positions, there is a removable bait board casting convenience and a console with plenty of space for endless electronics. Yellowfin Plate Boats are built with marine core construction and equipped with the perfectly balanced Offshore HD hull. The variable deadrise eliminates the tippy feeling and slices through chop with ease. The Rear Console has a large central fishing area and raised casting platform to give fishos different vantage points while fishing. To get up to the casting platform, there is a step/storage compartment large enough to house two or three electric motor batteries. Inside the casting platform is a large hatch that can fit a large esky.
More info at yellowfinplateboats.com.au