Top 5 Offshore Trailer Boats
FISHING World staff writers outline some of the best offshore trailer boats on the Australian market.
Bar Crusher 615HT
Bar Crusher's 615HT hits the mark as a serious inshore and offshore fishing weapon. Whether charging the bar as you're heading out fishing or punching into a messy sea on your way back to the ramp, the 615HT will get you there – quickly, safely and in comfort. Nothing beats a hard top boat for protection from the elements.
Constructed from heavy duty, high-tensile 4mm (bottom sides) and 4mm (top sides) marine grade plate aluminium, the 615HT measures 6.15m LOA with a 2.25m beam. Built on Bar Crusher's innovative Gen2 hull design, the 615HT combines a wider negative chine running forward, optimised wider chine aft and the distinctive Delta Flare – delivering greater hydrodynamic lift for efficient planing and excellent fuel economy, a higher bow attitude and better spray deflection for a drier ride.
Its high-tech Waveslicer non-pounding, deep-V hull delivers an ultra-smooth ride, the expertly-engineered Rigideck sub-floor system ensures maximum hull strength, and Quickflow water ballast technology ensures the boat is extremely stable at rest.
The 615HT's toughened safety glass windscreen and all-weather hard top allows full standing room and an unobstructed 360 degree view from the helm.
The hard top configuration and fold-away rear bench seat creates a huge cockpit fishing area, generous internal depth allows everyone to feel secure when out on the water, while Bar Crusher's exclusive Game Lock coaming ensures a comfortable fish-fighting position. The functional helm station allows for installation of the latest large-screen marine electronics, and the fully-welded checker plate deck is extremely easy to clean after a solid day on the water. Strong aluminium rod holders, livebait tank, in-floor fish storage well, berley bucket, large-volume storage pockets, rocket launcher, baitboard, and optional deck wash and anchor winch are among a long list of fishing-related features.
Rated to carry a 115-150hp outboard, the 615HT's superior performance capabilities, 140L fuel capacity (long-range tank also available) and all-weather protection are just a few reasons why it's one of the most versatile sportfishing boats in its class. Like all Bar Crusher boats, the 615HT is factory-packaged on a custom-designed trailer, which ensures towing, launching and retrieving is a breeze. Self-centering and aligning perfectly every time, Bar Crusher's innovative Bar Catch system also allows for single-handed launch and retrieve.
More info at barcrusher.com.au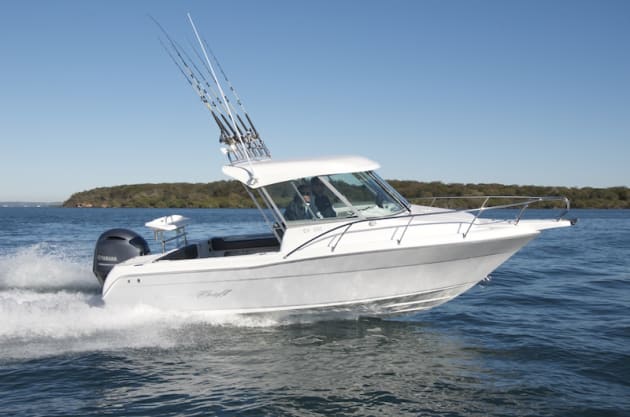 CruiseCraft 595 HardTop
The popularity of the Hard Top design concept knows no bounds at CruiseCraft with the release of the third Hard Top model, the CruiseCraft Explorer 595 Hard Top. The new Explorer 595HT complements the larger Cruise Craft Explorer 625HT and the top of the range Cruise Craft Explorer 685HT.
"We have an absolute commitment to the Hard Top design concept," said Nathan Nichols of CruiseCraft. "Since we launched our initial Hard Top model, the market has voted overwhelmingly that this is the style of boat that they prefer. Sales of CruiseCraft Hard Top models outstrip those of the conventional soft top models."
The surge in Hard Top popularity is well founded. The CruiseCraft design is flowing, in proportion and expertly tooled. This is a fibreglass construction that is manufactured using a split mould technique. Both the roof and interior lining are smooth and buffed to a mirror finish.
Moreover the Hard Top simply makes fishing more comfortable and the fishing season longer. Now, serious bluewater fishermen can head offshore under stormy skies, or blistering summer sunshine, well protected by the Hard Top on their Explorer 595HT. This is a purpose designed and manufactured fibreglass moulding specifically tailored to this model.
Supporting the aft end of the structure is a pair of robust yet stylish stainless steel supports. These also double as very secure hand holds for the crew while travelling at sea. The Hard Top is formed with a full height toughened glass windscreen at the front, with sliding glass side panels on both port and starboard. An electric wiper on the starboard screen is a standard inclusion, as are the auto retract electric trim tabs fitted to the transom.
A key feature of the Explorer 595 model is the exceptional beam across the cockpit. Through clever design and exceptional use of the space between the gunwales, the cockpit on this boat is actually wider than most in this class of boat. There is ample space for three fishermen to stand across the rear of the seats, with heaps of space to spare.
A big feature of the CruiseCraft 595 HT is the optional sliding Perspex cabin door. This feature provides for a lockable cabin, an added attribute in security. Another popular option is the slide out canopy. This makes the effective length of the hardtop even bigger, offering more sun protection virtually all the way from the helm to the bait board aft.
More info at cruisecraft.com.au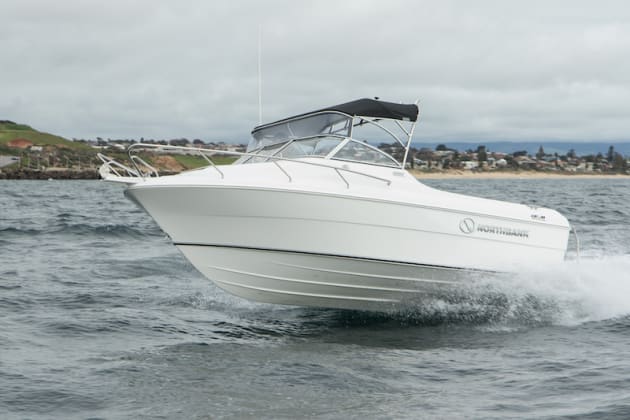 Northbank 600 Cuddy Cabin
South Australian built Northbank boats has a complete range of offshore fishing vessels suitable for most budgets. Designed by Naval Architects, Northbank hulls have been built to a high standard. All of Northbank's 650 and 600 models have been designed with offshore conditions in mind.
Building a hull around a 21 degree variable deadrise generally means that stability at rest can be tender. Not so with the Northbank, according to the company, as it uses a seven bearer system compared to a standard three or five bearer system. The seven bearer system adds weight and strength right where it's needed, down low. Combined with broad reverse chines, stability is excellent, a quality that is found lacking in some other boats.
The 600C is a hard charging, flat cornering sport fishing boat with few peers, according to Northbank, and can be rigged with single or twin outboards and petrol or diesel sterndrives.
An extensive list of standard features make the 600C an excellent value boat. By adding some of the factory fitted options, the 600C can be set up as a serious offshore fishing machine.
More info northbank.com.au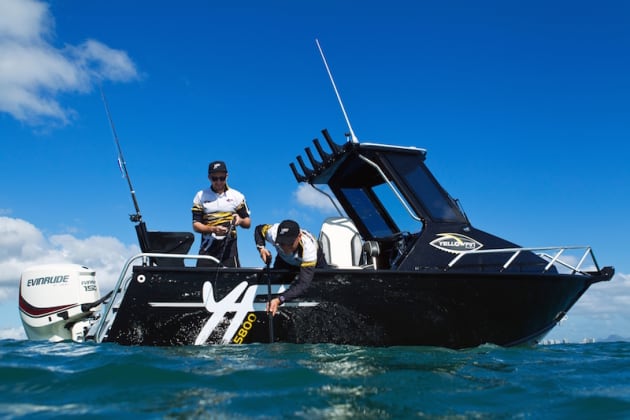 Quintrex yellowfin 5800
The smallest in the range, the Quintrex 5800 is capable of some serious offshore fishing while offering practicality and a lower price point. According to Quintrex, the Yellowfin models are built strong for ultimate protection from the elements. The 5800 features 5mm plate bottomsheets, 5mm transom material and 4mm side sheets. The "Marine Core" construction features a sub frame rib structure of longitudinal and latitudinal ribs made of 6mm vertical stringers and 5mm horizontal ribs.
Similar to the larger boats in the range, the 5800 features a fully welded checker plate floor with box section floor frame offering extra strength. You can guarantee ultimate power as the new transom design also allows for larger outboards in both power and weight. With a maximum horsepower rating of 150hp and a 136L underfloor fuel tank the 5800 has the ability to get you quickly and safely offshore and back home.
Quintrex national account manager Cameron Wood said the 5800 is available at a lower price point but still contains an impressive list of features. "At less than six metres the 5800 is easily towed and stored making offshore adventures easier than ever," said Wood. "While it is the smallest in the range, the beauty of this model is the huge open deck space and massive cabin so you can still bring your mates along. "You'll definitely turn heads with the new YF decals, stripe design and updated logo, these boats really have the wow factor," Wood said.
The new models are fully equipped for reeling in trophy fish with features such as: 16 rod holders, burley bucket, 110L kill tank and new live bait tank complete with viewing window and external pick-up.
More info at quintrex.com.au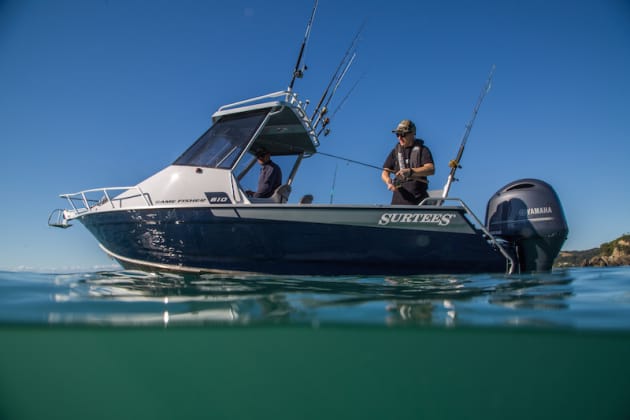 Surtees 610 Game Fisher
The Surtees 610 Game Fisher is a real all-rounder. One of Surtees most popular models, it's as much at home on a lake towing the kids around on biscuits as it is trolling for marlin offshore. Surtees says the 610 Game Fisher's ability to slice through chop and provide a stable fishing platform at rest is a big plus. This is made possible thanks to Surtees IQ – an inventive streak that made Surtees the first company in the world to develop fishing boats that combine water ballast technology, non-pounding deep V hull and engineered sub-floor systems.
Purpose-built with a reduced cabin and large cockpit, deck space is maximised for serious fishermen and all their gear. What's more, it's available as a hardtop or an ingenious fold-down roof to enable storage in a standard garage. Born out of a proud history that boasts more than 4500 boats built, the 610 Game Fisher's pedigree includes Surtees record of never having a structural hull failure.
As CEO Adam Dyck says: "We are so confident of our design and build quality that the hull warranty has been extended from 6-years to 10-years worldwide on all of our boats. Very few of our competitors are prepared to match this. To put it simply, every Surtees is built to fish and to last!"
More info at surteesboats.com