Yamaha F90 review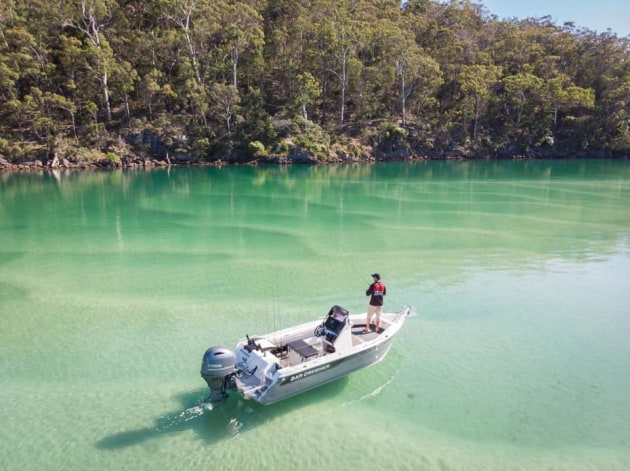 FISHING World's latest project boat is the Bar Crusher 535XS centre console. Replacing the 535XS rear console, the new addition to the family offers true versatility in a solid boat, purpose built for fishing. I sold the old Bar Crusher in June last year and immediately ordered the new one. Despite the Melbourne lock-down, Bar Crusher did fantastic job keeping the factory going and pumped out an impressive number of boats, including mine.
Meanwhile, the sudden surge in boat ownership meant a possible shortage of boat parts and accessories, even engines! I was keen to purchase one of Yamaha's F90 four-stroke engines.
I first checked out the F90 when Yamaha released it in 2017. At the time, Yamaha had a F90 attached to a Bar Crusher 535C for an on-water media day and I was lucky enough to test drive the package and experience its performance.
Back to 2020 and thankfully, despite a mad rush on engines due to Covid, the team at Yamaha kindly put an F90 aside for me in Melbourne while the Bar Crusher was being built. I picked up the new Bar Crusher in December last year and drove north to Pambula on the NSW South Coast for its maiden voyage. I was joined by Bar Crusher's Ben Sandman.
The initial boat review of the 535XS was published in the 2021 February edition. Without repeating too much of what went into that review, it was worth noting how different the new rig felt compared to the old one, and the engine was no exception.
The new F90 felt incredibly smooth in and out of gear thanks to the shift dampening system. It also sounded very quiet at idle and throughout its entire rev range. Within a short time the F90 received a big thumbs up!
What's new?
The F90 replaces Yamaha's proven 100hp, 90hp and 80hp four-stroke models. Best of all, it's 10kg lighter than these old models and includes a few new and useful features. The F90 is a four cylinder, 16 valve, SOHC engine. As mentioned above, it's lighter than its 1.5L predecessor, but also has an increase displacement, meaning more torque compared to the old model.
Yamaha says the reduction in weight and size has been achieved through the adoption of a single overhead cam shaft valve train. Yamaha also says the F90 deliver a 10 per cent fuel saving and a reduction in noise thanks to improved engine rigidity, muffler redesign and the addition of an intake silencer.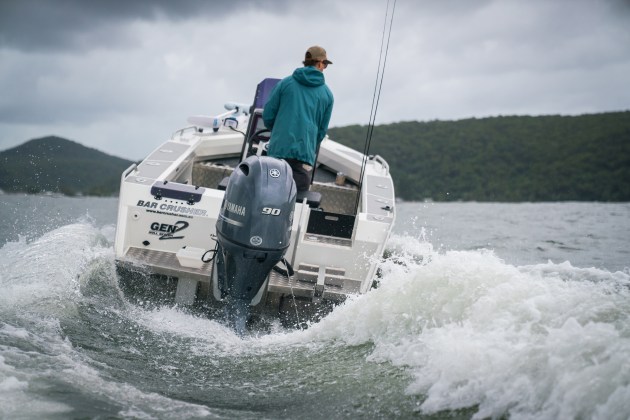 Performance
The F90 is no slouch! It's a very responsive engine with impressive hole shot performance. Mid range acceleration is equally impressive and it's something I noticed instantly. Sitting at 3500 RPM, a quick movement of the throttle catapults the boat along nicely! Top end speed, however, was slightly less than my old engine.
I was keen to swap props and see which one would achieve optimal performance and fuel economy across all rev ranges. The existing prop was the 17" alloy. Yamaha swapped it out for a 16".
It was a good move with a few extra knots gained, while maintaining most of its impressive mid range acceleration. Overall, however, I'd be very happy with either prop. Top end speed is 34 knots at 5700RPM.
Fuel
Fuel efficiency is another big plus on the F90. These mid range engines are pretty fuel efficient anyway and the type of boat and its hull shape also plays a part. The F90 comes to the party with an improved fuel saving overthe old model. At 3500 RPM and 18 knots it was burning an average of 10.8 L/H. At a comfortable causing speed of 25knots and 4300RPM the fuel burn was 15.3 L/H. WOT at 34 knots and 5700 RPM was 37.2 L/H.
Other features
Other features on the F90 include the variable trolling control. This allows you to adjust the speed of idle from 550 to 1000 RPM in 50 RPM increments. It's not something I've used a lot, but I can imagine if you do some trolling with the main engine (it's quiet enough), this trolling control would be quite useful.
Another feature of the F90 is its high output alternator. According to Yamaha, the 12 volt 35-amp high output alternator ensures power is always available to start the engine, even after long periods of idling or slow trolling. Given many people don;t run their boats at full throttle, especially while fishing, it's a useful feature.
I have a Yamaha 6YC digital gauge hooked up to my F90. It's a simple to use and intuitive gauge which provides all of the engine data required. I can instantly see speed, fuel economy and fuel flow, RPM, trim, plus temperature, battery level and more. It's compact and simple to use and I'd definitely recommend going with a gauge like this if there's space on your dash next to the main sounder screen. While you an hook up engine data to your main multi-function display, it's great to have something tailored to the engine and a back-up to the main MFD.
All up. while it's only early stages, the F90 has performed above my expectations. The main points for me when looking for a suitable outboard are a quiet, responsive and reliable engine. The Yamaha F90 ticks all of these and more.
For more information: www.yamaha-motor.com.au