Australia's best fishing towns
WHAT is Australia's best fishing town or city? Five Fisho writers tell us why their location is number one.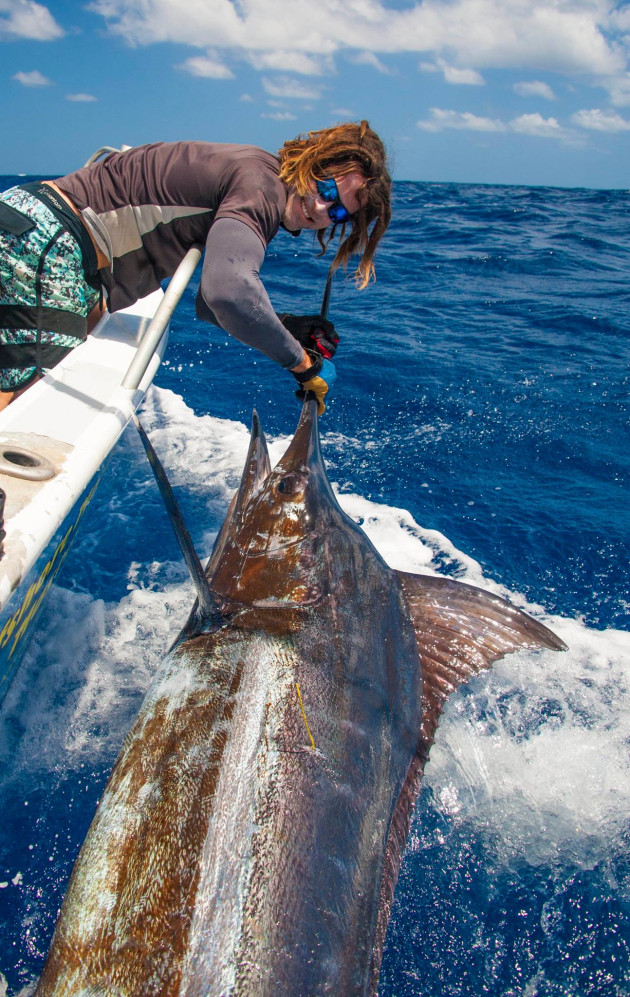 EXMOUTH, WA – Ben Knaggs
Located some 1200km north of Perth, roughly halfway between Broome and the WA capital, Exmouth is a hotspot of international renown. What makes Exmouth a huge contender for the title of Australia's best fishing location is a combination of factors that makes you think if there is a creator, he's definitely a fisho! Situated on a small spur of land known as North West Cape which juts out into the Indian Ocean, the town of Exmouth is only very small; home to a permanent population of just 3,000 residents.
The shores of North West Cape front two very different, yet both uniquely fish-filled environments. On the western side of the cape is the open Indian Ocean, framed along its shoreline by the 300km long Ningaloo Reef — one of the largest coral reefs in the world. The reef itself is a fish magnet, being home to monster GTs, mobs of Spanish macks and all manner of reef fish, plus mainland Australia's only known bonefish fishery inside the reef on the turquoise-clear sandflats known as the Ningaloo Lagoon.
The story only gets better offshore where the Continental Shelf edge runs within just a handful of kilometres from land and its waters are frequented by all six Australian billfish species (blue, black and striped marlin, sailfish, swordfish and spearfish) in good to great numbers, as well as most other tropical pelagic species including dolphinfish, wahoo and yellowfin tuna.
On the eastern side of North West Cape lies Exmouth Gulf; an 80km long expanse of shallow water reefs and shoals around which you'll hook golden trevally, cobia, longtail tuna, coral trout, spangled emperor, and a host of others, plus a unique run of sailfish in crazy numbers through the spring months. The mangrove-lined shores of the gulf are fringed by seemingly endless sandflats on which you'll find hordes of big queenies, giant herring, more goldens, GTs, the odd barra and one of the best permit fisheries in the land. Consequently, these flats are a fly fisho or light tackle spinman's dream.
Exmouth's marquee fishery though is definitely its billfishing, due to the fact that it offers year-round fishing and super-easy access, even for quite small boats. The peak of the action happens through the summer when what has a very solid claim as Australia's finest blue marlin fishery kicks off along the shelf edge. The offshore billfishing is usually at hot as the weather at this time of year, with double figure shots at blues and multiple species grand slams commonplace. Australia's first grander (10001b+) blue marlin was even caught off Exmouth back in 2017, further highlighting this tiny town's impressive credentials for the title of Australia's premier fishing hotspot.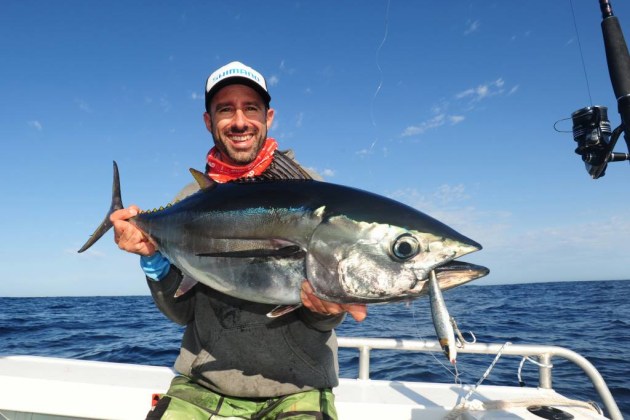 PORT LINCOLN, SA – Jamie Crawford
We are so fortunate in Australia to have so many great fishing locations, but for temperate saltwater fishing, it's hard to go past Port Lincoln on South Australia's Eyre Peninsula. This beautiful seaside city is located on the shores of Boston Bay, offering a plethora of calm water fishing options as well as some superlative bluewater fishing, plus beach and rock fishing just a short drive out of town.
I moved to Port Lincoln around 22 years ago and have been in the neighborhood ever since. Port Lincoln is a saltwater fishing hotspot; no freshwater fishing in these parts. Our large bay system fishes well for bread and butter species and is the perfect location for family fishing. King George whiting, garfish, salmon and squid are readily available in Boston Bay and nearby Proper and Porter Bays, with big blue swimmer crabs active in the bay from around December until April each year. The protected waters of the bay are a seafood-lovers paradise.
If hitting the bluewater is more your thing, there are plenty of offshore reefs and shoals out wide of the Port Lincoln. After leaving the confines of Boston Bay and heading southwards, you'll traverse through Thorny Passage and into open water. The fishing within The Passage' is great in its own right, with good catches of big King George through the cooler months, and some really nice gummy sharks and queen snapper available around some of the islands in the southern part of the Passage. Cape Catastrophie denotes exposed waters, and there are some good reef systems southwards where red snapper, queen snapper and gummy sharks can be caught, along with the occasional big samson fish thrown in too.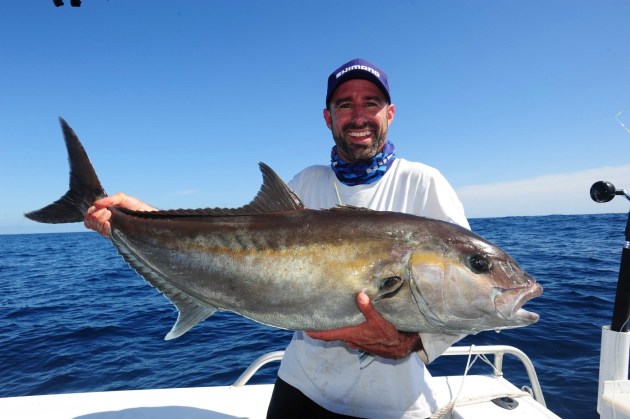 During summer and early autumn, our annual run of bluefin tuna pass through these waters, offering plenty of action on light to medium tackle. Some reliable bluefin grounds include the Cabbage Patch, Low Rocks, Albatross Island, Williams Island and South Neptunes. Most of our school bluefin in this area are in the 8 — 20kg bracket, and when they're running, the action can be hectic.
If you don't have a boat in Port Lincoln then don't despair, as there are four accessible jetties, two breakwaters, and a marina all on offer for the land based fisher chasing a feed. Calamari, King George, garfish and tommies are the most targeted land based species, and with the Port Lincoln National Park just down the road, you'll have kilometres of rocks and surf beaches to explore. In fact, the hardest thing about Port Lincoln is narrowing down what to target.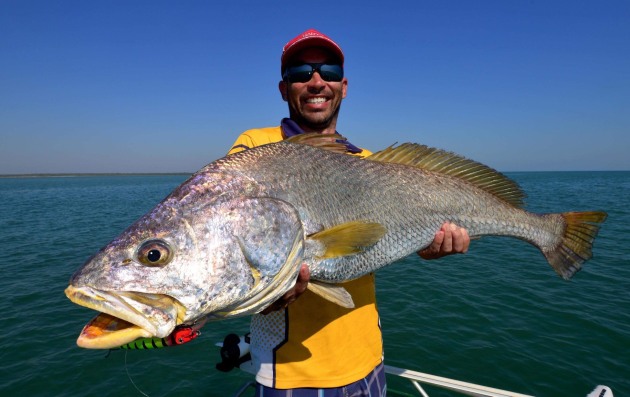 DARWIN, NT – Peter Zeroni
When Darwin is mentioned as a fishing destination most conjure up images of Australia's own iconic tropical species — the mighty barramundi — exploding out of the water, gills flared with its bucket-sized wide-mouth, to which is pinned an equally iconic Aussie lure like a Scorpion, Poltergeist or the like.
Within a two-hour car drive of Darwin are some of Australia's most legendary wild barra rivers such as the Daly, Mary and the Finniss, as well as the freshwater mecca of Corroboree Billabong. If you drive another hour then you will be accessing the South or East Alligator Rivers. But if you just want to find a barra closer to town then fishing around Darwin Harbour itself with its three large Arms, or nearby Shoal Bay can be easily accessed — tide permitting — by local boat ramps. If you don't have a boat then chasing barra land-based around the city foreshores, as well as at East and Lee Points is well worth it, for those who put the hours in, or who get the good oil from a local who's already worked it out.
Darwin and the Top End is also home to Australia's richest fishing competition - The Million Dollar Fish - now in its fifth year. This year's competition sees a total of 121 tagged barramundi released around Darwin and the Top End including one red-tagged barra which if caught will land the lucky fisho a cool $1 million. There's another 100 red-tagged barra worth $10,000 each. Also any of the previously tagged million dollar barra from the first four years of the competition, if caught by an angler in season 5, will win him or her the big one. Since the competition began in 2014, a total of $380,000 in cash has been won by 38 lucky anglers. Not unexpectedly this competition reels in fishing fanatics to the Territory, providing a boost to tourism and local tourism operators.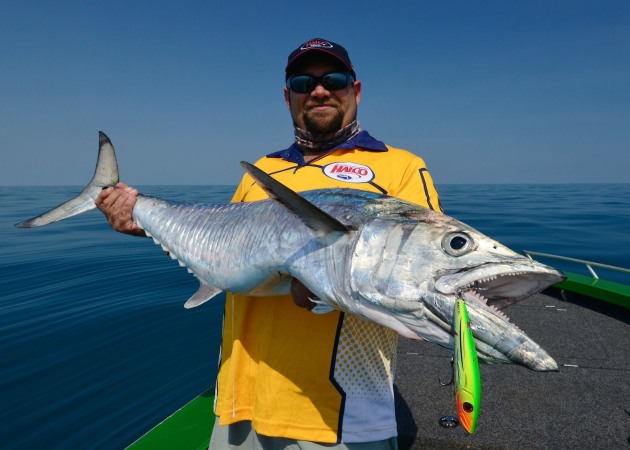 In addition to the fantastic wild barra fishery that exists, the blue-water and reef fishing out from Darwin is pretty special too. With a seaworthy vessel from 4.5m upwards there's options a-plenty to chase speedsters like tuna, Spanish mackerel, queenfish and trevally, or tasty bottom species such as black jewfish and golden snapper. A little further out from Darwin are the sailfish grounds of Fenton Patches and those off Dundee Beach. NT Fisheries does a fine job in ensuring the management of our precious fish stocks are undertaken responsibility for both commercial and rec fishers alike.
Over the years many artificial reefs have been established off Darwin for rec boaters to access, and this year even more are going in which is great news. Lastly, Darwin has some of the best tackle stores in Australia with none finer than Fishing and Outdoor World located right in the heart of town. This store has been operating for the past 47 years and offers the best prices in Australia, and along with first-class service, brings back customers and their families for generation upon generation. Visitors are often astounded at how low tackle prices are up in Darwin.
So if travelling north for a fishing trip, wait until you get here before tackling up. As a born and bred Darwinian there's nowhere else I would want to live than right here, where in the morning we sight-fish barra and threadies on the flats of Darwin harbour, then head outside the Arms to chase longtail tuna, queenies and Spaniards, and finally jig the bottom for some tasty goldies for the pan that night. For many locals and visitors it just doesn't get better than that!
HERVEY BAY, QLD – Greg Finney
When editor Scott asked me pen a short piece about my backyard, I had to think long and hard how to fit it all in. Hervey Bay just has so much to offer in the way of fishing that it could take a whole magazine to cover it all.
It was purely fishing that attracted us to Hervey Bay. Our first trip was April 2014 and we had three days fishing with Andrew Chorley in search of longtail tuna on fly. We caught longtails but we also caught golden trevally and mack tuna. There were numerous schools of fish on top every day and for someone who'd been based in southern NSW for 30 years, it was heaven on a stick. Hervey Bay was instantly on our list of favourite fishing destinations and we fished there for several seasons before it came time to think about semi-retirement in a warmer climate.
Hervey Bay ticked all the boxes so we made the big move north in April 2018. That was a big decision but not one that we have ever regretted I must say. The good thing about Hervey Bay is that it sees a crossover of southern and northern species. We catch flathead, whiting, bream and snapper but we also catch several species of mackerel, queenfish, cobia, golden trevally and barra. The best of both worlds I like to think.
Let's have a look at a few of my favourite species and pursuits around Hervey Bay. Longtail tuna are in Hervey Bay virtually year round. We get some thumpers in winter when the whales are here in July through to September but they are up on top feeding on bait balls in autumn. It's nothing to get up around Platypus Bay in March to May and see dozens of schools of tuna on top and birds everywhere. If you fish small metals or flies that match the bait size it's easy fishing with tuna to 8 and 10 kilos. Head a bit further north to Rooney's Point and you'll catch big queenfish over summer and into autumn along with golden trevally and some solid longtails. Out in the middle of Hervey Bay are the 25 Fathom Hole and the Southern and Northern Gutters which are some of the very limited structure. For the most part, Hervey Bay is quite flat and there is little in the way of humps and holes to hold fish. The Gutters produce sweetlip, cod, cobia and coral trout but the sharks can be a problem over the warmer months. In winter they thin out considerably.
Down the southern end of Hervey Bay are the Sandy Straits which are enormous array of estuaries and flats that run all the way down to Tin Can Bay. They produce flathead, squid, whiting, barra, threadfin along with mackerel and tuna over the warmer months. It would take a lifetime to fully explore them all and learn each creek and flat. The above is only a brief overview on one of Australia's top fishing destinations. The fishing can be absolutely mind blowing at times and I've come to expect the unexpected on most trips. We've caught and seen some unbelievable fish since moving here 18 months ago and we've barely scratched the surface.
COFFS HARBOUR, NSW – Dave Rae
The waters in the Coffs Harbour Region is a fisherman's paradise because there is no off season, only the next season. This continuous stream of fishy activity results from Coffs Harbour's location. Depending on the time of year, 30°S is southern extremity of warm tropical waters and the northern extremity of cool temperate water. This is why we can target such a variety of species.
The appeal of Coffs is even better when one considers the proliferation of fish habitats that are found in the area. Structure rich, island and reef ecosystems line the inshore waters whilst deep canyons are found out wider. The estuarine systems are numerous and bountiful and the natural beauty of our freshwater rivers must be experienced to be believed.
Summertime is river and estuary time. The freshwater rivers come to life as the water warms and summer storms top up the levels. For a sportsfisher, bass are a prime target and as the cicadas commence their song, surface lures become the weapon of choice. Bream anglers move upstream with small surface lures as well. Smaller boats and canoes get dusted off as anglers hit their favourite possies. Tree-lined banks, small rapids and birdsong overpower manmade noise and serenity replaces business. Mangrove jacks become active in the brackish estuarine waters and given that the average size of a Coffs jack is hefty, lost lures are commonplace. Hard work is required however, as this is not the tropics! Expect to find trevally as well, particularly in low light. Whiting are another favourite and the use of bait and surface lures is popular. As the water discolours good fish are found out wider and past them are the gamefish, although small black marlin move in close.
As summer transitions to autumn, warm tropical water floods inshore reefs and talk turns to mackerel. Both spotted mackerel and larger Spanish mackerel are targets with the majority of anglers floating or slow trolling live baits. For those chasing big Spaniards (20-35 kg), slow-trolled bonito are hard to beat, whilst lure casters throw large swimbaits. As the season progresses, bass start to move downstream and the jack fishermen enjoy less boat traffic. Estuarine anglers shift focus to sea run bream and blackfish, whilst mulloway anglers get out their heavy gear in preparation for the annual mullet run.
Winter sees the tropical water retracting northward to be replaced by cooler temperate water. This the start of what Coffs is famous for — the snapper fishing. As the water drops to 20°C and below, schools of snapper move inshore. Bait fisherman float mullet strip, pilchards or whatever down through burley trails and lure anglers throw soft plastics and small jigs to catch these wonderful fish in waters from 10-50 m deep. Most of the action comes in
Then there's spring. On the ocean, the snapper fishing continues and teraglin become plentiful on wider grounds. In the estuaries, large dusky flathead move towards river mouths and bass start to wind up. So, there you go. What's not to love about the Coffs Coast?