AUTUMN is the time to get out and target trout using bait, lures and flies. PAT BRENNAN reports.
THE days start to get noticeably shorter, the early morning air has a definite chill to it and the deciduous trees start their amazing transition from green through red, orange, yellow and brown until they're devoid of foliage. In the southern states of Australia, this is autumn. Southerners know that this time of year is often sensational but is also the doorway to what can be a brutal period to follow – the southern Aussie winter. The thought of impending cold, rain, sleet and even snow often gets southerners out a lot more in autumn to lap up the last of the pleasant conditions.
For some fishos winter can be so bad that they hang their gear up for a few months until it warms again, meaning autumn is the last shot to get the fishing bug out of the system. (Mind you, some southern winter fishing can still be pretty good – but that's another article). Luckily autumn can turn on very good fishing down south. Particularly for one the most popular imported freshwater species – the trout. This article will run through a bunch of ways to catch trout in a variety of fishing scenarios. The following will hopefully help you catch more trout during the productive autumn period.
Lake bait
Bait fishing for trout in autumn provides good options from the shore or a boat. Shore-based fishos will love the fact that you can productively fish all day at this time of year. The best outfit for this type of fishing is a standard light threadline with three to four kilo line in either braid or mono. Fishing with bait on the bottom is probably your best option. Diagram A best describes the rig I'd recommend. The gun baits range from artificials like PowerBait through to naturals such as scrub worms or bardi grubs. All of these baits have their time and place and it really pays to start off with a variety of options and narrow things depending on your results.
Here are a couple of key considerations when rigging up for this type of fishing:
Use long, light traces. Two to a max of four kilos is my recommendation with a minimum length of 60cms.
Use the smallest swivel and sinker you can get away with. Size 12 or 14 swivels are plenty strong enough for trout and will offer minimal resistance when a fish is taking your bait.
You don't need to cast a long way. In fact, I'd strongly encourage you to hold back on how far you cast your baits out. Unless it's really windy I only use a 00 sinker. It will easily cast 20m, which is plenty.
Lastly, match your hook size and style to the bait you are using. I use a fine gauge octopus hook for artificial baits in a size four to six. For scrub worms, a size six to eight long shank hook is the go. I like a size six bait keeper style for bardi grubs.
Another deadly natural bait that comes into its own in autumn is the mudeye. These are dragonfly larvae. Autumn is when they can begin to hatch in large numbers and when they do trout switch onto them and gorge because they're an easy meal full of protein. Mudeyes are best fished using a float. Unlike traditional float fishing, the float doesn't actually serve as a bite indicator. Rather, it's used to hold the bait close to the surface and out in the strike zone. See Diagram B for details.
There are a few issues when using mudeyes that can drive you mad and they all involve wind. The choice of an ideal mudeye spot usually involves somewhere where you have the wind at your back. This way when you cast your float out, the wind will hold it out from the shore and keep your line reasonably taut. However, the best time to fish with mudeyes is the evening and into the night. This period is notorious for changes in wind direction, causing your baits to get blown all over the place. There are two ways of overcoming this. The first is a slight variation to the rig. Slide a small sinker on your mainline above your swivel clip. I like tear drop style sinkers. Then empty at least half of the water out of your bubble float. When you cast it out, feed out plenty of slack to allow the sinker to get to the bottom and the float to rise to the top. The sinker will now help to anchor your float in one spot. See Diagram C
The other way requires a boat. Just tie yourself off to a submerged tree and cast your baits out with the standard float rig in a staggered pattern. See Diagram D for details. This way the baits will always hang back from the boat with the wind regardless of the direction. Keep your rope to the tree short to minimise the amount of sway.
Lake luring
A quality light spin outfit is the go when targeting trout on lures. I suggest a fast-action rod of about 2.1 to 2.3m in length. This will really help when casting light lures. Spool your reel with 2-3kg braided line and use a good quality 3kg fluorocarbon leader. The good news is that trout respond to heaps of different lure types. My go-to is a hard-body minnow, especially the Rapala Original Floater, Rapala MaxRap and Bushy's Stiffy Minnow. There are plenty more to choose from but if I'm going to use a hard-body I will grab one of these three models every time. For colours, start off with trout patterns if they're available or neutral colours if not.
If it's really windy or the water depth varies a lot, then I'll use a soft plastic. Again, heaps work but I like the Squidgy Wriggler in the 50-70mm size and Rainbow Trout, Bloodworm or Wasabi colours. Like all soft plastic fishing, the selection of jig head is very important. However, when I'm using soft plastics for trout, I don't use the lightest possible jig head. This is contrary to accepted soft plastic lore, however, there is method to my madness. When I use softies for trout I'll usually use a straight retrieve with little or no jigging or pausing. I'm usually also trying to deal with wind so my jig heads are around three grams, which is quite heavy for a small tail. Again, this is just the way I do it, but I promise that you can catch plenty of trout on soft plastics this way.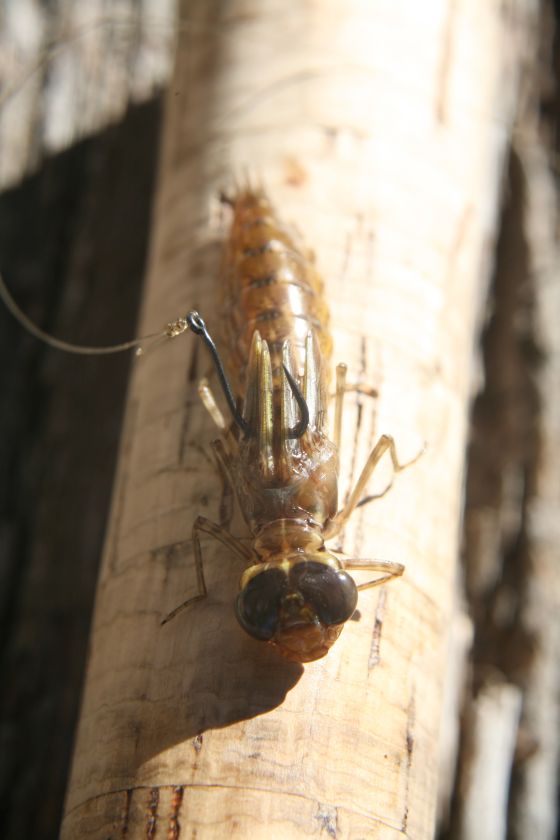 In terms of method, I reckon the key is to cover water. Take some spare tackle, a water bottle and start walking and casting. If there are trout around, you should eventually find them. Remember to keep back from the water because it's not uncommon for trout to cruise right in on the edges.
Lake boating
If you own a boat, then you have extra options. You can troll just as you might at any other time of year but there is one type of trolling that can be deadly in autumn. Try around the areas where the river flows into the lake. Use a good quality sounder to locate the old riverbed then, using a downrigger or swing weight system (basically a paternoster rig with a lure hanging off it), troll big lures of 10-15cms along the old riverbed. The reason why this system works so well is because autumn is when the brown trout start to prepare for spawning. In doing so they'll make their way to where the river runs into the lake and await the right conditions to make their run. They'll also be aggressive so a big lure near them will often initiate a reaction. This can be a great way to target really big trout.
Lake fly
During autumn the water begins to cool down and this brings fish closer to the edges in search of food. During the day you can walk the edges blind casting wet flies like nymphs, Woolly Buggers, Mrs Simpsons, fur flies and so on. If the day is clear and sunny, keep an eye peeled for decent brown trout cruising the shallows looking for an easy meal to fatten themselves on prior to making the spawning run.
Autumn is one of my favourite fly fishing times of the year because this is when the mudeyes become more prolific. Just as with bait fishing, you want to be concentrating your efforts in the evening and into the night. Using flies like Muddler Minnows or specific mudeye imitations, find a location with a relatively shallow bay, park yourself in one spot and start casting. Most mudeye flies sit on or just under the surface, similar to how a mudeye might cruise around. This means that takes are very visible and exciting affairs. The gusto with which a big fish takes a mudeye fly is very exhilarating – which is why I look forward to it every year.
River fly
As I've mentioned several times previously, autumn is when the brown trout start their spawning. For this reason, most of the best trout rivers, especially in the Snowy Mountains, will be closed during the winter when the trout are most actively spawning. However, if the conditions are right leading up to the closure, you can get good numbers of brownies in the rivers. However, if you're keen on chasing these fish, before you do anything else ensure you check the local regulations. Rivers regarded as "trout water" will be subject to variable closing dates, bag and size limits and tackle restrictions. Some rivers may also be fly only and many prohibit the use of any bait.
Lure casting with soft plastics, bladed spinners or hard-bodied minnows can be good during the pre-spawn run. If you're a flyfisher, then you usually need to use a rig that will have your flies drifting close to the bottom. A heavily weighted nymph under an indicator is a good option but often improved by adding a fly called a "glo bug", which imitates a fish egg. No matter if you're using lures or fly, always fish your way upstream rather than downstream. The trout will almost always be facing upstream and less likely to spook. The real key, though, is to make sure you are thorough when covering a piece of water because the fish won't just be in feeding spots, they can be anywhere.
This time of year can get pretty crowded so some stream etiquette is vital. Don't fish a run that is already being fished and if you're overtaking someone on the river let them know and politely ask how far ahead they'd be happy for you to drop back in. This may not always be well received or possible but at least you're trying. Also, if you are wading in the water, don't walk on any gravel beds. These are often where trout lay their eggs (often referred to as a "redd") so you don't want to mess with the next generation. In fact, in many trout waters it's illegal to walk on a redd. Finally, targeting spawning trout is often viewed with disdain by trout purists. However, trout are a stocked, imported species that are there to be caught by anglers. So long as you follow the rules, I wouldn't feel too guilty. Plenty of amazing fishing around the world capitalises on spawning fish. It just may not be as obvious as with trout. Get out there and enjoy yourself!