Catching lake trout at night on fly
THERE'S something special and challenging about targeting lake trout at night with a fly rod. Mick Fletoridis reports.
THE sun descends into the valley across the water, its rays filtered by gathering dark clouds. The odd splash in the distance can be heard as the big lake's trout begin their nightly feeding ritual. Well beyond casting distance from where I stand a big fish leaps in pursuit of a hovering insect. Dragon fly? Being prime mudeye season it's a good bet. Despite the anticipation there's been no interest in my fly. Should I change it?
Hope builds as the sun gets lower in the sky and the rises come closer. Working the furry streamer back and forth in the mild northerly breeze the line rolls nicely, whooshes and somehow softly lands the fly on the water. I'd consciously slowed the casting rhythm to let the rod do the work, rather than exert too much energy and put the timing out. In another hour or so when the fishing hopefully kicks off, the casts probably won't be neat or easy. In the heat of the moment fish can rise in close, left and right, sometimes all over the place. Adrenaline takes over, leaders tangle; usually the result of badly timed false casts or excited changes of direction.
From the near point I hear a splash. Pat is hooked up. I put my rod down and quickly stride towards him – as fast as thigh waders and a dodgy lower back allow – hoping to test out a new camera on the fish. It's a spritely rainbow of a pound and a half, its silver flanks gleam in the fading light. A few clicks and the fish's image is safely stored on the memory card. Pat quickly dispatches the trout. It's a rare kill for him, but he's promised some fish for a work mate.
Back at my station on the muddy bank a swirl to the right signifies my first real chance. The trout rises again with a loud slurp. It's moving quickly along the bank edge and again takes something from the surface. It's an easy cast away. Not overly confident in the fly attached to the thin 4lb tippet I throw it anyway. It lands gently enough and I let it settle before beginning a slow staggered retrieve. Eight, nine, ten…. Nothing. Another rise to the left. The line is whipped off the water and redirected toward the expanding swirl. A few strips get the same result. After another few casts and more rejection I wonder aloud, "what's it eating?" The start of several fruitless fly changes begins.
Before the light fades completely there's time for a quick regroup and a Thermos coffee back at the boat. Brett has walked from the end of the bay to see how Pat and I have fared. He's had no success yet. We discuss the rising fish we've seen and the lack of any obvious pattern or clues to what they're taking. Like magicians we pin our hopes on conjuring something for the main act – in the dark.
Unfortunately I pull out of the game early due to lack of match fitness. I sit in the boat a while in the hope the dodgy back comes good. Meantime, Pat digs out some sort of magic nymph streamer hybrid fly and gets on a roll. Before the session is over he lands a bunch of trout; two more average rainbows and a couple of nice browns to 3.5 pounds or so. Half his luck.
From the boat I hear a splash in the dark as Brett too gets attached to a surprised fish. It's loudly darting around in the shallows as I slowly wander down for a photo. It's a chunky rainbow and Brett is still playing it out as I arrive. Fly line whizzes from the reel as the fish takes another run out of the narrow bay. Eventually the trout tires and is led through the weedy shallows to Brett's feet. He scoops the fish up and it writhes and slips from his grasp. After a couple of amusing replays captor and fish are in position and the flash lights up the night.
Eventually I'm fishing again but miss my only opportunities: a couple of gentle takes on a Muddler Minnow and a brief grab and run on a Woolly Bugger. Despite the result I can't wait for a return trip.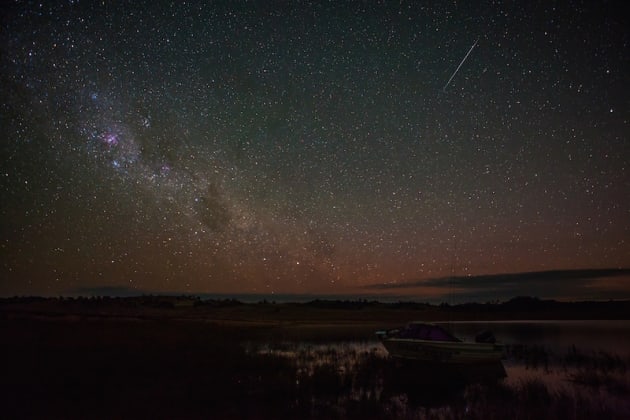 Plan your night
The above is a snapshot of a typical shore-based "night rise" session that might occur in most trout stocked impoundments in Australia over spring, summer and autumn. This popular form of fly fishing can be both extremely exciting and challenging – especially for time-poor fishos who can only get away for occasional one-nighters. Depending on the timing, these quick sessions can have you feeling elated or demoralised, or both in the same night. Either way, targeting trout under the cover of darkness can become addictive.
Like most forms of fishing, regular success on trout lakes comes down to strategy, planning, and timing. Even then an element of luck can sway things your way. There are plenty of natural factors that come into play. Local weather conditions can potentially make or break a short trip so this should be your first consideration when choosing an evening to chase lake trout. Other contributing factors include lake height, water quality and temperature, insect activity, moon phase – all can have a large effect on your success, so it pays to plan as well as you can before embarking on a night fish.
When you can only get away for the odd trip, putting it all together to catch trout during a short window can be a big ask. When you're on the lake, having a game plan saves you wasting precious fishing time running from spot to spot when the wind changes or a thunderstorm passes through, which it often does in the high country. Knowing where you plan to fish to make the most of the prevailing weather is often the key to success.
Arriving at the lake a few hours before dark means you don't have to rush to get on the water and if you have to change locations there's time. If you use a boat to get around the lake the last thing you want to be doing is driving in the dark to find spots. Have a Plan B location in case, say, your favourite bay that fishes best in a nor-easter is already taken up by other anglers. Having a Plan C or D to fall back on can also save your night. You can never have too many backup plans!

When to go
The warmer months of the year from October through April are generally the pick for night fishing on Australia's mainland trout lakes such as those in the Snowy Mountains, Southern Highlands, Blue Mountains and other southern parts of the country. The time of year has a large influence on the behaviour of trout found on these large waterways. Post spawning, which usually occurs in early spring, can see a large influx of hungry trout migrating around lake margins.
At this time, fly fishers can experience some excellent fishing, although the condition of the fish may be testament to their exhaustive spawning efforts. The trout, especially browns, can often be skinny or "slabby" and a long way short of the fine shape they take on in the months that follow. While the condition may be down, spring fishing can be memorable. Spring lake trout generally aren't as fussy as they become post
Christmas – too much food to choose from can make trout very selective – and there can be some champagne fishing to be had.
Through the Christmas period and into autumn, things really start to warm up on Australia's premier trout lakes. Midge can provide challenging and exciting fly fishing in early summer and from around February to April, swarms of mudeyes travel to shore to complete their life cycle before the onset of winter. By then the trout have put on condition and if your timing and strategy is spot on, you can be in for some world class fly fishing.
Match the hatch?
In the bigger alpine lakes such as those in the Snowy Mountains, the resident brown trout tend to feed heavily on yabbies for much of the year. To that end, fly fishers who use large nondescript flies such as #4-6 Woolly Buggers, Bushy's Horror and various yabby imitations have a good chance of regularly turning over good browns close to shore. Fished with long slow strips like a small natural yabby skirting the muddy bottom can produce aggressive splashy takes and the occasional leap as a big silvery brown makes for deeper water. Rainbows too can get in on this act, although flies may need to be downsized for regular success.
This time of year often sees rises from opportune feeders making the most of whatever's big on the menu on the day. Tadpoles hatching in the shallows, dragon and damsel flies on the wing, caddis, crash landing Christmas beetles and grasshoppers, clouds of midge, dragonfly nymphs (mudeyes); this and more is often on the trout's menu in spring and throughout summer. You've just got to be able to read the signs and decipher what the fish want on the night. Easy right?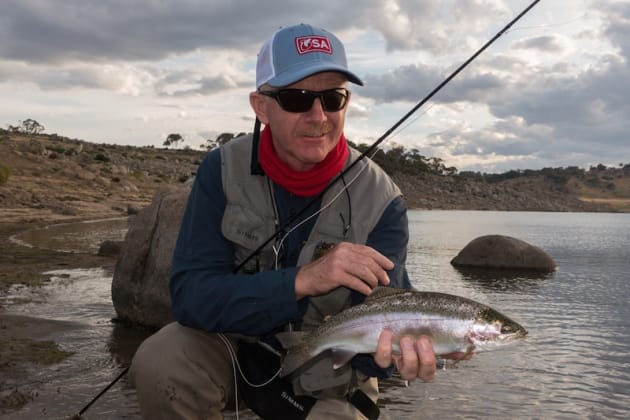 Matching the hatch can be very difficult, especially in fading light and moreso after dark. With many insect hatches taking place around dusk it doesn't necessarily mean all feeding trout in your vicinity are tuned in to the same food. Different fish can become very selective and hard to catch. This is why many fly fishers use flies that don't typically resemble any food item in particular, but may represent quite a few. When you don't have more than a night to work out exactly what the fish are "on" the aforementioned all-rounder flies will usually catch you fish.
As well as covering the yabbie feeders, most popular night patterns also loosely resemble mudeyes, tadpoles, beetles and other common trout food items. Unless you're up on your entomology, keeping it simple can pay off and save you wasting time changing flies when you should be casting at feeding fish.
The way flies are fished makes a big difference to success. Varying retrieve actions and speeds can put you back in the game if things go quiet. Slowing retrieves right down and using big black flies is a proven method especially on nights when you can't see your hand in front of your face. On the subject, the moon phase can greatly affect the result, usually not in a good way. While you might be able to see better under a full moon, many experienced fly fishers avoid fishing for lake trout around this time. That said, the overall weather and lake conditions play a vital role in your success. When you have a small window of opportunity it pays to make the most of any available forecasting technology.
These days it's easy to get long range weather forecasts, moon phases and lake heights at your fingertips. While some online services aren't always accurate they usually provide good indicators of what to expect. That said, there's nothing worse than driving a couple of hours only to have the fishing shutdown due to a storm that your favourite weather app hadn't predicted! But if you're up for the challenge, give night fly fishing for lake trout a go – you might find yourself hooked.
Lake trouting essentials
If you want to get into night fly fishing for lake trout there are a few essential items you'll need. Depending on the time of year, waders should be one of the first items packed. Early spring can still be pretty cold in the high country so quality chest waders can help keep the cold out and have you fishing longer at night. Thigh waders are also a less expensive option, especially for use over summer and autumn. Just remember, if you use a boat to reach your locations wearing waders is highly dangerous in the event of a capsize.
A quality headtorch is another essential item. Most LED models have different output modes, including red, which is useful for seeing when rigging and landing fish without lighting up everything and everyone around you! Always take plenty of warm clothing with you. The weather in the high country changes quickly and it's easy to get caught out at night, even after a very hot day. A fly vest or similar wearable item for portable storage of fly boxes, tippet spools, head torch, clippers, and other must-haves is a worthwhile investment; it pays to limit what you store in your vest as too much weight on your shoulders causes fatigue and affects your fishing.
As for tackle, a 5-7 weight fly outfit will cover most lake fishing situations. A typical 8'6" to 9' rod is fine for most shore-based lake situations. Reels don't need to have loads of backing or impressive drags as most trout are fought in close, sometimes only on the stripped line in hand. Weight forward floating lines are the best all-round for lake trout as all types of flies from weighted sub-surface streamers or nymphs to big buoyant flies fished on the surface. Carry a selection of tippet materials from around 1.5kg (3lb) to 4.5kg (10lb) for repairing leaders and a spare leader or two in case of bad tangles.
Lastly, a flask of hot tea or coffee and a bite to eat will keep you energised for the night fishing ahead. Good luck!