Chasing winter natives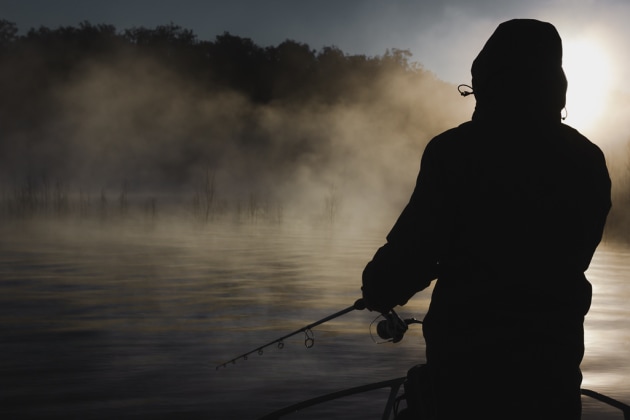 STOCKED impoundments are now one of the most popular destinations for recreational anglers chasing a wide range of species from trout to barramundi. While the colder winter months can be tough times on the dams, there are still plenty of opportunities available if you learn how to fish in the cold. The following lessons have been gleaned by spending a lot of time fishing inland impoundments in the colder months. For some species, such as trout, the winter months can actually be the easiest time of the year to catch a few fish.
General principles
You will always catch a few fish if you find the food the fish is feeding on and then find the fish. This sounds quite simple, but in general most of the winter fishing in dams happens at a bit deeper level than in the summer months when the fish are chasing food in the surface layers. There are a few notable exceptions to this, but inland natives tend to browse feed close to the bottom and often follow depth contours of a certain temperature. The fish's metabolism also slows a bit, and slow presentations are often required to get a bite.
Some species, such as bass, often suspend in large schools mid water in the dams, a long way from any structure. In places like Wivenhoe Dam, in south east Queensland, the biggest bass are often caught in the coldest months of the year by slowly trolling deep diving lures in water depths of 10 to 20 metres. While a lot of fish have relatively short "bite windows" in the winter months, and often don't stray far from cover to feed, if you find where they're holding and persist you'll often be successful after prolonged casting. If you find fish on your side imaging or down scan, don't leave the area until you've given it a good half hour of casting with a wide range of lures. In general, in the winter soft plastics and soft vibes will out fish hard bodied lures and spinnerbaits as these lures can be worked extremely slowly and the fish are less likely to have aggressive reaction bites that the hard lures trigger. Bites are often soft sucks.
Temperature is everything if you are chasing impoundment barramundi in the winter. I remember fishing Callide Dam quite a few years ago in the winter (and it was a cold snap in winter that eventually killed all the barra in that dam in 2009) and we soon learnt that finding a slightly warmer area out of the breeze was the key to getting bites. While the main body of the dam was only 19.6 degrees, a few small bays on the western side held shallow water over gravel and heated up to a cool 21.2 degrees in the afternoon. When we slowly motored into the bay on electric power the entire shallow bay was full of big barra escaping the cold. These fish were tricky to catch but once we slowed our retrieves down and persisted we caught quite a few fish up to 118cm in length in late winter. In general, for most fish in dams, the warmer patches of water provide the most action, and the side of the dam that the wind is blowing onto is generally the warmer side with the most food.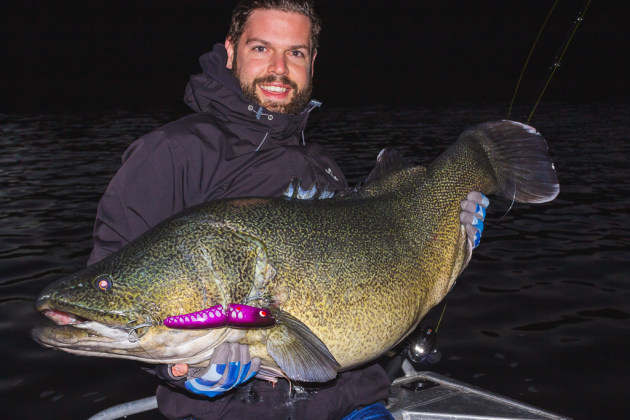 Murray cod
Over the past few years there's been a strange phenomenon emerge in some northern impoundments where a lot of really big cod are being caught on surface lures early in the morning between first light and sun up. Using really big surface walkers cast to the edges has been a very successful method over the past few seasons. It can be brutally cold in the granite country in winter, and there can be quite a few casts between fish, but if you want a cod around the metre mark in the colder months this can be a reliable method. Most of the action seems to be around rippling schools of small bait on the shallow edges, but big cod often follow a lure for a considerable distance before striking and the bites are one of the best you will ever experience, far more explosive than the biggest barra!
During daylight hours the general trend in cod fishing in winter is that you catch fewer fish than in summer but they are often a lot bigger. Deeply worked spinnerbaits, large soft and hard vibes and trolled deep divers all work well but you have to put in the hours. At Copeton you can camp on the edge of the lake but you need to be well prepared as the temperatures commonly drop below zero in the night. You need gloves and beanies and a deep commitment to your fishing to get the most out of a winter cod trip. Large lures worked slowly is the key to success on most occasions, and always remember in the back of your mind that there could be a metre long cod waiting for your lure on every single cast. I like to search my likely spots using a side imaging sounder looking for roaming cod. They have a very distinct large blob like shape that's easy to recognise with a bit of practice.
Impoundment bass
Some of the best bass fishing I've ever had took place in the depths of winter when dam levels were low. Bass are in spawning mode in the winter, but in the dams they are unable to access saltwater and reabsorb their roe and milt. It's common to see large schools of bass working the areas around the thermoclines in the colder months. The thermocline is a distinct water level in a dam where the water suddenly cools, and in stable periods of light wind it becomes more and more distinct in the winter months as there is very little water movement. As a general rule, the top layer is the warmer water and there is a distinct temperature drop (often between 5 and even 10 degrees) below the thermocline line. You can find the thermocline by using your echo sounder. Slowly increase the sensitivity until you see a distinct line on the sounder, generally between three and six metres down. Bass often feed just above the thermocline in winter. If you're trolling make sure the running depth of your lure runs just above the thermocline line and you will generally have good success, and when working soft plastics, vibes and tail spinners keep the lure right on the thermocline.
In general the warmest part of a winter day is mid to late afternoon, and at this time of day there can be some good casting as bass move up onto the edges to feed. In winter their diet seems to be a lot more focused on baitfish than insects, but they are very opportunistic feeders that will take advantage of any food available, and unlike most winter species in impoundments, the bites can be quite aggressive. A lot of the biggest bass are caught in August and fish over 50cm fork length can be relatively common in places like Somerset and Wivenhoe Dams in the winter. My biggest bass, a 56cm monster, was caught at 10pm on a July night in a Gold Coast lake on a small Squidgy Fish cast to a lit-up pontoon next to a loch system. Big fish often accumulate around the outflow areas of lakes and dams in winter.
Impoundment barramundi
Catching impoundment barramundi in the winter can be quite challenging, but when you find where the fish are the fishing can be spectacular. In general, in winter, you won't get many bites in the morning. Calm warm days slowly heat up the shallow edges of the dams, and the barramundi are often suspended in the shallow weed edges. You can often see the fish "tailing", as the photo shows, where they sit on the edges in a "bum up head down position" while attempting to warm up. The bite periods are often quite short and you need to actively seek out the warmer parts of the dam by following the temperature graph on your sounder. A useful tip to watch for is to look for the areas where there are the most tortoises, as these creatures, like barra, are seeking out the warmest water in the dam.
Casting shallow diving hard bodies like B52s, Smith's Sarunas and the legendary Bomber range account for a few fish, and slowly worked soft plastics like Slick Rigs are also effective. It can be frustrating when you see a lot of fish movement around you but cannot get a bite, but remember the difference between a good session and a dud is often only a couple of bites, and they will come if you persist. I remember casting for about 10 hours one day in mid-winter, and saw about 50 big barra swimming in the weeds. Eventually, in the last half hour of light, I caught a 106 and a 104cm barra and the tough day suddenly became a lot sweeter.
Trolling in winter for barra can be tough, but if you have a distinct thermocline it presents a good opportunity. In barra dams the best thermocline troll lures generally run at about three metres. My favourites are Arafura Barras, by Lively Lures, and the ubiquitous Classic Barra in the "Qantas" colour scheme.
Golden Perch
Yellowbelly or golden perch can be targeted in winter but you have to put in the time to find where the fish are feeding and work out exactly what they're eating. Since the inland yellowbelly tournament circuit began, the collective brains trust on how to catch these great inland sport fish has greatly increased. By far the most popular lure, almost to the exclusion of all others, is a small soft vibe. The small Berkley, Jackalls, Masi Vibe and Samikis are all quite popular and most of the popular colours are actually quite dark. The key seems to be to get a lure small enough for the fish to suck in easily as this gives a much better hook up rate. In winter the fish are either grazing out on the flats over rubble or suspended in sunken trees. They are far less active than they are in the spring months, but again, a persistent approach is generally rewarded. Light braid and 3 or 4 kilo fluorocarbon leader is used by a lot of the tournament anglers. I learnt a lot about catching impoundment yellowbelly from my mates Paul Simpson and Heath Grylls. These boys have perfected their methods over a number of years and could catch a yella out of a cold roadside puddle.
Side imaging sonar technology is the best fish finding tool to come along in decades, and is a great way to find impoundment yellowbelly. They're often found on large flat areas in five to eight metres of water and move around in schools. If you go for a troll in this depth and set your side imaging at around 15 to 20 metres you can usually find where the fish are congregating in numbers. At this time we generally pull in the troll lines and start casting small soft vibes, hopping them along the bottom.
We often catch one or two big yellowbelly when targeting winter cod. The usually fall to quite large hard bodies or big spinnerbaits and most of these fish are over 55cm. We never get many, but it does show you how, even in the depths of winter, yellowbelly can be a very aggressive predator.
Winter fishing in impoundments is a great challenge. The days are often clear and cool, we usually have a fire to camp by at night and the fish we catch are mostly quite big. Whether you're chasing bass or big barra, the principles remain the same. Find the bait, find the fish and just keep on casting! It may take a while, but if you persist you catch.