Dirty Tactics: Fishing after floods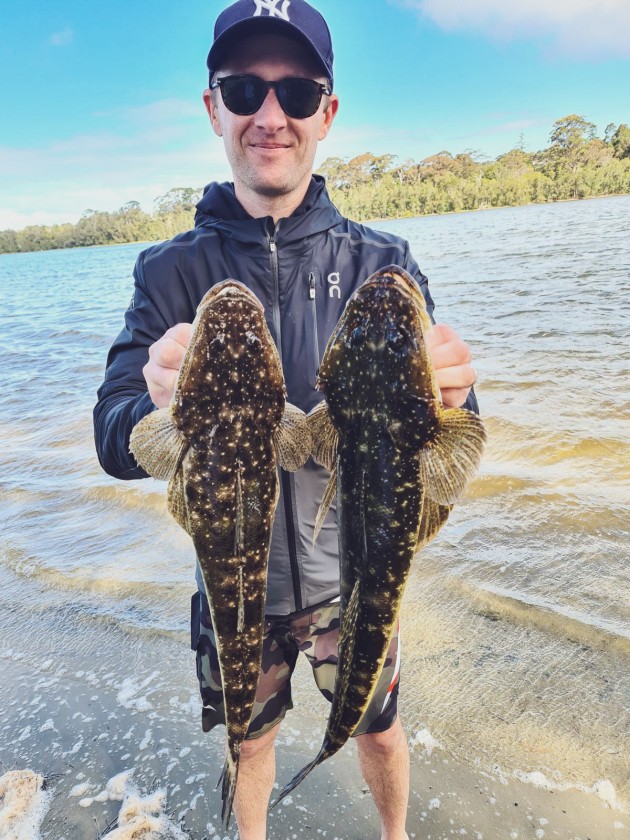 SOME of the heaviest rain I have ever seen fell along Australia's East Coast in late 2021 and 2022.
One of the most torrential downpours will live in my memory for a long time as it occurred on the eve of a long-awaited fishing trip.
I always try to plan my fishing around the weather, but sometimes that's impractical.
When you have to book accommodation, organise your mates and arrange leave from work ahead of time, there's little you can do if Mother Nature fails to cooperate and you find yourself at the mercy of the elements.
This particular long weekend trip to the NSW far south coast in early December looked doomed from the outset.
On the drive from Canberra, the amount of water gushing through the streams and rivers we crossed was nothing short of insane.
Creeks that were formerly trickles were 30 metres wide. Waterfalls materialised out of nowhere. Side roads were washed away. Rivers like the Shoalhaven, Clyde, Moruya and Tuross were a raging torrent of coffee-coloured water, fallen trees, logs, sticks and other debris.
If we hadn't planned this trip so far ahead and paid for our holiday rental, we would have turned around immediately.
But we didn't. And history shows that we enjoyed some of the best estuary fishing we'd experienced all year.
We got results by adapting to the conditions, thinking carefully about our approach, and learning from our mistakes.
Given the record-breaking rain over much of the south-east in the past six months, that trip certainly wasn't an isolated incident.
Fishing during and after a flood is a challenge that plenty of anglers like me have faced of late. And that's likely to continue for a while.
In fact, it's hard to remember the last time I fished a coastal estuary system that wasn't affected by heavy rain.
The good news is, the practice I'm getting is paying dividends, and I'm not as perturbed by turbid conditions as I used to be.
If you do a few things right, fishing after heavy rain can actually be very rewarding – better than when it's clear!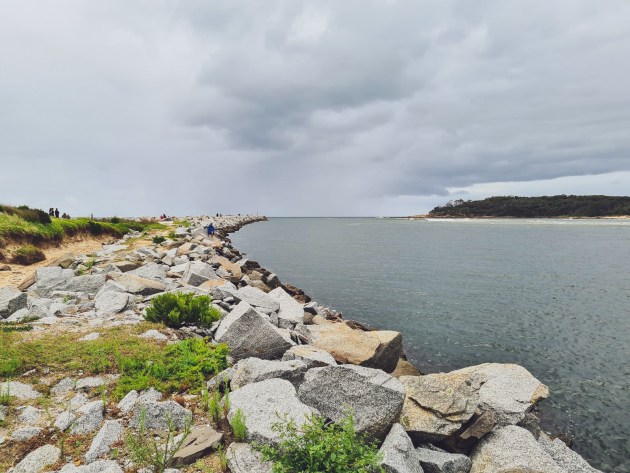 Location, location
Anglers can turn their flood fishing fortunes around simply by changing locations.
Some estuary systems are heavily affected by rain; others are not.
The coastline I tend to fish, between Batemans Bay and Tathra, is characterised by dozens of estuaries of different shapes and sizes.
Some are massive systems that begin a long way from the coast – the Clyde, Tuross, Moruya and Bega rivers for example.
Because they have such extensive catchments, they're regularly discoloured and often in flood. This can be caused by heavy rain falling hundreds of kilometres away.
In recent months, these systems – and other like them – have been rendered virtually unfishable for weeks at a time by severe and repeated flooding.  
But in between them lie much smaller creek and inlets, some of which have tiny catchments – or almost no catchment at all.
Many of these can stand up to prolonged spells of very heavy rain and remain quite clear.
Wagonga Inlet at Narooma, for example, is renowned for its water clarity – even in the wettest weather.
It takes hundreds of millimetres of rain falling in Narooma itself to colour the inlet, and I don't think I've ever seen it in flood.
Estuaries like this – and there are plenty around if you do a bit of research – are the best places to turn during floods. 
They might get a little discoloured but they're unlikely to become totally unfishable.  They've certainly been a saviour for me and other fishers of late.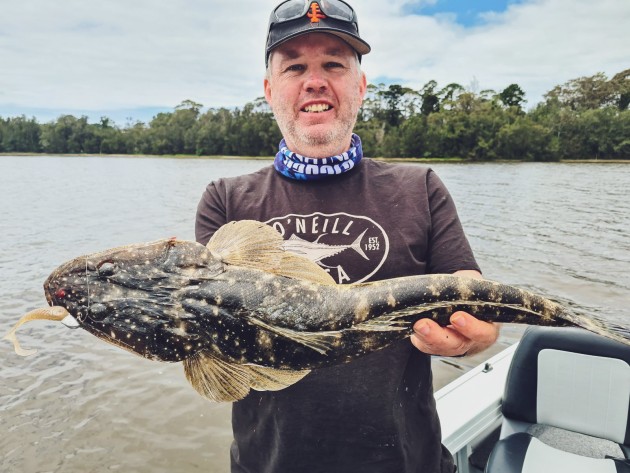 Fish down the front
If you can't find a system with clean water, don't be too discouraged. An estuary that's been hit by floods can still deliver surprisingly good results if you alter your tactics.
The number one rule is to focus on the 'front' of the system. By front, I mean the mouth, the water immediately around the entrance and perhaps a couple of hundred metres upstream at most.
This is where the water will be saltiest, especially on the rising tide. Many species of fish will gravitate to this area once it comes to muddy and fresh further upstream. Baitfish and crustaceans will also congregate here, making it the logical place to wet a line.
This scenario can actually make finding fish in your favourite estuary a lot easier than normal. Instead of being spread out across kilometres of water, many fish species will be concentrated in a single spot, waiting for conditions to clear.
Most species will do this, including flathead, whiting, bream, trevally, mulloway, tailor and salmon. On the right day, at the right stage of the tide, you could easily have a number of these species biting side-by-side.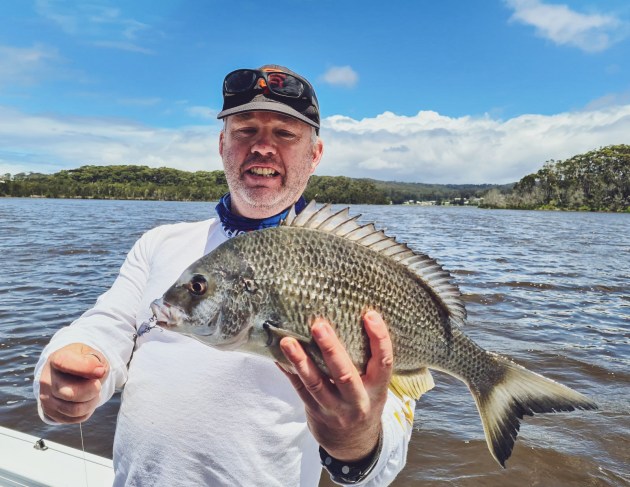 Look on the bright side
Fishing with lures in flood affected estuaries can be a fruitless exercise. Lures tend to lack the smell and scent of an oily bait, and can be overlooked when conditions are turbid. A lot of fishers put the artificials away while it's murky and turn solely to bait fishing.
But it doesn't have to be this way. The right lure can still be extremely effective in dirty water. The key is colour.
As soon as the water gets any sort of colour in it, move away from natural shades like brown, green and grey in favour of something much brighter.
I personally love soft plastics and soft vibes in pear/white for murky water luring. Pink, chartreuse, orange and gold lures also come into their own when it's muddy. Remember, the dirtier the water, the brighter the lure – or your offering simply won't be seen.
Oh, and don't discount the importance of smell when fishing turbid waters. Regardless of what colour you choose, adding bit of scent like S-Factor, Sax Scent or Berkley Gulp scent to your lure is always a clever move in brown water.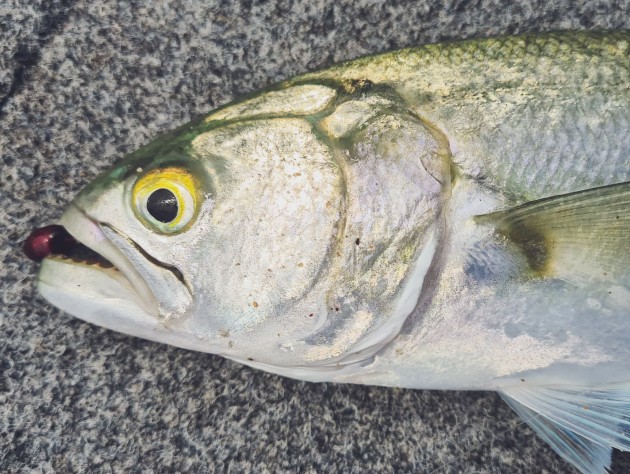 Scratch the surface
Fresh water is less dense than saltwater. So whenever run-off from heavy rain enters an estuary, it always floats on the surface.
As a result, a discoloured river or inlet might not be as murky as it looks. Beneath the 10 or 20 centimetres of tannin coloured water floating on top, there could be metres of lovely, clean saltwater.
As estuaries recover from a flood, I've
often found that fishing the deeper holes, underneath the fresh water, can be
highly lucrative.
This is precisely what we did on the potentially ill-fated trip late last year, where the NSW south coast estuaries were pounded by hundreds of millimetres of rain.
We fished the deepest parts of the system – holes 4 or 5 metres deep – where there was still plenty of saltwater…and plenty of fish!
Accordingly, we upgraded to heaver jig heads and other lures more suited to deeper water – like soft vibes and blades.
Bream, flathead, pinky snapper and tailor were abundant at greater depths and we noticed the bite slow significantly when we drifted into shallower water.
Conclusion
At the time of writing, a strong La Nina weather pattern is still dominating the nation's south-east, so anglers in my neck of the woods are definitely going to get a lot more practice at fishing in discoloured estuary systems.
Even when La Nina weakens its grip, fishing flooded estuaries will still be are part and parcel of our sport. There will be times when the elements simply make it impossible to practically fish your chosen system. Mother Nature sometimes wins.
On many occasions, though, it's worth persisting. The water might be dirty, but anglers can clean up!