High speed spinning off the rocks

HIGH speed spinning with metal lures is one of the best methods to catch hard fighting inshore gamefish like longtail tuna and spanish mackerel off the rocks.
History
The metal spoon lure is believed to be invented by Julio T. Buel around 1848. However, it was not until the 1960's that metal lures were being used high speed spinning from the rocks, with early pioneers of the sport such as the well-known Ron Calcutt galvanizing their use. Since then Land based game has divided into two distinct genres: lure casting and bait fishing. The primary targets of LBG lure casting are various tuna and mackerel species, and as fishing tackle is improving the target of certain species is also evolving from once smaller pelagics such as bonito and frigate tuna to predominantly longtail tuna and Spanish mackerel these days.
Lures have a sparkling future, thanks to the growth in popularity of lure casting, which shows no signs of slowing down. 3D printing has fast-tracked lure design, and some of the latest innovations include scent-bearing lures, laser-honed hooks, and exterior finishes that are photographically imprinted and amazingly realistic.
While some new lures are impressive with their realistic finishes and lifelike actions, they don't always live up to the hype. As any keen angler knows the logic behind the old principle of 'matching the hatch' - that is using a lure that resembles the appropriate baitfish - doesn't always work. Sometimes we may focus too much on 'matching the hatch', rather than using factors such as speed to fool and excite these predators into eating something that otherwise doesn't look all that real.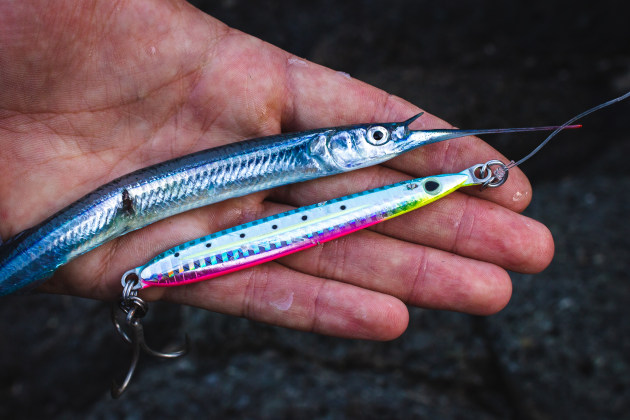 Heavy Metals
As simple as they might look, metal lures are more complicated than they may seem – particularly when high speed spinning. In recent times there has been a real void in high quality metal lures for the land based high speed spin angler, finding a good metal lure that doesn't cause line twist can be tricky.
Some trusted metal lures used for high speed spinning are SureCatch Knights and Bishops, Halco Twistys and stainless steel lures such as the Sea Iron Pelacus. The growing popularity of other types of lures such as stickbaits, plastic bibbed divers and also bibless lures like that of the Halco Max have also reduced the demand for premium metal lures designed for the land based angler. But nothing can match the humble metal lure's epic fish catching history, ease of use and durability.
Lead lures such as the Lazer slug and the Cultiva Gekito range are also great for tuna in particular. However, problems are encountered when using lead lures spinning from the rocks as the soft metal just doesn't handle the occasional knock on the barnacle encrusted rock ledges like brass or stainless steel.
Which Metal
I have found that smaller metal lures between 30 – 60grams are most effective in shallower bays and clear water, while in deeper locations metal lures upwards of 60grams are more favourable as they enable you to wind the lure through the water column. Letting the lure flutter to the bottom after casting can quite often result in hits from mackerel and other species such as trevally and cobia.
When it comes to colours and finishes of metal lures, I tend to believe natural looking tones like blue and green are the best. Plane chromed lures seem to work best on clear bright days while solid coloured lures (I like white) are often a standout in low-light or overcast conditions. For most tuna species I use lures between 30 – 60grams like the Cultiva Gekito or Surecatch Bishop, winding at a fast pace to get the lure skipping across the surface. Using smaller lighter lures enables you to wind at a slower pace to achieve this, making the lure look like an easy target to traveling fish. For mackerel, bigger lures from 60 – 85grams are preferred to effectively work ranging depths. Spanish Mackerel are well known for their speed and lures should be worked flat out from the bottom to the surface to entice these predators.
On most of my metal lures I replace the split rings and trebles, usually with two rings at the back connecting to the treble (for extra leverage when in the mouth of the fish) and a solid ring attached to the front split ring allowing a better connection to your leader. This is a pretty bulletproof configuration when targeting big fish. While there is a growing trend towards using single hooks rather than trebles, I believe big trebles will catch you more fish.
Gear
When it comes to fishing gear - reels should be high speed (ideally retrieve 1m+ of line with each revolution of the reels handle), good quality and most importantly hold around 300m of 15kg or PE3 line. Reels such as the Penn Slammer 3, Shimano Saragosa, Stella or Daiwa Saltiga are popular workhorse reels.
Big baitcasters also work well and reels such as the Shimano Tanx 300 or 400 and Daiwa Lexa also work well. I have used overhead and baitcaster reels for a long time and have found there are definite advantages with casting accuracy and distance with their use. However, they can take sometime to master and gain the most out of.
Rods should ideally be around 9-10 feet in length, but this can depend on the location, which might suit a longer or shorter rod. I have found 9 feet is the optimal length between casting distance and fish fighting capability. Strong graphite rods suited to handling lines of a breaking strain around 10-20kg (PE3-4) with a casting range of 50 – 100 grams will perform the best when casting appropriate sized metal lures, bibbed minnows, poppers, stickbaits and soft plastics.
Your leader should be attached to your braid mainline with an FG knot. I like to then connect my leader to a solid ring or swivel that is attached to the lures split ring. I personally use 50-80lb nylon or fluorocarbon leader when targeting species such as tuna, mackerel and cobia.
History proves that the most successful lure when spinning from the rocks - still to this day – is the humble metal lure.