HOW TO: Trolling for tailor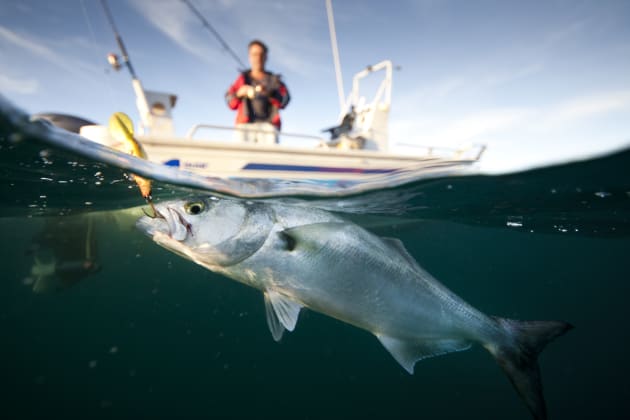 Like most family blokes, Sydney-based ADAM FREELAND doesn't have as much time as he'd like when it comes to fishing. So he's worked out some easy techniques to maximise his time on the water chasing the ever-popular tailor.
SOMETIMES you just don't have the time, inclination or opportunity to target prestigious species like marlin, tuna, kingfish or snapper. This is when you need to take advantage of all that "easy" fishing can offer. I've discovered that estuary trolling is a pretty easy way to get a fishing fix.
At its simplest, estuary trolling involves a pleasant and relaxing trundle around a nearby waterway, hopefully interrupted only by the bite of an angry fish. In the deep, clear stretches of Sydney Harbour, Pittwater, Port Hacking and similar estuaries along Australia's east coast, estuary trolling is an effective and laidback way to enjoy some time on the water.
For a typical Sydney small-boat angler busy with work and family commitments, the window of opportunity to fish needs favourable weather to coincide with whatever "free time" might be available. That generally means light winds and clear skies. Match reasonable weather with time away from work and family duties, and you soon realise that fishing activities need to be easy and quick to organise and implement.
This is where estuary trolling becomes an easy choice. By having rods pre-rigged with suitable diving hard-bodies, you can be instantly fishing as soon as you're on the water, then pulling the lines back in immediately before you return to the ramp. Fishing time is maximised. Tailor and salmon present a consistent target for estuary and inshore anglers. While these species can be more prevalent in certain seasons and conditions, they're generally around most of the year and can be targeted effectively on trolled hard-bodies.
Tailor are at their best in low light conditions but it's not always possible to plan your fishing adventures around peak times. Luckily, tailor will still bite during the middle of the day, especially if the sky is overcast or during the cooler months. So if, like me, you're limited to quick sessions on the water, trolling for tailor is a good option. I pre-rig two rods for my tailor missions, one with a deep diving gold Bomber and the other with a Rapala X Rap. These lures dive down two or three metres and troll well at slow to medium speeds. Plenty of other lures will do just as good a job – I just like the Bomber and Rapala combo.
Both rods are best set parallel to the water in adjustable rod-holders in order to let the lures run to their maximum depth. A troll speed of around five knots will get the rod tips vibrating rapidly, thus indicating the lures are working effectively. If bites are few but fish are showing on the sounder, adding extra action to the lure (by "whipping" the rod much like you may have seen done when trolling for barra) can induce a strike. So too can downsizing your lure. This is especially effective when the fish are feeding on whitebait or hardyheads rather than larger baitfish such as pilchards or garfish.
It is possible to run a third, smaller "shot-gun" down the centre and far behind your wash to cover more options, though this limits your ability to get in tight to structure such as moorings without snagging up. It also exposes you to being cut off by boat traffic passing behind you in busy waterways like those mentioned earlier. Beware the skiff or kayak passing innocently at your stern, unaware of your trailing lines!
An effective trolling pattern should have you searching continually for fish. Once located, further passes over the same area should result in extra hook-ups. When making a U-turn to go back over a likely spot, take a wide arc and speed up slightly. This keeps the lures swimming at the same speed inside the arc as well as getting you back where you want to be sooner.
If the wind is less than 10 knots you can effectively troll between moored boats while keeping the lures clear of the mooring lines. Once the wind picks up it becomes increasingly difficult to hold your course unless you have a long, straight corridor between moored boats and a bit of width to work with.
Adjust your speed to suit the breeze or current. As long as the rod tip signals those lures are vibrating, you're primed. A stationery or slightly flexed tip indicates you've probably picked up weed and it'll need to be reeled in for inspection. There's no mistaking a hit from a decent tailor. The rod will twitch and then smack downwards. If the fish is a good one hopefully there'll be the sound of line peeling against the drag while a tailor madly headshakes through the wash behind. Don't knock the engine out of gear just yet. The moving boat helps keep the line taut while you take the rod from the holder and it also keeps the second lure moving, often resulting in a double hook up.
By now you'll have an idea of the size of the fish. If it feels good, point the boat into open water before dropping into idle. Consider approaching vessels and the proximity of any moorings you may drift toward during the fight, being prepared to steer and throttle with your spare hand if you're alone. Naturally, have a landing net at the ready and always net your fish head first. Keep pliers within reach and be mindful of the tailor's sharp teeth when removing your lure. Even a small tailor can give errant fingers a nasty nip. They aren't called "choppers" for nothing!
Most estuary tailor range from sub-legal (under 30cm in NSW) through to quality specimens of 2-3 kilos. Bled and iced, tailor are good eating, although some people don't like their softish flesh and distinct flavour. See the Fact Box for a tasty tailor recipe!
Gear
Spin or baitcast tackle in the 4-6kg range is ideal when trolling for tailor. You never know when a decent kingfish or XOS salmon might latch onto your lure so 5-6kg braided mainline and 7kg fluorocarbon leader is advisable. Tailor have a reputation for snipping line with their teeth so many anglers have tended to use a short wire trace when targeting them. This isn't necessary when trolling with hard-bodied lures. In fact, the wire trace will probably result in fewer bites due to it being clearly visible to the fish.
As with all fishing, it's a good idea to be flexible and adapt to various situations as they occur out on the water. When it comes to trolling for tailor, having a couple of light spin sticks loaded with metal casting lures, soft plastics or even a popper or stickbait opens up extra opportunities if you see fish busting up.
If fish are seen rolling on the surface, sipping or flicking with their tails, it's likely they're feeding on small baitfish and may not touch your diving lures. Anyway, it's not a good idea to troll through surface feeding fish – this simply puts them down, thus denying you and any other anglers in the area the chance to hook up.
If you see surface activity, get the trolling lures in and position the boat so you drift towards the fish. A metal (the 40 gram Spanyid Raider is a popular choice) or surface lure should get whacked straight away. Dropping a plastic or micro jig down below the feeding fish often results in better quality tailor plus the possibility of other species including mulloway, kings and even snapper.
No fuss
Having your boat prepped and full of fuel, plus your rods rigged and ready to go, means you can easily hit the water when time and circumstances allow it. If you're not organised, it's all too easy to miss out on fishing opportunities. Given that most of us are time poor, it seems logical that any and all opportunities to wet a line are realised. So do yourself a favour and make it as easy as possible to do so!
Another great aspect to this form of fishing is that it's generally undertaken in pleasant places. In my home waters of southern Sydney, Buranneer Bay, Gymea Bay, Gunamatta Bay and Yowie Bay in the Port Hacking all have plenty of deep, calm water to explore. These waterways are fronted by beautiful homes and great expanses of national park, making it easy to dream the time away between hits.
Tailor are abundant in Sydney's deep, cool estuaries and will do their best to distract you while you're admiring the backdrop. So between more serious missions, or if you're perennially limited for time, consider going for a brief yet leisurely troll. At worst, it'll be good for the soul; at best, you'll catch a heap of hard-fighting choppers and have a blast!