In search of silver perch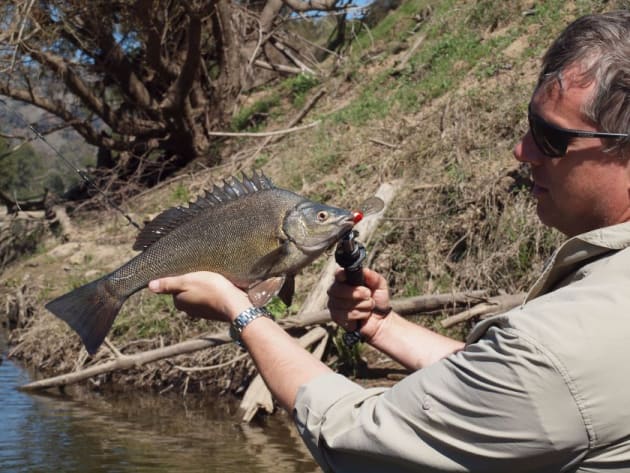 KEN SMITH takes a look at a couple of different ways to target the enigmatic silver perch in NSW dams.
I HAVE a book at home, Jack Pollard's Australian Fishing, first published in 1969. Of silver perch, Bidyanus bidyanus, the book says it's the third most important native freshwater fish in Australia, ranking only behind Murray cod and golden perch. It then goes on to say, "they are taken extensively in commercial drum nets and gill nets and the annual yield varies between 20 and 45t!
Fast forward to now and the silver perch holds the status of "vulnerable" and is subject to an extensive recovery program. In NSW, there are several listed dams where anglers have a good chance of catching one of these once common native fish. As for catching a silver in the river, if you do then it must be released as they are now totally protected. Looking at NSW DPI's freshwater fishing guide you will find a legal length of 25cm, with a bag limit of five in listed dams and 10 in possession.
In terms of good methods to catch silvers, baits include shrimps, small live yabbies, worms, aquatic insects and anything else small in size. Lures need to be small too due to the silver perch's small mouth and flies also work very well. Spring and early Summer are definitely my favourite times to target silvers. Surprisingly, many anglers I talk to have never caught one and I think there are a few reasons for this.
There are the odd times where the perch will throw caution to the wind and large wobbling lures and spinnerbaits will be attacked with vigour by these fish but there seems to be only a small window in the span of a year that this happens. This spring that is just about to give way to summer has seen flooded rivers and dams and those flooded margins have been fishing brilliantly for the bait fishers and is just now starting to turn it on for the lure fishers as water clarity improves and water and air temperatures increase rapidly.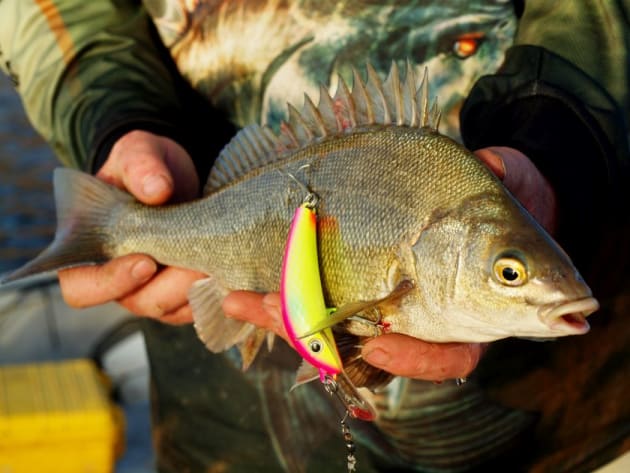 Mixed bags of golden and silver perch along with carp and catfish make up the bulk of the catch with a few bycatch cod thrown in. I have found generally the numbers of golden perch caught far exceed the numbers of silver perch. Is it that the numbers of goldens far outweigh the number of silvers or is it that the fishing methods are more suitable to the larger mouthed goldens over their smaller mouthed cousins?
I have kept a few silvers this Spring from the listed dams and they can be extremely good eating. While dressing these fish, I have studied the gut contents and the majority have very small items of food, and what on the surface looks like mud, slime and weed in their stomachs.
While I love soaking a bait in the company of the younger and older generations I was working towards an assault on the silvers using a fly rod and matching some of the items in their stomach contents. Mud eye and midge larvae are two items that are commonly found in the gut of silver perch – just like trout – and fly fishers that use similar tactics to trout fishing will probably find more success on silvers than those that use methods similar to fly fishing for cod and yellowbelly.
The listed dams for my area include Ben Chifley, Burrendong, Wyangala and Windamere. Of the four mentioned here three can offer fantastic fishing for silver perch, with Ben Chifley for my money being very tough. Of the other three, Burrendong and Wyangala are the dams to fish if you want a feed of silver perch and if it's catch and release of a trophy fish you're after then Windamere is the go.
There is "something in the water" at Windamere (other than blue green algae) that produces oversized golden and silver perch, giant Murray cod, catfish and gold fish. The spring – summer transition period usually sees fish on the edges and amongst the weed in what is their spawning time and polaroiding these edges can be an exhilarating experience around this time of year.
I recently found myself walking the banks of a dam, an old Fenwick 5wt fly rod with floating rio nymph line, a furled leader and a 6lb Fluoro tippet. Attached to the tippet was an imitation of a midge larvae or blood worm and behind this was a tiny green woolly bugger which I hoped would imitate the greenish coloured mudeyes working the weed beds with the idea being the silvers would see the mudeye hunting a blood worm and would fall victim to either of the two.
I hadn't walked far along the bank before I could see a huge dark shape moving among the weeds and it didn't look like a golden. I managed to land the cast perfectly and the fish unhesitantly took one of the flies. The rod loaded up, the furled leader stretched and the fly pulled tight with a long and protracted fight ensuing in and amongst the weed. Eventually it culminated in the biggest silver perch I have ever caught coming to the bank with the small green woolly bugger in its mouth! I netted the bulky fish – which easily spilled out of the small trout net – and felt pretty pleased with myself.
I didn't have a brag mat but laid the fish against the length of the net. It appeared to be a bit longer than the net which later measured 58cm so the fish may have topped out at 60cm and was super fat. I took a quick picture and the fish was eased back into the water amongst the weed where it powered off glad to be free of the angler, the sun, and the wet grass!
I walked maybe another two hundred metres and could see another dark shape of around the same size cruising amongst the weed. I cast and let the flies sink before commencing a super slow retrieve. My line was met with a nearly imperceptible touch from a fish, a small pause and then a slow move and massive pressure boil as silver number two was hooked. Unfortunately disaster struck almost instantly as the line went slack and I wound in to find the preformed loop on the furled leader had given way.
I am thinking now that as the days get hotter and the midges begin to ball on the surface that this may be the next logical step to targeting silvers. Trout anglers will know very well how effective a tiny midge ball imitation fished on the surface for trout can be, and I reckon it could be exactly the same for the silvers.
If you – like many anglers – have never caught a silver perch, check out the listed dams and pay attention to that spring and early summer period. And don't forget to have a good look at the silver perch's mouth and use small baits, lures and flies because that is where I believe the secret lies!