Kingfish of Victoria
THE mystery of big Victorian kingfish is being unravelled and helped along by ongoing research into their movements and habits. SCOTT GRAY reports.
DURING the warmer months of the year, usually from October to April when water temperature begins to rise, yellowtail kingfish are often found on the inshore reefs in Victoria providing access to what appears to be a growing fishery. This may be because more anglers are targeting them, or perhaps climate change is affecting water temperature and the movement of this species? Or are they simply becoming more abundant? No one is certain, but one sure thing is that Victoria has a fishery that rivals most of
Australia's other states with fish being caught from Mallacoota in the east to Portland in the west. While the numbers of larger fish in excess of 20kg often found in South Australia and New South Wales remains elusive, it may just be that the full potential of Victoria's fishery is yet to be unlocked. There are so many locations to target kingfish in Victoria that it's difficult to get around to all of them. Many locations still remain undiscovered. For example, many of the offshore Bass Strait islands off Wilson's Promontory remain rarely fished.
One of the most exciting aspects of the Victorian kingfish fishery is the fish are an attractive pelagic species often schooling in large numbers and can be caught on a variety of methods. They are abundant in sizes from just legal at 60cm minimum length (VIC) and around two kilograms in size, to well over a metre in length and around 15 kilograms. Kingfish are a schooling fish, meaning if you find them, the fishing can be mind-blowing! While their fighting qualities are second to none, they are also provide excellent eating.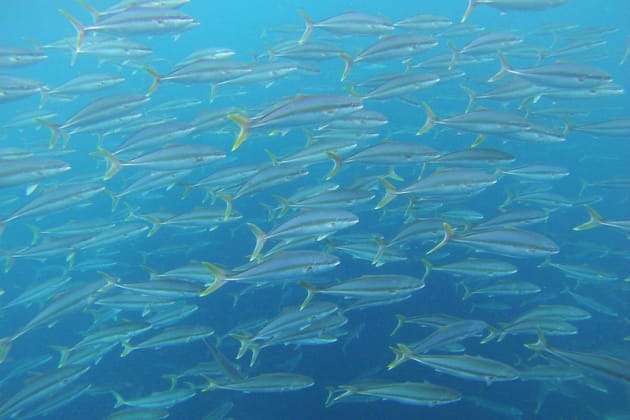 When and where?
Kingfish are a highly migratory species with some individuals capable of swimming long distances. There have been observations of fish swimming between NSW and New Zealand and from South Australia to the East Coast waters. There are also plenty of observations of fish swimming over 500km from their point of tag and release. Whether these are simply highly migratory individuals or there is movement of large numbers of fish still remains a mystery. In Victoria it's unknown whether kingfish remain in Victorian waters all year or whether they are part of a much larger more transient fishery.
With anglers spending more and more time offshore throughout the year, particularly in western Victoria targeting southern bluefin tuna (which now appear to be in Victorian waters all year around), kingfish are also becoming encountered more often as a by catch and more pieces of the puzzle are starting to fall into place. For the last two summer seasons it's been common to find school southern bluefin tuna and yellowtail kingfish schools mixed together and at times anglers have had double or triple hookups while trolling or jigging.
I used to always start fishing for kingfish when the water warmed to around 16 degrees, which usually occurs in early December, and targeted them until April when the water started to cool down. I caught my last kingfish for the season in the middle of July last year when the water temperature was only 15 degrees while chasing tuna and the first fish for the "new" season were caught by local charter boats targeting tuna in late September. This presents the argument that this species are more abundant than first thought in our waters and appear to be available nearly all year round, but their habitats and the best techniques to catch them are still to be unveiled.
Catching kingfish in colder water is very common and you only have to look at New Zealand where they often catch their biggest fish of the season in the winter months when the water is 12-13 degrees. Here in Victoria no one fishes for kings during this time and while the weather can often hamper your attempts to get out, I think if you give it a go the rewards are there to be found. Each year I spend more time searching the outer reefs looking for holding areas.
Where are the big ones?
The mystery surrounding where Victoria's large fish are is still to be established. Each year fish of 20kg are caught in Victorian waters, but fish larger than this size tend to be elusive. I'm sure they are there and you only have to look back to the fishing in "The Rip" at the entrance to Port Phillip Bay back in the 1970s and early '80s to see that fish of over 30kg were once reasonably abundant. It's possible these larger fish may have even spawned in the bay in the past. This happens in South Australia at locations like Port Augusta and Coffin Bay where mature fish return to the same areas each year to breed.
In the past, local professional fishermen along the Southwest Victorian coast encountered kingfish as by-catch offshore in deeper waters (> 200m) in the winter months when targeting shark in mesh nets possibly indicating fish may move offshore and deep in the cooler months of the year often out of range of most anglers and therefore move back in closer to the coast when the water begins to warm up. What is interesting about this species is that they inhabitat a wide range of habitats from depths as shallow as one metre in the warmer months out to depths in excess of 200m in the cooler months, which means that they can be targeted seasonally using all techniques such as trolling live baits and downrigging, vertical jigging, or surface fishing with lures such as stickbaits or poppers.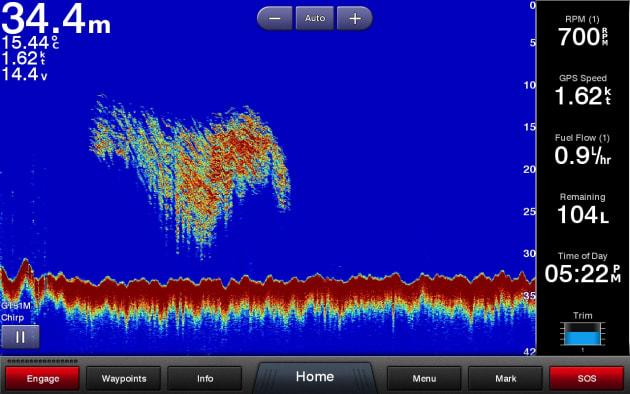 Last season I encountered kingfish as early in the season as October and found them in water temperatures as cold as 13 degrees for the first time, which once again has caused me to re-evaluate my theories and it is exciting to see some preliminary research now being conducted on this species in Victoria waters.
Growing recreational interest in the fishery and the popularity of this species in local waters has prompted the investment of recreational fishing licence revenue by fisheries managers in baseline population research. Without any significant targeted commercial fishery for this species in Victorian waters, recreational anglers have at present got excellent access to the full potential of this species locally.
In NSW the fishery has been extensively studied, the commercial catch is estimated to be between 85-160 tonnes annually and the recreational harvest is estimated to be between 120-340 tonne annually, which indicates the popularity and importance of this species to recreational fishers in this state.
Recreational Fishing Licence funded kingfish research in Victoria
Yellowtail kingfish are a highly sought after recreational species mainly due to their fighting ability and eating qualities. Commonly caught off NSW around reefs and Fish Aggregation Devices (FADs), it was not uncommon for Victorian based anglers to travel to places like Eden and Narooma to target them. Historically (prior to 1990) yellowtail kingfish were caught by recreational anglers at various locations across Victoria including Mallacoota, Wilsons Promontory, Port Phillip Heads and Portland.
While the number of fish taken was not as high as those from other states (particularly NSW), fish were sometimes very large (up to 40kg). From the mid 1990s through the early 2000s both the number and size of fish taken has decreased and general interest in targeting kingfish declined. Many fishers believed the cause of decline was related to changing environmental conditions, food availability and the NSW kingfish trap fishery, but the actual cause is unknown.
Since around 2010, targeting yellowtail kingfish has increased in Victoria and a wide size range of fish are reportedly taken. During early February 2015, around 100 vessels were actively targeting kingfish at Port Phillip Heads on a single day. On some occasions fishing effort was so high that the Port of Melbourne issued alerts to anglers to avoid particular regions of Port Phillip heads as they posed a hazard to shipping traffic.
In Victoria, fundamental stock structure information is limited on this re-emerging fishery. However, with increasing fishing pressure it is important to understand the biology and structure of the stock. Funded by Victorian recreational fishing licence fees, the objectives of this two year project are to:
Determine whether yellowtail kingfish caught in Victorian waters are from a single or multiple stocks.
Define population characteristics (age and growth, size structure, spawning characteristics) of Victorian yellowtail kingfish.
Determine the future potential of this fishery using historical recreational catch information.
Trial the use of satellite tags as one method to understand movement characteristics (spatial, depth, temperature preference) of yellowtail kingfish.
Trial otolith chemistry analyses as a method for investigating yellowtail kingfish temperature preference.
Information such as spatial and temporal stock structure (i.e. where and when do we see them), spawning age and growth data are basic knowledge requirements used to assess the status of the current population. This information will help us understand the productivity of the fishery and improve our management strategies that aim to enhance its potential.
Similarly, investigating movement and temperature preference will help us understand the distribution of this species. We will determine if satellite tags are suitable for tracking yellowtail kingfish. Such tags have been extremely valuable in tracking southern bluefin tuna. This trial will determine if satellite tags will hold in kingfish and whether behavioural characteristics allow effective transfer of data from the fish to satellites. Stable isotope analysis of their otoliths (ear bones) has been successfully used to determine the temperature preference of many species; however, this technique has not yet been trialled on yellowtail kingfish. Such information will allow Fisheries Victoria to determine where kingfish are likely to live during different times of the year.
Fisheries research projects rely heavily on collecting samples and the involvement of recreational anglers is important in making this work a success. As such Fisheries Victoria are asking the recreational fishing community from all over Victoria to donate their unwanted yellowtail kingfish frames. From just the frames alone we can collect much of the above information. If you are keen to help out and donate some frames please contact Dr. Corey Green at Fisheries Victoria for more information.
Dr. Corey Green
Fisheries Victoria
P.O. Box 114, 2A Bellarine Highway, Queenscliff, Victoria, 3225
Ph (03) 5258 0275
corey.green@ecodev.vic.gov.au