Land Based Game: Spinning for longtail tuna
LONGTAIL tuna are a tropical species and are widely regarded amongst fishos as one of, if not, the toughest of all tunas on matched fishing tackle.
In Australia, longtail are generally distributed throughout our northern waters, from Cockburn Sound in Western Australia to NSW's Central Coast – occasionally being caught as far south as Eden.
Interestingly, all of the line class IGFA world records for longtail tuna have been taken at the southernmost edge of the species' range, off southeastern Australia.
Longtail have a cult-like following in places like Hervey Bay and Moreton Bay in Queensland. They are also popular seasonal sportfish for boaties further south in places like Port Stephens, NSW. Surprisingly, despite being such revered medium tackle and fly casting sportfish, longtail are one of the least studied of all of the tunas.
For today's landbased game anglers, the longtail tuna heartland is undoubtedly the scattered headlands between the Hunter and the North Coast of NSW. The most prominent headlands and bays along this stretch of coast are usually well patronised with keen longtail anglers during autumn. Similarly, the scattered headlands between Yeppoon and Bundaberg are also popular destinations for Queensland's keen landbased longtail anglers.
Historically, livebaiting from NSW's more southern, deepwater ledges during autumn was the most popular way of catching longtail. Now, high speed spinning and sightcasting is the "go-to" method further north, where shallow points, fast moving currents and an increasing abundance of sharks makes it hard to soak a "livie".
Anecdotally and despite being classified as a "recreational only" species in Australia, the amount of longtail being caught at the most southern point of their migration has contracted. Though, there is still a thin sprinkling of captures down south every year, reports of cricket score captures like the LBG halcyon days of the '80s from places like Broken Bay is the stuff of fantasy, now.
That said, longtail still seem relatively abundant during the warmer months in the inshore waters further north. Which is great for those who want to test their angling skill!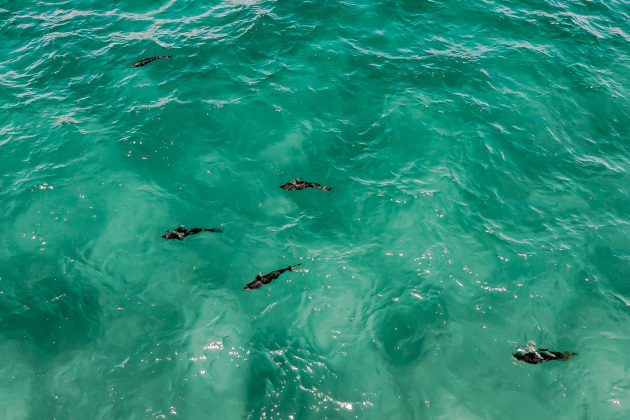 Inshore hunters
Longtail do not usually form large schools like other tropical tunas. Instead, small schools or "pods" of longtail often travel and attack their prey in parabolic- or v-shaped formations with equally spaced individuals. Interstingly, this type of cooperative feeding behaviour has also been observed in giant bluefin tuna in the Atlantic.
Most commonly along the NSW coast, longtail tuna are often observed feeding on patches of garfish. Along the rocks and beaches, feeding longtail tuna tend to surface only for brief periods and are generally very "flighty". As a result, anglers position themselves in areas where garfish tend to congregate.
Success with this form of ambush sightcasting is reliant on the longtail's rapid rate of movement along the coast (one tagged longtail travelled as far as 850km in 20 days!) It is also dependent on fingers of the warm East Australian Current licking the shoreline, a result of southerly winds forcing southbound currents closer to land.
When the warm water brings these fish close to shore, terns can often be observed flying above travelling longtail tuna in shallow water. This symbiotic relationship benefits both fish and bird as bait is trapped on the surface of the water during brief "bust ups". Landbased anglers have long been reliant on terns as an indicator on precisely where and when to cast!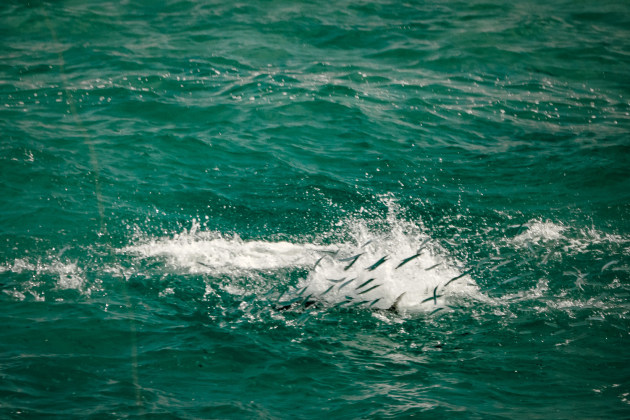 Like most pelagics, tides are also an important consideration when chasing down longtail. In my experience, longtail tuna often use the tide to their advantage – whether it's using the high tide to patrol shallower water less conspicuously or using the run-out tide to ambush bait being flushed out of beach gutters, shallow bays and nearby estuaries and inlets.
Even though longtail are a coastal or inshore species, they tend to avoid turbid or dirty water, and rarely enter estuaries. There appear to be many variables that dictate when and where longtail tuna turn up along the coast and they are, at times, a challenging fish to target off the rocks. Nonetheless, seasonal patterns can often be observed and most successful longtail anglers are constantly taking note of conditions and chasing reports.
It's also important to remember that when the inshore water is warm and clear, these fish almost always follow the coastline. This means, there's more than just a handful of locations you can catch them from than what is commonly thought. In fact, when the swell is small and conditions are favourable, you can catch them from the beach!
Tackle and tactics
Longtail tuna are fast and strong. Fish in excess of 15 kilos can be hard to stop and it's not uncommon for a longtail to "spool" an undergunned angler in under a minute or two.
That said, longtail produce a more controlled and predictable fight compared to other popular landbased proponents such as kingfish. Typically, longtail will take one or two horizon bound runs before turning on their side and arcing back and forth (across) the ledge and angler. By maintaining constant pressure and retrieving line every time the fish turns, you'll gradually reduce the width of the arcs. But make no mistake, a battle with a "good" longtail is one of attrition. Longtail are renowned for their stamina. This can take many "green" fishos by surprise – big longtail will test your muscle and your mind!
In most situations, longtail will stay on the surface of the water and seldom dive deep and try to "reef" you. It's therefore possible to use relatively light tackle and line to subdue big longtails. There are many mind-boggling, light line longtail captures in the record books that show this. Unfortunately, though, sharks rarely permit such captures these days!
Ideally, a dedicated landbased longtail spin outfit should consist of a 9-10 feet graphite casting rod that can cast 40-80 gram lures and handle 30-40lb (or PE 3-4) braid. This should be paired with a quality, high speed reel sporting a smooth and powerful drag that can hold at least 300m of line. Whatever set up you go with, it's important that you can cast far with a degree of accuracy.
Not long ago, LBG spinning was once considered the domain of overhead reels, but braid has fast revolutionised the use of spinning reels. It's hard to go past the versatility, ease of use and affordability of spinning reels for rock spinning these days.
Tuna lack sharp teeth and have a very keen eye – particularly in shallow water. For these reasons, I like to use about a rod length of 60lb, clear nylon monofilament leader (preferring 40-50lb in calmer water) connected to my mainline via an FG knot.
Longtail lures
Longtail respond to a range of lures at times, but a well placed cast with a metal lure or slice is as effective as any. Most metals will work, but the best suited to rock spinning are those made from brass or stainless steel. The wire tow points of lead metals and jigs will bend and snap if they come into contact with the rocks, which can be unavoidable in some situations when retrieving your lure.
Polyethylene and/or Teflon plugs like those from GT Ice Cream or Samson Lures along with small, weighty skipping "pencils" and stickbaits are also effective longtail lures. But these can also be prone to breaking when coming into contact with the rocks.
Regardless of what lure you're using, it will need to be retrieved with speed. Generally, a lure skipping along the surface of the water at pace is what excites and encourages a longtail into striking. It also closely mimics the action of a flighty garfish, which is a longtail staple during autumn along the NSW coast.
It is important to make sure the terminals of all lures are strong. Upgrading split rings and replacing trebles regularly reduces tackle failure, hook pulls and missed strikes. The sustained line pressure during a battle with a longtail will quickly expose any weak links!
Other essentials
Over the years, I have gradually whittled away at what's in my pack. Landbased longtail spinning can involve a lot of leg work and you want to be light on foot. A bottle of water, sunscreen, some leader and a few lures should make up the bare bones of your kit.
Make sure you do some research into footwear before taking foot on the rocks (though, I would suggest not taking up longtail off the rocks if you have little rock fishing experience). A starting point would be Dunlop Volleys, they're reasonably grippy on most rocks, lightweight and relatively cheap.
Conclusion
Hopefully, it's clear to you that there's no shortcuts when it comes to chasing down longtail off the rocks. It's a long learning curve. Some anglers are rewarded early through luck, others much later through perseverance.
If you're starting out or new to the game, don't expect to catch many fish. In fact, less than a handful of fish is considered a successful season, even for some experienced landbased anglers. For the most part, it's high effort/low reward fishing. But when it comes together, there's nothing quite like it!
Personally, I consider longtail from the rocks one of the ultimate light-medium tackle lure fishing challenges out there. It's raw and primitive tuna fishing. Only time, effort and dedication will catch you these fish consistently off the rocks.