Rockin' bream: light tackle luring off the stones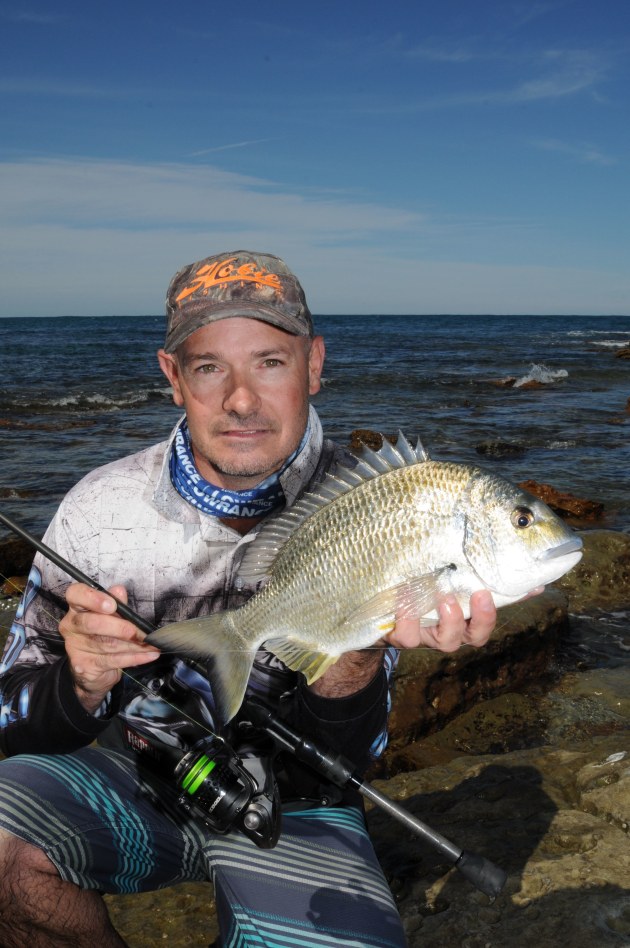 THE Central Coast of NSW is renowned as the birthplace of the high speed spinning revolution that swept the East Coast's deep water rock ledges in the 1960s. This exciting style of fishing had its genesis on the magnificent rock platform at Avoca where anglers first began casting chromed metal slices at pelagics such as tuna, bonito and kingies using the famed Seascape overhead reel, a world first high speed retrieve reel from the Wallsend Engineering Company, a small backyard business based in the outer suburbs of Newcastle.
I couldn't help recalling those innovative local pioneering anglers of the past when I recently had the opportunity to check out a totally new style of rock spinning from a new generation of inventive Central Coast anglers.
Glenn Allen has been at the forefront of light tackle lure and fly fishing on the NSW Central Coast for about as long as I can remember. He's built a reputation as a gun bream angler through his consistent high placings in the Hobie bream tournaments and represented Australia at the Hobie World Titles in China last year. Anyway, when Glenn invited me to come along and experience this new style of rock spinning, I jumped at the chance to experience something that turned out to be the complete opposite of the everything I'd previously done during my years of high speed spinning from the stones. Funnily enough, the only thing this new style of rock spinning had in common with the old days was my footwear, a pair of spiked rock booties.
We arranged to meet at one of Glenn's local rock ledges just before sunrise. All I had to bring was an ultra-light threadline outfit and a selection of shallow and deep running bream hard bodies and single tail soft plastic grubs. Having fished the Central Coast rock ledges since the early 1980s I knew the headlands we were fishing were locations once favoured by competition anglers when potholing for rock blackfish and my late grandfather also fished these same ledges for groper back in the 1930s and '40s. After meeting up in the beach car park Glenn lead me down onto the rocks in the pre-dawn light to a shallow gutter on a flat and low lying platform where I'd usually have thrown an unweighted bait for a bream or pig. It certainly seemed an unusual place to be casting bream lures, but when we both hooked up on our first casts it suddenly seemed like a bloody good place to be bream spinning. In the ensuing four hours we landed about twenty bream to 750 grams, a whiting and a pair of small rock blackfish which I honestly wouldn't have believed if I wasn't there, but they were both genuinely mouth hooked on our bream hard bodies. Glenn also hooked a couple of big luderick which were tailing just in front of us along with a big blue groper during the morning. Unfortunately, he pulled the hooks on them while trying to keep them from busting him off around the submerged boulders. We both reckoned the blackfish were only nipping at the tail of the lures and were only lightly hooked.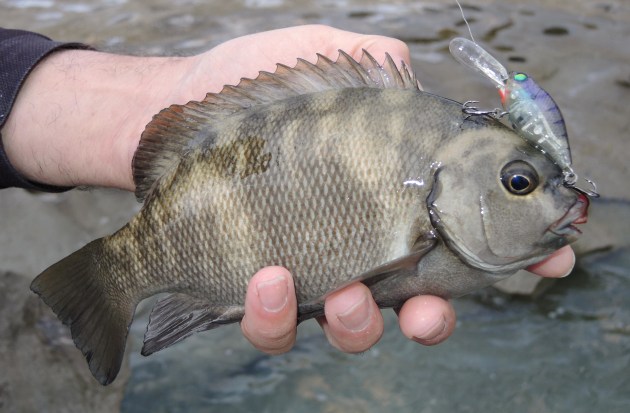 We backed up for another session a week or so later with our good mate, Josh Lowry from Samaki. Conditions probably weren't quite as good as the first trip, but once again we had plenty of action landing a heap of bream ranging up to around 800 grams. Glenn has landed a number of 40cm plus beauties from these rock ledges and they must be incredibly hard to stop amongst the submerged boulders and cunje beds. These beautiful ocean bream are really something else; their shiny, chromed flanks reminded me of those cracking saltwater barra you get in real clear water conditions. The highlight of the session was a really great bit of angling by Glenn when he hooked up to a big fish that screamed off with his bream lure from a shallow gutter at the back of a submerged rock shelf. Somehow, despite the labyrinth of submerged boulders and obstacles, he managed to work the fish around onto the beach and slowly tire it out. The extended fight time was way too long to be any bream so we were all speculating on what it could be, with the consensus being a big silver trevally which Glenn had hooked previously in this area. Finally with the fish at the edge of the shore dump we spied a yellow tail beating away and lo & behold Glenn managed to wash up a decent rat kingfish, which in the context of the ultra-light bream tackle, and the location he pulled it from, was a cracking piece of angling. It's incredible to think that kingfish would even venture into less than a metre of water at the back of a submerged rock shelf. Once again if I hadn't been there to witness it I probably wouldn't believe it.
The following is a rundown of the tackle and tactics used when rock spinning for bream. As always we recommend you wear the appropriate safety gear to suit the conditions and don't fish our coastal rock ledges if you're not a competent swimmer.
Location & conditions
This style of fishing is best pursued around the shallow water headlands that are commonly the sole preserve of the keen bream and drummer anglers who pothole the shallow holes and gutters with lightly weighted baits. Because these low lying rock shelves are usually exposed to the sea conditions I would personally only undertake this style of fishing when there are slight seas and a low swell. Look for gutters or rock pools that fill up during a rising tide. It's really surprising how bream will venture up into quite exposed, shallow water in the right conditions. Look closely at the sea lettuce or cabbage on the rocks around where you're fishing. If it's mown off and short it means that luderick are feeding in the area on the high tide. We witnessed luderick and groper feeding in front of us while fishing, which means it's highly likely that drummer and bream will possibly be in the area, too.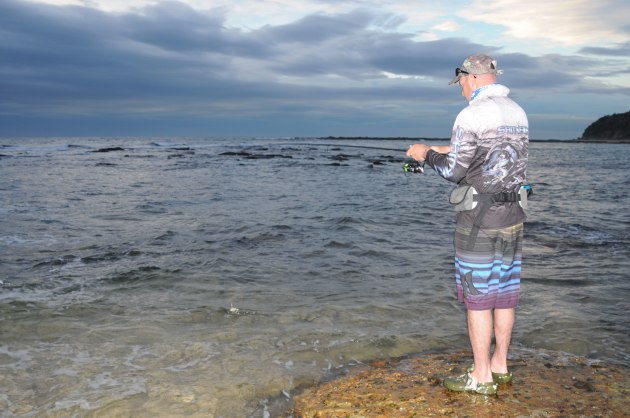 Run up tides and low light periods are preferred for this style of lure fishing. The optimum tide range will depend on the location being fished. Glenn has a really in-depth understanding of the tidal impact on his local spots and we changed locations a number of times throughout the course of the fishing session. As the tide rose and made locations difficult to fish we moved onto other locations which suited that particular tide height and sea conditions. As always, the thinking angler will reap the best results from this style of fishing.
Tackle and tactics
You don't need any specialised gear to get into spinning the rocks for bream. I used my fave bream spinning outfit which is a 7 foot Samaki K2 rod paired up with a 2500 size spin reel loaded with 3kg GSP braided line and a rod length of 3 to 4kg fluorocarbon leader. This outfit provided me with good casting distance using bream hard bodies and a bit of length to try and steer the fish around submerged obstacles while fighting them. As far as lures go we used a range of deep and shallow diving hard bodies from the Fishcraft stables. My most successful lure was the Fishcraft Crank Jnr in bluegill colour, although the pearl shrimp and green prawn colours also produced good results for the other guys. Interestingly, even though we were fishing really shallow water, at times we found the deeper divers were more snag resistant than the shallow diving lures we were using, such as the Fishcraft Mini Crank S. The reason for this is that the longer bibs on the deep diving lures tend to keep the treble hooks clear of the bubble weed, which is particularly common in these shallow coastal intertidal areas.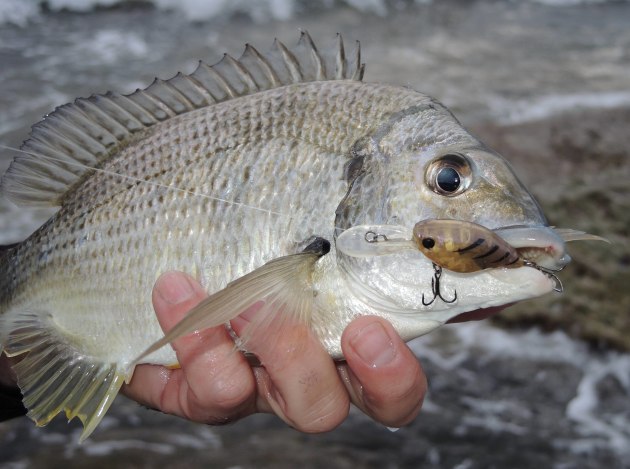 As far as tactics go I believe correct retrieve speeds are critical to success in this style of finesse fishing. It's vital to have an understanding of how the constant surge and tidal action is impacting on your lure action during a retrieve. Super slow retrieves delivered the best overall results in terms of both catching fish and not losing lures to the ever present bubble weed. This style of rock spinning is definitely not high speed, in fact it's the exact opposite. Glenn Allen really has this unique style of lure fishing mastered and if conditions are particularly snaggy he'll change over to a small single tail soft plastic grub such as his favourite Samaki Curlicious 2.5 inch rigged on a light jig hook. He also said that Cranka Crabs are absolutely deadly for this style of fishing, although he only uses them in locations which aren't too snaggy due to their expense.
I really enjoy exploring new fishing techniques and sharing them with like-minded anglers. Locations such as the headlands we fished are available to be explored right along our coast. I salivate at the thought of the ultra-light lure casting action available around the fish filled washes on the rock ledges of the NSW Mid and Far North Coasts.
Fishing World has been chronicling the development of sport fishing in Australia for almost half a century now and rock spinning bream style is the latest cutting edge technique to grace the pages of this wonderful old mag. Get out there and give it a go yourself!