Tactics for black bream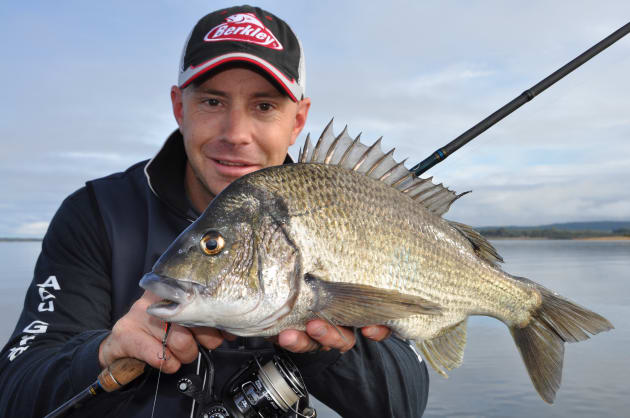 Catching southern black bream on lures and soft plastics is not always easy. Brent Hodges outlines some tactics to help you out.
WHEN I began dabbling in light tackle lure casting around the turn of the new millennium, targeting bream in and around Melbourne's Yarra River was all very new and exciting. Though it was a steep learning curve, we achieved some success fairly early on, casting mostly worm pattern soft plastics at various forms of man-made structure. Experimenting with diving bibbed minnows produced more bream along the bluestone rocky edges and moored yacht hulls. Small vibes, or lipless crank-baits, pitched in tight to bridge pylons, channel markers and floating pontoons also proved effective at times.
Gradually the progression plateaued. Once the fish moved away from bankside structures during the seasonal transition phase from warm to cold, the action slowed. By the time winter rolled around each year and water temperatures bottom out and the bites ceased entirely. Other nearby systems proved equally challenging. This was a major stumbling block. Ultimately, the bewilderment and frustration got the better of me. After one too many sessions without troubling the scorers, I gave up on the finicky buggers altogether. Sound familiar?
At the time, my small humble tinnie was fitted with a very basic sounder, which really only provided an indication of the depth. Why I didn't invest in an upgrade sooner, I'll never know. Admittedly, I didn't really understand what was on offer and generally dismissed the cooler months as period where bream were all but uncatchable on lures and soft plastics, at least in and around Melbourne. Clearly this was a very poor assessment. On reflection, it wasn't just the sounder and an ability to find them away from the edges that was missing. I also lacked the patience, determination and commitment required to continually adapt, evolve and improve as an angler. I now know these elements are critical.
By contrast, my brother Brad, a successful competitor on the local bream tournament circuit for almost a decade now, came to this realisation far sooner. Day after day, week upon week, he put in the hours on our local waterways. Some would say his efforts bordered on obsessive-compulsive tendencies, but the rewards were telling. I opted to go in a different direction for a few years and very much enjoyed pursuing a variety of arguably more spectacular (yet easier to catch) southern inshore sportfish. Those temperamental urban bream had put a dent in my confidence and bruised my ego. Craving the exhilaration of continuous bent rod action, schools of surface feeding Australian salmon, and the like, temporarily filled the void.
Thankfully, a spur of the moment trip to Victoria's East Gippsland region reignited my enthusiasm for chasing bream. Teaming up with good mate and regular fishing partner, Aaron Hassett, it was impossible not to be excited by the regular fish-a-cast action as scores of bream rattled off with our shallow diving minnows and surface presentations in less than a metre of water! Armed with a whiz-bang new sounder, a follow up visit the next winter absolutely sealed the deal. Bream were back on the agenda.
We've since dedicated countless hours to re-learning to lure these critters back home. Our week-to-week exploits almost exclusively revolve around the species I once loathed. Negative vibes have been cast aside and extended trips away are planned with bream as the primary focus. It's been a monumental shift in terms of mindset and application. Now we have the confidence to tackle any southern estuary system, river or inlet with genuine expectation year round.
Our knowledge base, awareness and instincts have improved markedly and we've been treated to some truly amazing sessions as a result. This is not to say we always catch as many as we'd like. There are still times we're left scratching our heads. It's all part of the learning process. In most instances, we work together methodically to assess the conditions and dial into where the fish are holding, what it is they're feeding on and the best presentation to trigger a response. Though many techniques are transferable through the seasons, there's generally a particular lure pattern that best suits the prevailing conditions.
Seasonal variations
The following information is a summary of my observations over the past four to five years in relation to the seasonal movements and feeding habits of southern black bream here in Victoria, and what I consider the most productive methods for catching a few over the coming months.
Winter-spring transition
During the latter stages of winter, bream can be found schooling in deeper channels and seemingly featureless wide-open parts of most systems. Salinity levels, as influenced by freshwater inflow (or lack thereof) generally dictate where bream are likely to congregate in preparation for spawning. Without getting too technical, heavy rain and flooding push them closer to the entrance. As the murky water clears with every incoming tide and salinity levels return to normal, bream gradually return to their regular haunts.
On the flip side, not enough fresh forces them to search for the appropriate mix further upriver. Interestingly, relatively stable weather may see large aggregations stationed along a particular stretch for long periods. Sounding is the key to locating the prime fish holding zones, which is far more efficient when you're on the water regularly. As a guide, sloping banks, sweeping bends, points, feeder creek junctions, and patches of reef or gravel each have the potential to attract and hold schooling winter bream. Small metal blades are an ideal lure choice for prospecting these open areas, especially when bream are feeding on shell.
Casting down breeze ahead of a slow drift, try to maintain contact as the lure descends. Any subtle flick, twitch or straightening of the line is a cue to set the hooks. Once the blade comes to rest on the bottom, the line will relax. Start with a short lift of no more than about 20 to 30cm, allow the lure to return to the bottom, and repeat. Systematically experiment with the retrieve pattern to tune into what it is they want.
Most fish intercept a blade as it sinks (on the drop) either immediately after casting or in between imparting some action. Others pick at it while it's lying motionless on the bottom and the next time the tip is raised to work the lure, there's weight. Keep the rod moving back over your shoulder to maintain pressure, make a couple of quick turns of the reel handle and drive the hooks home. A number of fish may be bumped off in this scenario, which can be frustrating. It's also likely a few will be fouled in the side of the face or under the chin.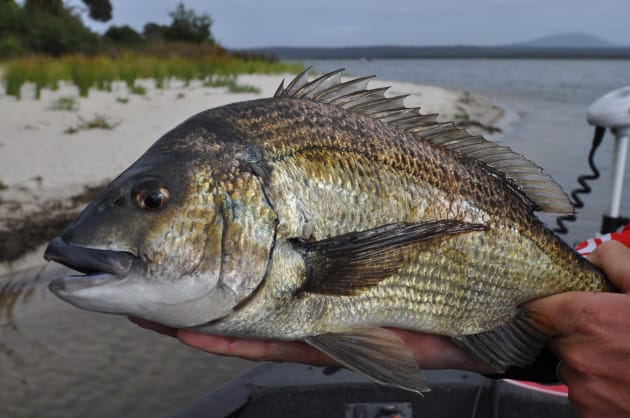 Mid-spring
Not all bream encountered will be at the same stage of the spawn cycle. By mid spring, there may well be three or more distinct groups spread throughout a particular stretch each exhibiting a varying pattern of behaviour. Many will have done the deed and be more inclined to feed with greater intent. Some will be on the job, while others may still be bunkering down and yet to get started. A tactic worth employing at this time of year is to make use of the sounder to locate fish holding deep (as per the winter months), but target the adjacent sloping banks and any obvious features dotted along the nearby edges. Those that have just spawned move to these parts in search of tucker.
After months of grinding away at shell, their mouths are likely to be tender, which is where soft plastics, such as scented worm imitations and single tailed grubs, offer an effective alternative to blades. Rigged neatly on a weighted jig-head, just heavy enough to make contact with the bottom, these wriggly tail offerings require very little rod work to get them moving enticingly. A basic lift and drop, raising the plastic no more than about 50cm before allowing it to swim back down on a semi-slack line, is a proven technique. Like blades, hits generally occur on the drop in the early stages of the retrieve, sometimes even on the initial descent. Watch the line carefully as the plastic sinks and strike at any movement.
Spring-summer transition
The combination of bream with post-spawn appetites and rising water temperature set the scene for some exciting action leading into summer. At this time of year, expect fish to be well spread and occupying a range of structures, such as sloping banks, rock walls, snags, weed edges and shallower flats. Replenishing energy stocks is high on the agenda. Prawns, shrimp, crabs, yabbies, worms and even small baitfish are fair game, which brings the highly versatile mid-range diving bibbed minnow into play. Cast in tight at structure or as long as possible on the flats, engage the reel to swim the lure down to its optimum running depth, and then stop winding.
Southern black bream respond best to an erratic twitchy retrieve, as opposed to a continuous steady paced roll more commonly employed to entice their eastern yellow-fin cousins. A couple of flicks of the rod tip should have the lure darting about, much the same as a nervous shrimp or wounded baitfish on its last legs. Take up any slack line and repeat. Hits generally occur when the retrieve is momentarily paused and the lure stationary or suspended below the surface.
Looking ahead
Bream are most active on the flats during the warmer months and far more willing to chase down shallow diving minnows and surface presentations at this time of year. Watching a lure being shadowed and snatched in less than a metre of water never fails to get the blood pumping. It's about as challenging and exhilarating as fishing for bream gets. For more information about stalking the flats over summer, as well as the pre-spawn bonanza in the lead up to winter, keep an eye out for the next instalment in a future edition of this magazine…