Topwater kingfish off the rocks

KINGFISH produce, at times, incredible topwater strikes and the heart in your mouth surges of a locked-up drag only adds to the exhilaration. To me, kingfish are the epitome of explosive piscatorial power and are formidable opponents on spin tackle. It is often said for good reason that, pound-for-pound, there are few, if any, fish in the sea more powerful.
The reasons for using surface lures over other presentations are quite varied, but most anglers will use them when they can, because a strike on the surface from a fired up fish is very exciting. However, surface lures are undeniably effective in their own right. When you can actually see an interested fish that's not yet prepared to strike, you can often influence or manipulate that fish's behaviour and turn curiosity or caution into a strike.
Kingfish are opportunistic feeders and eat various preys throughout the year. Most commonly, top layer baitfish and squid, which can often be seen fleeing from kingfish on the surface of the water. As a result, surface lures present as a natural food. Surface lures also create a lot of commotion and will quite often pique the interest of naturally inquisitive kingfish.
Stickbaits or poppers?
There are several different types of surface lures that are effective for kings and having a sound knowledge of stickbaits, poppers and skipping 'pencils' will pay dividends. Different lures allow the angler to 'match the hatch' or create different actions, looks and disturbances on the surface of the water to draw a fish's attention.
Poppers come in all different shapes and sizes and are designed with either a cup face or a slant face. Cup faced poppers are designed to be 'blooped' or 'chugged' with either short sweeps of the rod to create short and sharp splashes of water or long sweeps of the rod to create long bloops and a bubble or 'smoke' trail. With each pause of the rod, the cupped face grabs more air that is then ripped through the water. Slant faced poppers, pencil poppers and skipping pencils are designed to skip across the surface of the water and require a faster retrieve with very little rod action.
For big kingfish off the rocks, cup faced blooping (shorter) and pencil (longer) poppers between 50-100g work best with a series of short, sharp sweeps or slower longer sweeps followed by a pause of 2-3 seconds. Poppers excite kingfish and encourage them to rise from the depths, however, convincing a kingfish to eat a popper can be a challenge!
Typically, kingfish will prefer a slower retrieve to that when used for GTs or tuna, but it's always worth mixing it up and trying different retrieves to get the bite. Slant faced or pencil poppers can also work well, particularly if kingfish are feeding on garfish or small flighty baitfish. I prefer using cupped faced poppers in rough or low light conditions; usually first light. The Heru Skipjack, Heru Tuna and Halco Roosta poppers are among the most effective along the rocks.
Much like poppers, stickbaits are manipulated with sweeps of the rod and short, fast sweeps will produce an erratic action, conversely a long, slow sweep of the rod will result in a smoother side-to-side or 'S' action. Floating stickbaits would have to be my favourite option when targeting kingfish on topwater off the rocks. Like poppers, they are very effective in raising fish, but a stickbait's realistic profile and action is generally better at convincing a big fish to bite.
As mentioned, kingfish typically respond to a slower retrieve compared to GTs and tuna. Stickbaits that can be worked slowly are preferred. Floating models from 50-120g that produce a decent amount of splash and can be worked with an enticing 'S' action through the surface of the water tend to work well. However, this can depend on where you're fishing and what bait is around. I think it's worth having a few different styles and sizes of stickbaits on you and trying them all with different retrieves. Some notable stickbaits that can be worked slowly are the FCL Labo CSP and the Fifth Element Street Fighter. More erratic, highly buoyant stickbaits from premium Japanese brands such as CB One and Carpenter are also very effective.
Kingfish demand quality terminal tackle - strong split rings and hooks are a must for 10kg+ models. Some stickbaits have been designed for/will work best with either single or treble hooks or a combination of the two (usually a treble on the belly hanger and a single on the back). Depending on lure size, I like to connect my leader to a 1/0-2/0 swivel or size 6-8 solid ring which is then connected to the lure via a split ring. This allows you to change lures easily and this system can help alleviate your lure 'helicoptering' or spinning through the air when casting.
Topwater tackle
Kingfish are renowned 'dirty fighters' and some can simply be unstoppable on any tackle. Once hooked, big kings will take powerful, sometimes unstoppable, surges and look for cover in deeper water. Using heavy line, leader and drag pressure is essential if you're to land a decent kingfish from the rocks.
Tackle should be selected depending on the area, terrain and also the size of fish you're likely to encounter. But if you're after a decent king, in excess of 15kg, a powerful casting rod and large spin reel loaded with PE8 will more than likely be enough to give you a chance at landing most fish. I have a few different specialist rods from 8 - 10 feet, rated from PE6 all the way through to PE10. Rods longer than 10 feet can be problematic for this style of fishing as it can be hard to control a big fish as effectively compared to a shorter rod. I like using PE6 line for smaller 50-80g lures and PE8 for bigger 80-150g lures. Despite their power, kingfish will seldom take much line, especially under heavy drag. A reel that holds 200m+ of PE8 and is capable of fishing 8kg+ of drag will do the job. A word of warning though, heavy drag and slippery rocks can be very dangerous! I would advise getting accustomed to your drag pressure and always being sure-footed before you start casting.
A decent length of leader is critical in the final stages of landing a big kingfish off the rocks. Quality nylon leader from 80-150lb is preferred. I like to have about 10 feet of nylon leader tied to my mainline via an FG knot, ensuring that my finger is always on the braid when casting and the leader is outside of the spool, which allows maximum casting distance. Fluorocarbon can also be useful in certain situations, particularly when casting from high ground, as due to its sinking properties, it will help keep a floating stickbait in the water better than nylon leader material.
Some other gear that's worth investing in is a pair of gloves and a lightweight fighting pad or gimbal. Having a pair of pliers on your gimbal belt is also a good idea as removing big, sharp hooks from a powerful kingfish can be a dangerous exercise at times!
Australia
On the East Coast of Australia, kingfish tend to travel east-west (deeper, offshore waters during the cooler months and shallower, inshore waters during the warmer months) with the seasons rather than north-south like many other pelagics. Therefore, kingfish can be best targeted along the rocks from spring to autumn.
Large schools of kingfish in the 1 to 4 kg range are often found along the rocks, and school fish of 6 to 10 kg fish are relatively common in some areas, too. Adult yellowtail kingfish are solitary or occur in small groups. But I have seen big fish during spring along the rocks in large spawning aggregations. These large schools of spawning fish are quite often hard to tempt into taking a lure and you will only get a few chances at drawing a strike once you have noticed them.
Most prominent, deepwater headlands from South East Queensland to the South Coast of NSW will hold kingfish from varying sizes throughout the year, but the spring and autumn months are probably the most likely time to encounter a decent fish. The deeper rock ledges along the south coast of NSW typically yield the best results. There have also been some big 'hoods' landed from Sydney's rock platforms over the years.
If you want a big king 'on top' off the rocks in Australia, be prepared to work for it. Even the keenest topwater kingfish enthusiasts can count on one hand the fish over 15kg they've landed off the rocks in Australia - big fish definitely don't come easy here! It will take time and dedication to work out when and where the big fish are around, and what lures and techniques work best to catch them.
Norfolk Island
Norfolk Island is a worthy destination if you're after a trophy kingfish off the rocks. This tiny fish-rich island shares many of the same species as the temperate waters of the mainland. Around the inshore waters of the island there are: bonito, skipjack, kingfish, yellowfin tuna, mackerel tuna and even salmon to name a few.
The kingfish around Norfolk Island feed on an abundant and varied supply of baitfish and large schools of kingfish around 5-10kg often patrol the island. Casting to hovering birds and kingfish "bust-ups" isn't unusual here. However, blind-casting the deep water cannot be overlooked and there can be big fish patrolling at many locations around the island. Local lads, Scott and Tom Greenwood, have caught a stack of big Norfolk kings on topwater.
Poppers are very popular when chasing kings on Norfolk Island. However, stickbaits are also very effective. My biggest kingfish from Norfolk Island was caught on a medium sized (180mm) floating stick bait that closely replicated a 'yaholly' - a flashy deep-bodied baitfish, common around the island.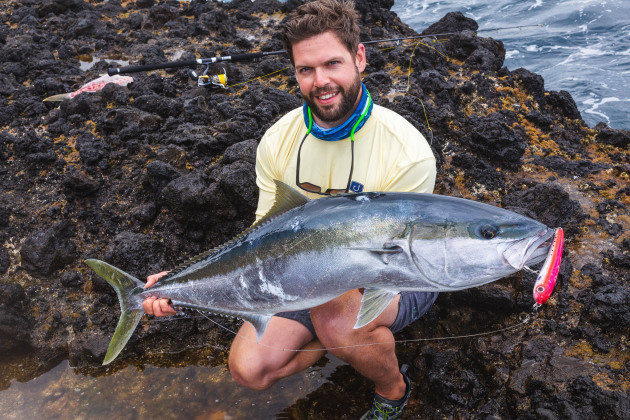 New Zealand
New Zealand is perhaps the kingfish capital of the world. Some of the fish caught off the rocks there are simply ridiculous, a fish in excess of 30kg off the rocks on topwater is by no means fanciful.
Not surprisingly, NZ is experiencing a topwater boom at the moment and there are currently hundreds of premium surface lures and specialised rods customised to hook and extract the XOS fish that live there. The big inshore kings feed on an abundant supply of kahawai (Australian salmon) and in my experience, the bigger the lure the better in NZ! As far as tackle goes, I would suggest leaving anything lighter than PE6 at home. Remember, livebaiting 2kg+ kahawai (Australian salmon) is the go to method for a lot of the Kiwil landbased fishos, it's big kingfish territory.
Unfortunately, the productive rock ledges in NZ aren't always easy to get to. The Far North and Coromandel are well known landbased areas and are also well known for their grueling treks. Combine this with the non-stop casting of large 100 g+ surface lures and it becomes a very tiring way to fish. Ideally, you need a decent level of fitness and a fair bit of strength and stamina to have success across the ditch.
Overall, a trip to New Zealand from Australia is a relatively inexpensive, and easy one. For those anglers who are willing and fortunate enough to be able to travel for a trophy landbased topwater king, I would put New Zealand at the top of the list.
Other Points
Berley: There's no question berley can send kingfish into a frenzy and I have caught and seen a few big kings by sightcasting to them in a berley trail. However, some lure fishing purists may not like this idea!
Be ready: When it comes to battling a big 'hoodlum' from the rocks, maintaining constant pressure from the get-go is imperative. Retrieving line as quickly as possible in between surges or runs is crucial in keeping them off the bottom or nearby reef. Know the underwater terrain and have a game plan before you start casting.
Peak times: Concentrate your efforts around tide changes and low light periods.
Cast often: The more casts you make the more fish you'll hook - it's pretty simple stuff!
Like all surface lure fishing, targeting kings on topwater is highly visual and very addictive. Big kings are one of the most challenging topwater spin tackle opponents in the ocean, and the prospect of catching one off the rocks only adds to the exhilaration!