Trevally Alley: Catching Sydney's silver trevally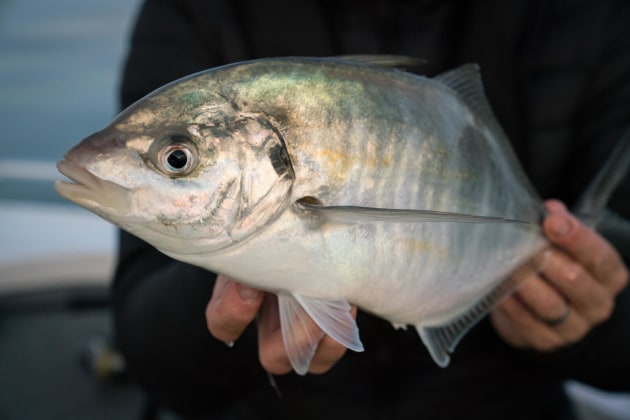 IT never ceases to amaze me how hard silver trevally fight. For a fish with such a slim forked tail, they still transmit remarkable force back through the rod due to their ability to turn side-on, using the surface area of their flanks to resist. On light gear, a 40cm trevally can be a real handful. When they school up at this size it's time for sore forearms and a whole lot of fun.
Sydney residents enjoy the predictable arrival of dense silver trevally schools following the cold waters of winter and spring to our ocean rocks and into our estuaries. What's more, they fall for inexpensive bait and basic tackle flung at them from both boats and shore. This makes them a sporting, inexpensive, prolific and accessible species to target, especially in the cooler months.
The larger specimens are often more prevalent in our estuaries during late spring and summer. While trevally can be a year-round prospect, for sheer numbers we're best to target Sydney trevally schools while the water is still too cold to swim in. Indicators it's trevally time include sightings of seals, or the spouts of whales beginning to run up the coast in the slipstream of the first cold currents of late autumn. There we can confidently fish for trevally right through spring while the water begins to warm and chases the silly whales south once again.
For those in southern Sydney with small boats, one premium haunt is a strip known locally as "Trevally Alley". It refers to the zone along the eastern side of Molineaux Point in Botany Bay. A place only gets a nickname like Trevally Alley if it has some level of dependability for having plenty of trevally in attendance, which it does indeed.
Molineaux Point juts southward from the northern shore of Botany Bay forming a break from swells which enter through the heads, to allow stevedoring of ships at the nearby container and bulk terminals. Also referred to as "the container wall", it's a man-made structure of concrete blocks and tors built in the 1970s, with a bitumen spine which allows public vehicle access along to the very end, during daylight hours.
Immediately past the point lies the main shipping channel, generally the deepest part of the bay. The wall forms a current break from that channel with suitable depth to congregate baitfish, along with trevally, bream, salmon, tailor and higher predators such as kingfish and jewfish. Recent seasons have even seen the odd juvenile black marlin patrol the wall during summer, launching social media frenzies with local anglers.
Years ago, a long cast from the shore could reach the trevally. One needed to be agile clambering down to the waters' edge, as well as vigilant in keeping bait locked away from the local water rat population! Unfortunately, fishing is no longer permitted from the wall itself.
Being in a boat, however, allows you to sound along the wall to locate fish and position yourself above them, anchoring just out from where the concrete tors at the base of the wall meet the flat sand. There you can float down a berley trail in the gentle current, gathering fish under your boat.
That berley gives you an edge over the next guy. On fine Sunday mornings you may be lined up with a dozen or more others anchored along the alley. That is, anywhere from half-way out along the wall to the end, while distancing oneself well away from any waves breaking against it. If the swell coming through the heads is more than a metre, anchoring is avoided here due to the dangers of the anchor dragging. Mid-morning high tides provide peak fishing from dawn up to that high-tide.
In position, with the tide filling and berley in the water, three rods are plenty - left, right and astern. On each, set at varying depths between mid-water and the bottom (but not resting on the bottom), should be baits of live nippers, squid strips, peeled prawns or pilchard fillets, all threaded with barb exposed then secured by a half-hitch above the hook. You may like to cover other options or species with a squid jig bouncing around off the back of the boat, or perhaps a floating whole pilchard. There are usually tailor, salmon, mac tuna or bonito not too far away for spinning enthusiasts. Better still, a live-bait or whole, fresh squid for any variety of potential passing beasts. Plenty of kingies are caught here, particularly at the end of the wall and just as many are lost as they smash hapless anglers up amongst the structure. Rampant kings of 90-110cm do turn up and know how to find the walls' caverns, or often like to run out into the channel and around the point for a spectacular demolition. For those of you feeling prepared for such a battle, you don't just have to beat the fish, you have to beat the wall itself…
Recent stocking of juvenile kingfish in the bay has provided fun for everyone through late spring and summer and when it gets warmer the spot can be a magnet for weekend boaties.
For our silver trevally, peeled prawns, pilchard tails or or half-fillets are basic and work as well as any. As does a slowly jigged grub-tailed soft plastic. Their bites tend to be shy, then once the hook is set, they become one of the true rod-bucklers. They're great fun, particularly if you have kids aboard. After fighting trevally one after the other, who all turn side-on and taken their time coming to the boat, expect your rod-arm to ache from the constant pressure. Asking for a harness is apparently a bit excessive for a 3kg outfit.
Their ability to hold themselves side-on for long periods in a fight can be attributable to having the majority of their muscle nearer to the head, applying greater resistance by being nearer to the hook.
Trevally come up in wide arcs, hence limiting the number of rods out and love to do laps around the anchor rope. They argue in diminishing circles until beaten and lifted from the water, where they often proceed to grunt. Yes, they grunt. For what purpose is unclear, though it could be an instinctive response to danger. Underwater, this noise must be relatively loud to the likes of dolphins & sharks with their super-sensitivity and perhaps the grinding noise is a deterrent – fingernails on an aquatic chalk-board. The noise is created by rubbing their gill-rakers against bony plates at the back of their mouth.
Coinciding each year with the cold currents and subsequent increased numbers of trevally, is the arrival of seals around the entrance to Botany Bay. Their presence however, will mean the fishing deteriorates quickly (making the angler grunt as well).
Trevally are quite pretty straight from the water with their faint vertical barring and unusual black spot above their pelvic fin. There's a pink versus turquoise hologram sheen along their back and of course the rich silver scaling that gives the Silver Trevally their name. Their botoxed lips hold hooks well but their cheeks are very soft and that's where most hooks penetrate. During the fight, this means the hole where the hook penetrated can become increasingly larger, enabling the hook to fall out if there's any slack line or head shaking allowed.
Along with keeping a tight connection it's worth considering wide-gaped hooks with the barb pointing inwards for improved hook retention, as long as the point is kept exposed. There must be space left between hook-point and shank to enable the hook to catch on the lip when the line tightens, as a circle hook needs to do. A J-hook such as a chemically-sharpened Mustad Baitholder in size 2 is a solid choice. A metre of trace off a small bean sinker with the bait set in the lower half of the water column and we're in business.
This spot is one where it can be possible to rack up a cricket score. With this in mind, once you have enough for dinner, please release any more after enjoying the fight. Minimum size in NSW is 30cm, with a bag limit of 10 per person. Trevally don't freeze well at all, becoming mushy when thawed,
so there is no sense keeping many. They don't need to be much over that 30cm mark to be a nice sized meal for an adult.
For those who enjoy boating in Botany Bay, you'll already know of Trevally Alley. The rumours are definitely true. While it may be overcrowded in summer, I'd encourage you to try a spring session berleying the trevally.
Not convinced about their eating qualities? They are more suited to curing rather than cooking and the recipe further below will change your mind. Even if their flesh is still not up your alley, the fight will be.
They're one of the best rod-benders around, pound for pound. But what is with that grunting sound?
EASY RECIPE – CERVICHE TREVALLY
A dish to change the way you think of trevally – rather than cook with heat, it can be gently cooked with the acid of lime whilst enhancing the taste by marinating in that lime, along with a few spices.
Bleed the fish after capture, take fillets off, run your knife under the flesh to remove the skin and scales, then cut out the rib cage. Off two decent fillets, cut thin strips of flesh, removing any remnants of blood line. Toss those in a mixture of half a green chilli, a clove of crushed garlic, a knob of ginger (peeled and cut into small, thin splinters), a third of a Spanish onion finely chopped, and the juice of 3 large limes. Cover and refrigerate. Toss again after 10 minutes. After a further 10 minutes, drain excess juice and serve with any Asian salad vegetables you have available (packet mixes work for me!) and a dipping sauce made from a teaspoon each of sesame oil, soy sauce, sugar and white wine vinegar. The fish is not quite raw – it turns gently white right through and is soft and delicious.