Dates set for the 2018 Hobie Fishing World Championship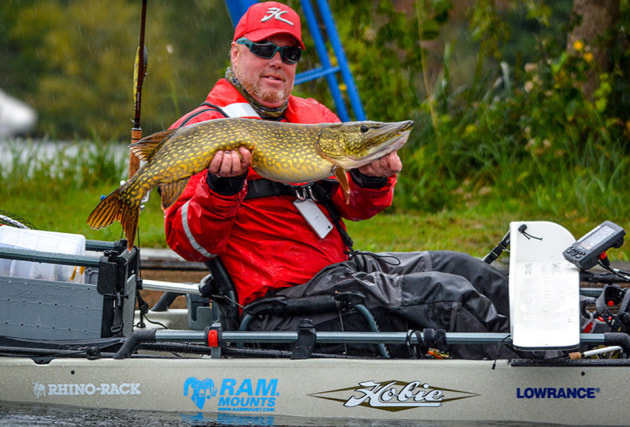 THE official dates for the 2018 Hobie Fishing World Championship presented by Rhino-Rack, have now been released.
Anglers from across the globe will come together in Amal, Sweden from May 15-20, 2018, to battle it out, for the 7th Hobie Fishing World Championship title. The event will take place on the western waters of Lake Vanern, Sweden's largest lake and the third largest lake in Europe.
The Hobie Fishing World Championship started in 2011 in Australia and since then it has grown immensely and graced four continents. The championship more than doubled in size in Texas in 2012 and successfully returned to Australia in 2013. In 2014, Vinkeveen Plassen in the Netherlands gave anglers from across the globe their first world championship experience in Europe and in 2015 anglers tested their skills on Shang Lake in Changshu, China. In 2016 the championship headed to the marshes of Louisiana, which saw an amazing competition, in an incredible fishery.
"The championship in Amal, Sweden is set to explode, with anglers chasing the huge, legendary predators that stalk the waters of Lake Vanern. I can't wait for this one, it should be an absolutely, fantastic world championship," said Steve Fields, Hobie Fishing World's Tournament Director.
The Catch-Photo-Release (CPR) format will be used by the world's elite kayak anglers, who will target two exciting species. The first is the veracious, ambush predator pike, which can measure up to 140cm in these cool, northern European waters. The second target species is perch, which are common in Lake Vanern, and lie in wait, hidden in structure, ready to smash their prey, often taking lure presentations that are nearly as big as themselves.
The world's best, from five continents, will be fishing from 2018 Hobie Mirage Pro Angler 14 kayaks driven by the MirageDrive 180 pedal system with its forward and reverse capabilities. The angler who hauls the highest cumulative length of pike and perch - within the daily tournament limit - aboard their Hobie PA14, over the three-day championship, will be crowned the 2018 Hobie Fishing World Champion.
The location in Sweden will be the second appearance of the worlds in Europe, after the highly successful tournament staged in the Netherlands in 2014.
"I think 2018 will be the strongest field we've seen. The Europeans have qualified an incredibly talented team this year," said Keeton Eoff, Director of Global Strategy and Development at Hobie.
"They are very strategic and versatile anglers, and the conditions on Lake Vanern in May will play favor to local knowledge. Targeting two species in these conditions will be a difficult challenge for the internationals and very favourable for the European team. To do this, the Europeans will have to defeat the top kayak anglers in the world and that list of names will include Lessard and Somerton, hands down two of the world's best!"
For more information about the competition, visit www.hobiefishingworlds.com